Amador & Dry Diggings Distillery: A Toast to Tradition and Innovation with Rubicon Bourbon
With the clinking of glasses, the murmur of appreciation, and the unmistakable warmth of fine whiskey coursing through the senses, a new legacy begins. It's a story that spans a decade, stretching from the first whispers of an idea, nurtured and honed to perfection, to the moment it becomes a reality: the launch of Rubicon Bourbon, a testament to craft whiskey from Amador & Dry Diggings Distillery.
The journey of Amador & Dry Diggings Distillery began independently in 2012, two facilities bound by a shared passion for locally grown fruit and grain. The decision to merge in 2015 focused these efforts, launching a decade-long journey of exploration, creativity, and pure whiskey magic. Cris Steller, founder & president of the distillery, spoke fondly of their origins and the road that led them to this milestone.
"Dry Diggings Distillery was part of the 'early second wave' of small distilleries in the mid-2000s," he says. From 200 distilled spirits producer licenses (DSPs) across the United States, we've seen the number balloon to over 200 DSPs in our home state of California alone, thanks to the Type 74 Craft Distillers License legislation.
Family and Quality
Fuelled by passion, this family-run operation embraces the philosophy of quality over quantity. The distillery houses two main stills, three fermentors, a multitude of tanks, and two stainless steel tables that serve as the humble yet efficient bottling line. Not a palatial production house, but a place where magic happens, one meticulous batch at a time.
"We don't chase the fancy," Cris Steller explains, "Our focus is on creating high-quality products that our family can be proud of. We revel in the idiosyncrasies that come with small-batch production. We may not have the gleaming edifices, but we've got something more precious – a unique terroir that's irreplicable."
Indeed, Amador & Dry Diggings Distillery is a testament to Northern California's distinct geology and climate. Its products bear the stamp of the region's unique terroir, a reflection of the grains and fruits grown here, and the barrels that age here.
And now, with great anticipation,
They introduce: Rubicon Bourbon
From the first glance at the label to the last lingering taste, Rubicon Bourbon is designed to make a statement. The blend of barrels, patiently matured over 8-11 years, unfurls a rich tapestry of flavors as they swirl together in a dance as old as the Sierra Nevada mountains where they were born.
At a robust 96 proof, Rubicon Bourbon does not shy away from delivering a bold, powerful experience. Every sip reveals complex layers of oak, intertwined with vanilla and caramel that sweep across your palate, followed by a subtle, smoky finish that leaves a longing for more.
It's a bourbon that doesn't just elevate your senses; it elevates the occasion. Whether you're celebrating milestones, raising a glass to achievements, or simply enjoying a quiet evening of reflection, Rubicon Bourbon invites you to slow down, to savor each sip, and to appreciate the craftsmanship that went into its creation.
Amador & Dry Diggings Distillery's existing flagship, Rubicon Rye, has garnered a loyal following with its unique profile, convincing bourbon drinkers to step out of their comfort zone. "Rubicon Rye commands attention. It's a whiskey that's meant to be savored. It invites you to slow down, appreciate a moment of quiet, and escape from the chaos of everyday life," Cris explains.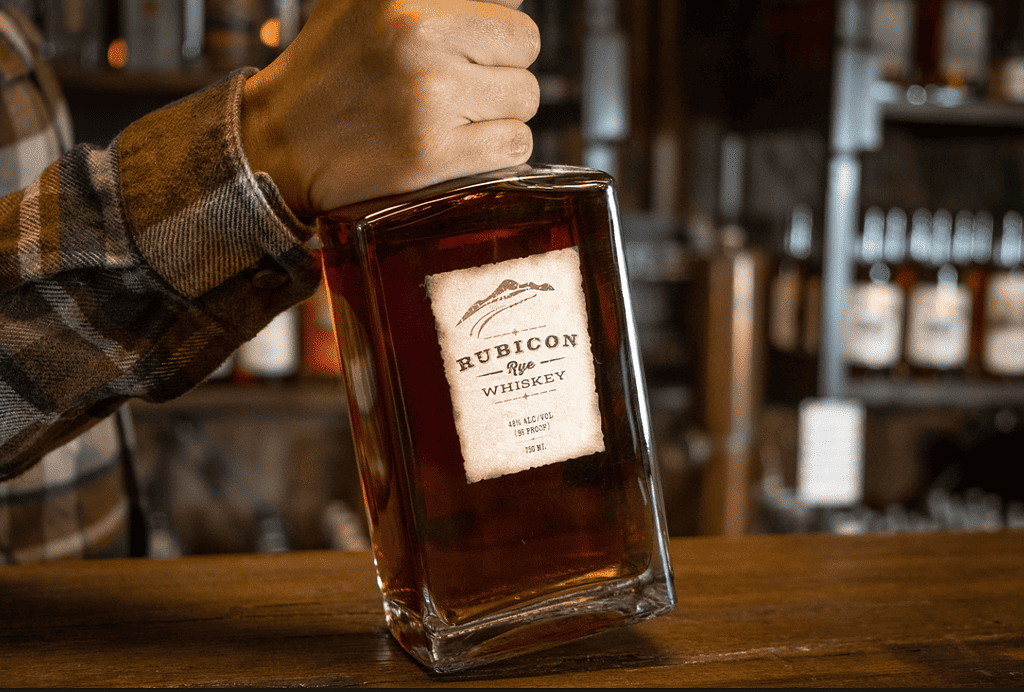 For years, fans have been asking about a Rubicon Bourbon. Now, with the release of this bourbon, the distillery wants to "play with the craft of producing whiskey," promising an exciting journey for all who come aboard.
Small Run
This first bottling of Summer 2023 is a small run – a mere 16 cases. However, don't be fooled by the limited quantity; each bottle is a gateway to an exciting expedition. The blend of heavily aged bourbon will be the base for future releases, allowing the distillery to play with finishing barrels and aging points. Some releases may be finished in Rubicon Rye Radoux Barrels, others in AppleJack or Amador Port barrels.
Every batch promises to be different, a thrilling experiment that builds upon the last. The traditional marketing model of predictable flavor profiles is left behind in favor of the unpredictable beauty inherent to the aging process.
This approach may not be for everyone, but it's an invitation to those who seek inspiration and yearn to taste something new. It's an invitation to a journey, not a destination; a call to those who appreciate the beautiful unpredictability of craft whiskey.
From the heart of Northern California, Rubicon Bourbon doesn't merely capture a taste; it encapsulates a legacy, a passion, and a commitment to quality. It captures the spirit of Amador & Dry Diggings Distillery and everything it stands for.
In every sip, there is a story of time, patience, and dedication. A story of a humble distillery's ambition to craft an experience that will linger, not just on your palate, but in your heart. So, raise your glass, make a toast to tradition, and be a part of the continuing legacy of Amador & Dry Diggings Distillery.
To be continued…
Disclosure: Our blog contains affiliate links to products. We may receive a commission for purchases made through these links. However, this does not impact our reviews and comparisons. We try our best to keep things fair and balanced, in order to help you make the best choice for you.