The Gaggia New Classic Evo Review
Hey, hey, coffee aficionados! Buckle up, because today we're diving into the steamy, dreamy world of the Gaggia New Classic Evo. Trust me, this espresso machine is like the Tom Hardy of coffee makers—solid, versatile, and does its job with stunning precision. Looking for that perfect crema or a steam wand that froths like a charm? The Gaggia's got your back! You could say it's the secret weapon you didn't know your kitchen needed. So grab your coffee cup and read on, 'cause we're about to drop the full lowdown on why this machine should be your next caffeine-dealing BFF. Ready to brew-volutionize your mornings? Let's go!
What is Gaggia New Classic Evo?
This semi automatic machines espresso machine is the latest update to the ever-so-popular Gaggia Classic line, and oh boy, does it make an impression. Imagine the first time you tasted a perfectly pulled shot of espresso; it's like that but in a shiny, metal exterior. This Italian stallion comes with commercial-grade features, packed into a home-friendly size. We're talking stainless steel boiler, pro-level portafilters, and a steam wand that could turn a glass of milk into a frothy masterpiece faster than you can say "latte art."
So what's the "Evo" about? Evolution, baby! It's got improved controls, enhanced stability, and yes, even more convenience than its predecessors. It's like the Gaggia Classic went to grad school and came back smarter, better, and ready to take on the world—or at least your caffeine cravings.
In a nutshell, this espre the coffee-centric equivalent of upgrading from a comfy old pair of sneakers to a sleek pair of Italian leather boots. You still get the comfort and reliability, but with a whole lot of extra oomph!
The Gaggia New Classic Evo is a high-quality espresso machine designed for both beginners and experienced coffee enthusiasts. Crafted in Italy, it features a stainless steel boiler, commercial-grade portafilters, and a versatile steam wand, all in a compact footprint suitable for home use.
The Evo iteration brings modernized controls and enhanced thermal stability, elevating your coffee brewing experience. Ideal for those seeking cafe-quality espresso without leaving the kitchen.
Is Gaggia New Classic Evo Worth
the Price?
In a word: Absolutely. This isn't just some run-of-the-mill, plastic-y espresso machine; it's a high-quality Italian beauty crafted with stainless steel and brass. You're not just buying a machine; you're buying an experience—a slice of Italian café culture right in your kitchen.
Look, if you're the kind of person who can taste the difference between a so-so espresso and one that sings in your mouth like Pavarotti hitting a high note, then yes, this new machine is 100% worth it. With professional features like a 15-bar pump for authentic espresso and a pro steam wand for steaming milk for frothy cappuccinos, you're basically turning your kitchen into your own personal café. So not only does it elevate your coffee game with an espresso quality, but it'll also save you cash in the long run by cutting down those frequent café trips. A win-win if I ever saw one!
Italian Pedigree
Versatility
Quality Build
Ease of Use
Pro Features
Price
Learning Curve
Size and Weight
Manual Descaling
No Coffee Grinder
What Makes this Espresso Machine Unique?
First off, it's like the Swiss Army knife of espresso machines; it's got a tool for everything, but in a sleek Italian design. It straddles the line between commercial and home use, offering pro-level features without needing a barista certificate or a second mortgage.
One thing that sets it apart is its 3-way solenoid valve. This little gadget relieves pressure from the coffee puck immediately after brewing, making it drier and easier to knock out. You're left with a cleaner portafilter and a satisfying "thwack" as the used coffee grounds exit stage left.
Another unique feature is its stainless steel boiler with an integrated heat exchanger. This allows you to brew and steam simultaneously, my friend. So, if you're the multitasking type who wants to pull a shot while frothing milk, this is your machine. And let's not overlook its updated controls. The Evo version has an intuitive interface that's as easy to navigate as your favorite coffee shop menu, but without the barista misspelling your name.
To sum it up, the Gaggia New Classic Evo is like a triple shot of espresso—strong, versatile, and wakes you up to its awesomeness from the first sip, or in this case, the first brew unlike with automatic machines that doesn't have these awesome thing.
Features & Highlights of this Espresso Machine
Alright, let's break down these features like they're coffee beans ready for a grind! This isn't just a list of specs, folks, this is basically the Gaggia New Classic Evo's resume for the "World's Most Qualified Espresso Machine" job. 📜☕Let's start with its Italian roots. Espresso is to Italy what baseball is to America—it's a big deal. So when you get a commercial machine designed and made in Italy, you're basically getting a slice of espresso heaven. Authenticity and quality are baked right in.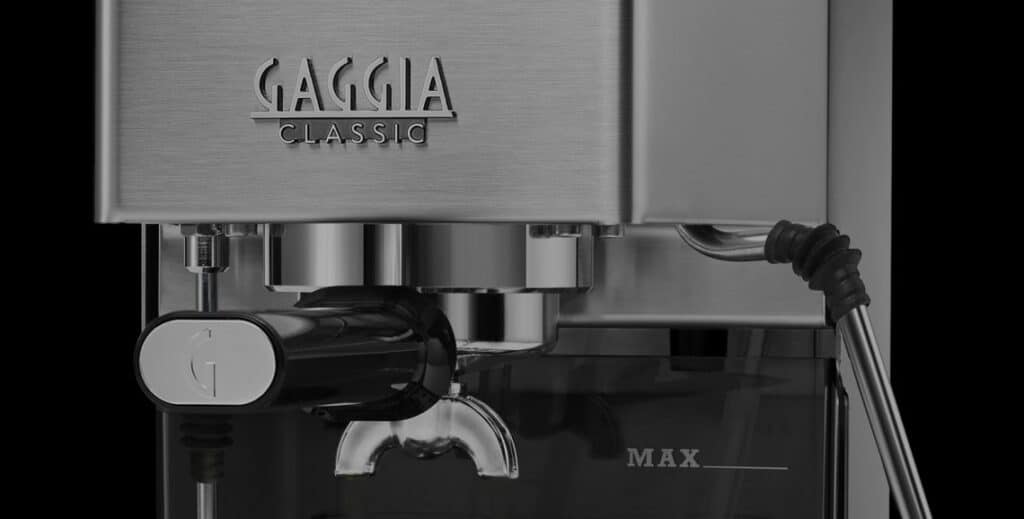 PROFESSIONAL STAINLESS STEEL FILTER-HOLDER AND UPGRADED BRASS GROUP
Holy cannoli, this feature! If you're serious about temperature stability—and you should be—this machine has got you covered. The professional-grade portafilter basket/filter-holder and brass group maintain optimal temps from start to finish, letting you pull shots like you're in an Italian café.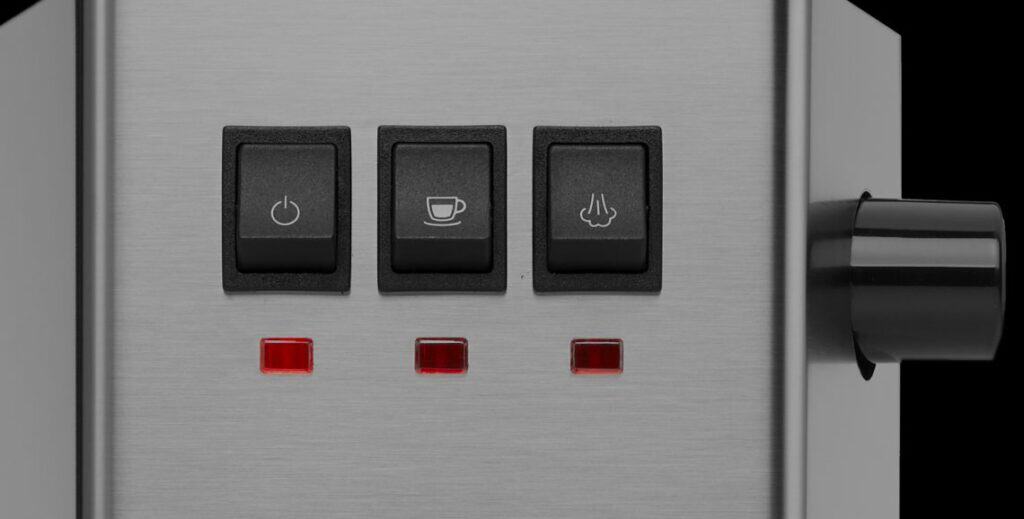 NEW ROCKER BUTTONS INTERFACE
It's like the cockpit of a fighter jet, but way less intimidating. This easy-to-use brew switch new interface gives you complete control in making espresso without requiring a pilot's license.
SOLENOID VALVE
As we mentioned earlier, the 3-way solenoid valve is like a tiny superhero, swooping in to dry out your coffee puck post-brew, making clean-up a breeze. It also helps control water pressure it makes your life easier by switching on the steam valve for that primo shot.
PROFESSIONAL STEAM WAND
Looking for that velvety froth for your cappuccinos and lattes? This steam wand is your magic wand, with two holes for steam milk maximum froth-ability. Abra-ca-dairy!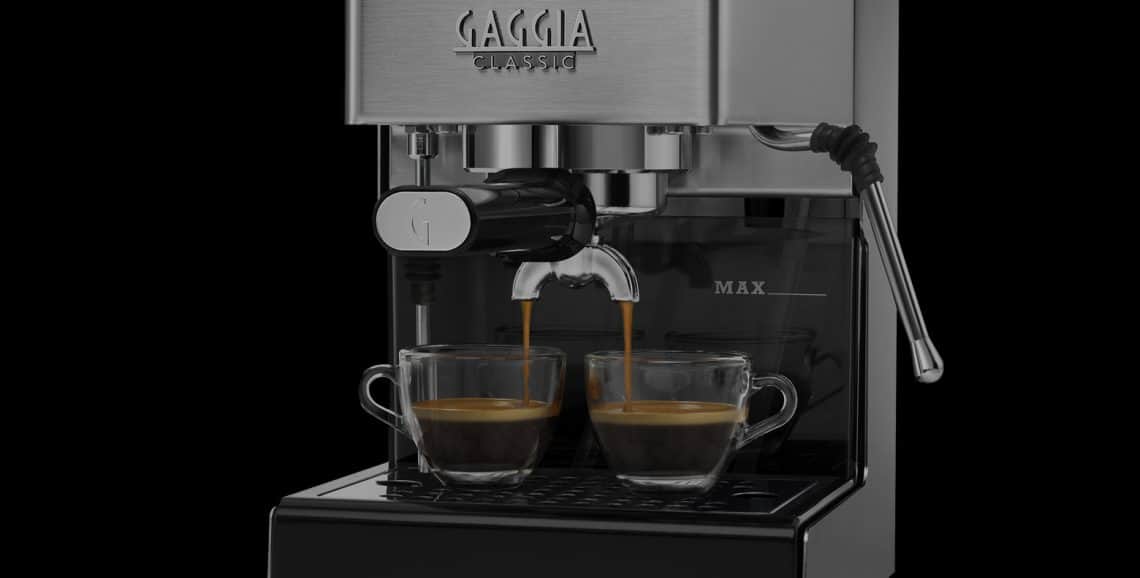 PUMP PRESSURE
15 BAR Ah, the pièce de résistance this is the Goldilocks of pressurized basket: just right for that perfect espresso shot! This pump provides the exact pressure needed for that authentic Italian espresso with the golden "crema naturale" on top.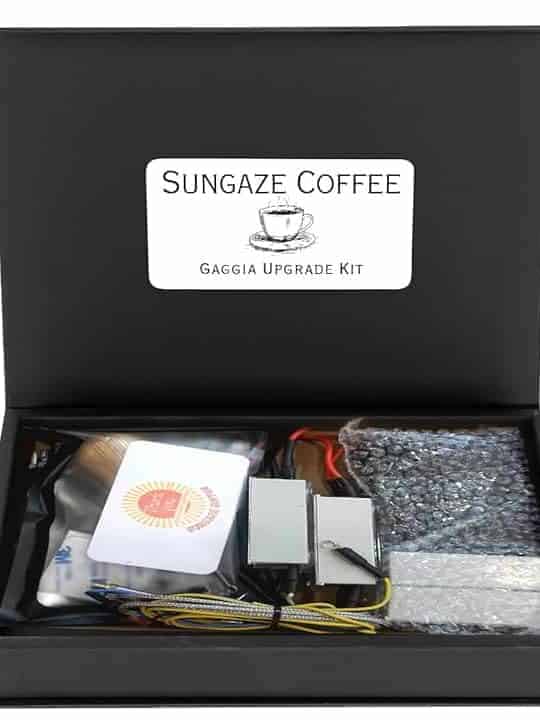 FILTERS KIT INCLUDED
Beginner, intermediate, or pro—it doesn't matter. This machine's got a filter for everyone, and for different coffee types too. It's like a choose-your-own-adventure but for coffee.
HOT WATER/STEAM DISPENSER
Whether you're a tea enthusiast or looking to froth some milk, this dispenser has got you covered. Variety is the spice of life, after all
STAINLESS STEEL CUP PLATE
Why wait for your cup to get warm? This machine pre-warms up to five cups, so they're ready when you are.
Alright, let's unpack these highlights like it's Christmas morning and you just found a brand-new espresso machine under the tree!
NEW BODYWORK DETAILS New and improved but still flaunting that classic Gaggia style. Visible water level, stable drip tray, and that iconic Gaggia "G"—this is what espresso machine dreams are made of.
PROFESSIONAL STAINLESS STEEL STEAM WAND Again open the steam knob and that two-hole wand for all your frothing fantasies. You can froth milk yourself and you'll make cappuccinos that'll make your local barista jealous.
SOLENOID VALVE The unsung hero that makes your life easier by switchig on the steam valvemaking your coffee pucks less soggy and easier to dispose of. Yes, please!
BEVERAGES VARIETY AND IN CUP QUALITY From espresso to hot water, ground coffee to coffee pods, you've got options galore that makes shot quality. It's like the Netflix of coffee makers.
FILTERS INCLUDED From the Crema Perfetta to traditional filters, they've got one for every mood and skill level.
CAPACITY WATER TANK 2.1 LT With a water tank this big, you'll be sipping espresso longer than it takes to decide what Netflix show to watch next.
REMOVABLE COMPONENTS Easy to remove, easy to clean. It's like the machine wants to do half the work for you.
SIMULTANEOUSLY BREWING OF 2 COFFEE CUPS Double the coffee, double the fun and it also provides a stainless steel milk jug, which is big enough to froth milk for two cups of coffee
MANUAL DESCALING CYCLE A bit hands-on, but hey, it keeps your machine in tip-top shape.
MATERIALS, FINISHING, DIMENSIONS Stainless steel and brass all around. This thing could double as modern art.
AUTOMATIC STAND-BY This machine's as concerned about your electric bill as you are.
GROUND COFFEE DOSER, TAMPER The cherries on top! Everything you need to kickstart your barista career at home.
This list of features and highlisght is like a greatest hits album for espresso machines. If you're even half as excited as I am, then you're VERY excited.
Is Gaggia Classic Pro User-friendly?
The Gaggia New Classic Evo is user-friendly like a golden retriever—always eager to please and hard to mess up with. From the new rocker buttons to the indicator lights, the machine practically walks you through the brewing process. It's a machine ready that got the intuitive usability that makes you feel like a pro barista, even if the closest you've been to a coffee bean is picking up a latte at your local café.
The machine also comes with multiple filters, catering to both coffee rookies and caffeine veterans. Cleaning is a breeze, too, thanks to removable components and a manual descaling cycle. It's the kind of user-friendly that makes you wonder how you ever lived without it, kind of like smartphones or, ya know, coffee.
Ease of Set up and Use
The Gaggia New Classic shines in its user-friendliness than the other machines, making it an impressive choice for both novices and seasoned espresso enthusiasts.
A. Detailed Instruction Manual – The machine is accompanied by a comprehensive guide, meticulously detailing each step involved in setting up. From unpacking the components to the first espresso pull, the manual offers clear, understandable instructions that even a beginner can follow with ease.
B. Simple and Intuitive Controls – The Gaggia New Classic prides itself on its straightforward control panel. With clearly labeled buttons and dials, operating this espresso machine is a breeze. Whether you're adjusting the temperature, pulling a shot, or frothing milk, you'll find the process smooth and uncomplicated.
C. Suitable for Beginners – With its simple setup, intuitive controls, and detailed manual, the Gaggia New Classic is an excellent choice for beginners. Its user-friendly features not only ease the learning curve for new users, but also instill a sense of confidence in mastering the art of espresso brewing.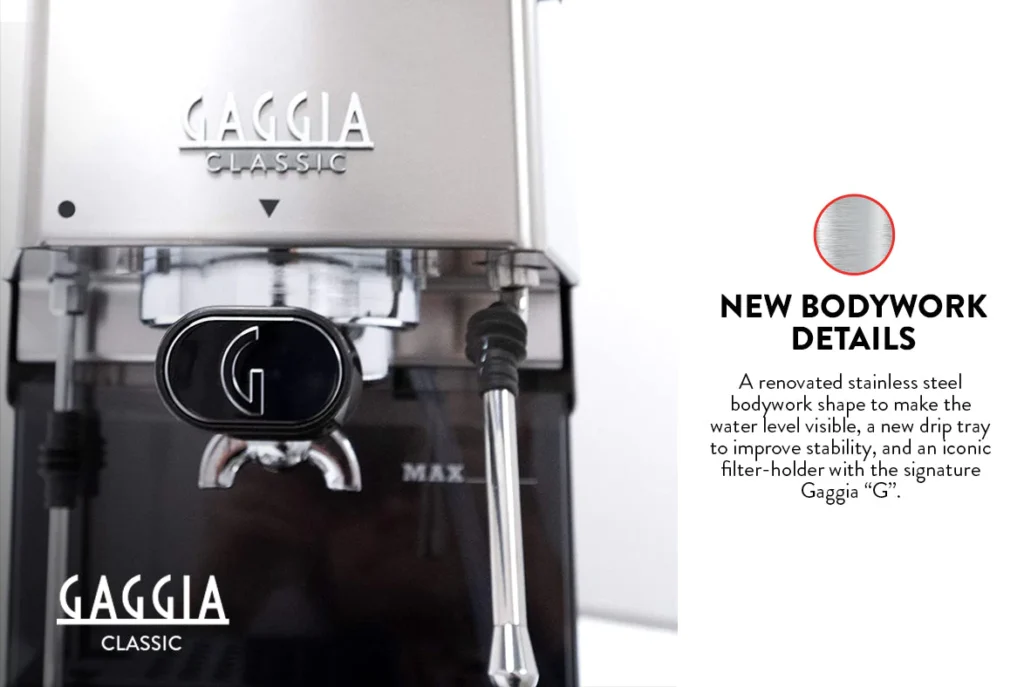 Professional-Grade Performance
Despite its ease of use, the Gaggia New Classic delivers professional-grade performance that rivals even the most expensive espresso machines on the market.
Consistent and High-Quality Shots – As a semi-automatic machine, the Gaggia New Classic allows for precise control over the brewing process. This results in consistent and high-quality shots every time, making it a reliable choice for those who value consistent espresso extraction.
Powerful Steam Wand – The Gaggia New Classic's commercial-grade steam wand is powerful and efficient, producing velvety milk foam for lattes and cappuccinos. With its articulating feature, the wand can easily reach any angle in your milk pitcher, making it perfect for latte art.
Durable and Long-Lasting – Crafted with high-quality materials, the Gaggia New Classic is built to last. Its sturdy construction and durable components ensure that this espresso machine will withstand years of use without compromising its performance.
Compatibility with Coffee Types:
Ah, compatibility with coffee types—the dating profile of the espresso machine world. Let's swipe right and find out who's compatible with this Italian beauty. 🇮🇹💕
Ground Coffee This is like the home-cooked meal of the coffee world, right? The Gaggia New Classic Evo loves freshly roasted coffee beans and ground coffee; it's like its comfort zone. The machine includes a coffee doser, so you can measure your grounds to espresso perfection.
Coffee Pods Now, if you're into speed dating, these pods are the go-to. No fuss, no muss. Pop in a pod and you're ready to go. It's like the one-night stand of coffee—quick and convenient with no strings attached.
Espresso Well, it's an Italian machine made for freshly roasted beans to make espresso, so obviously, yes! With 15-bar pump pressure, you're gonna get that shot as authentic as a Venetian gondolier singing "O Sole Mio."
Steamed Milk & Froth The professional steam wand makes you the master of froth. For based milk drinks like lattes, cappuccinos, macchiatos—if it needs frothed milk, this machine is your canvas and you're the Picasso of milk art.
Hot Water Not a coffee person? Weird, but okay. You can still get hot water for teas, hot chocolates, or even a cup of instant noodles if that's your jam.
Filters The new machine comes with a variety of filters for different coffee types and skill levels, from the Crema Perfetta filter to traditional ones. Whether you're a noob or a ninja, there's a filter for you.
So, what's the verdict? This machine is as versatile as a Swiss army knife in a barista's apron. Whether you're a ground coffee guru, a pod person, or somewhere in between, the Gaggia New Classic Evo is ready to match with you faster than you can say "Double Espresso, please!"
Modern Design
In addition to its exceptional functionality, the Gaggia New Classic also boasts a modern and sleek design that will complement any kitchen decor so you know it's a good espresso machine.
Stainless Steel Housing – The Gaggia New Classic's stainless steel housing not only looks stylish, but also adds to its durability and longevity another thing is its classic group head it is also most likely made from CW617N.
Compact Size – With its compact size, the Gaggia New Classic is perfect for small kitchens or those with limited counter space. It's also lightweight and easy to move around, making it a great option for those who like to switch up their brewing location.
User-Friendly Interface – The simple and intuitive interface of the Gaggia New Classic makes it easy for anyone to use, regardless of their level of experience with espresso machines.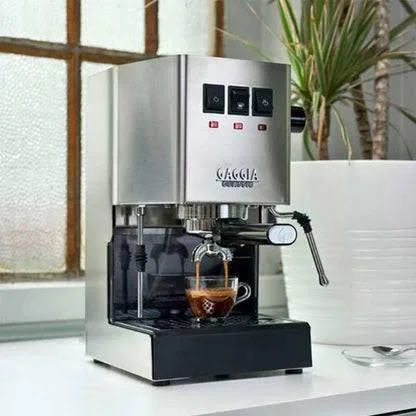 Why Should I Buy the Gaggia New Classic Evo?
Ah, the closing argument! Why should you buy the Gaggia New Classic Evo? Well, let me lay it down for you. If you're tired of those insipid, watered-down, sad-excuse-for-a-coffee beverages you get from subpar machines or chain cafés, then this is your ticket to flavor town. With this bad boy, you're not just making coffee; you're crafting an experience. It's like turning your kitchen into a tiny corner of Italy, minus the airfare and the need to understand hand gestures.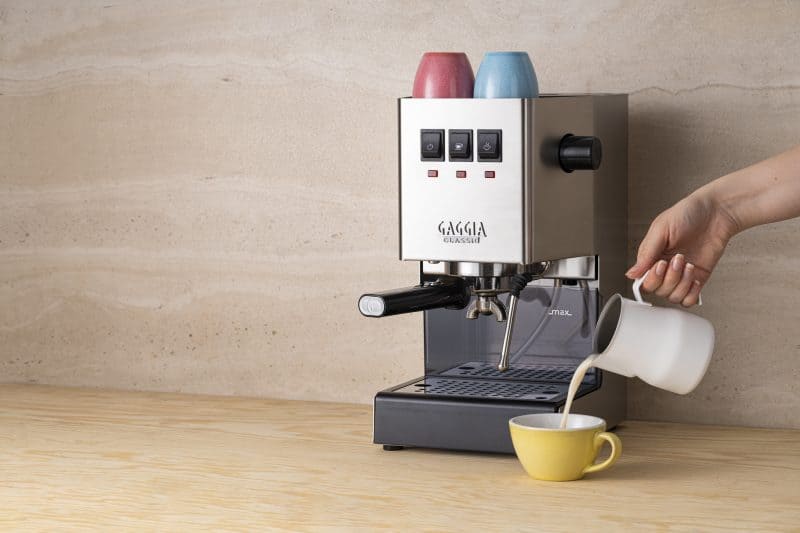 And let's talk versatility. Whether you're a coffee novice or a bean-grinding, latte-art-making maven, unlike most espresso machines the Gaggia New Classic Evo meets you where you are. Multiple filters for different skill levels, compatibility with ground coffee and pods, and a pro steam wand for milk frothing—this machine is the Swiss Army knife in your coffee-making arsenal giving you a great coffee. Plus, it's a long-term investment in your daily happiness. Trust me, your morning self will be high-fiving you for years to come. So, why should you buy it? Because life's too short for bad coffee, my friend.
Who is it for? and Who is it not
Ah, the targeted audience, the "Who should swipe right on this espresso machine?" question. Good one!
Who It's For:
The Home Barista: If you've got a palate that craves the nuance in your brew and you enjoy the ritual of making coffee, this machine's got your name written all over it. Seriously, get a label maker.
Quality Over Convenience Folks: For those who are willing to invest a little time for a lotta flavor. If you think coffee should be savored like a fine wine, then this is your jam.
Italian Café Dreamers: If your dream kitchen involves wafts of freshly brewed espresso that mentally transports you to a piazza in Rome, then step right up!
Gift-Givers: Looking to make someone's year? This is the kind of gift that elevates you to legendary status. Holidays, anniversaries, or just because you're awesome—this is the golden ticket.
Who It's Not For:
The 'Instant Gratification' Gang: If you want your coffee fast with minimal effort—like, microwave-fast—then this is not your scene. This machine wants you to be part of the brewing experience, not just a spectator.
Budget-Conscious Buyers: If you're counting pennies and not yet ready to invest in your coffee future, you might want to hold off. It's an investment, both in dollars and counter space.
Simplicity Seekers: If you get overwhelmed by buttons, knobs, and settings and you just want a simple cup o' joe, this might be overkill for you.
The Non-Coffee Drinker: Yeah, if you're into herbal tea or just plain ol' hot water, this is like buying a Ferrari just to drive to the grocery store. Overkill, man, overkill.
Common Issues and Troubleshooting with this
Espresso Machines
Ah, troubleshooting, the "relationship counseling" of coffee machine ownership. Don't fret; even the best of us have our quirks. Let's talk about the most common issues you might face with the Gaggia New Classic Evo and how to give 'em the ol' one-two.
Common Issues:
Weak Espresso: If your shots are more water park than a robust river of flavor, it could be your grind size. Try a finer grind and make sure you're tamping evenly.
Leaking: If your machine is showing its emotional side through leaks, check the seals and gaskets. Replace 'em if they're worn out. A little preventive maintenance goes a long way.
Steam Wand Woes: Not frothing milk like it used to? The steam wand could be clogged. A needle or a fine wire can clear out any milk residue.
Inconsistent Temperature: If your espresso is hotter than a summer in Sicily one day and cooler than a Milanese winter the next, you might need to descale the machine. Mineral buildup can mess with the temp.
Water Tank Issues: If water isn't flowing like it should, ensure the tank is seated properly. Sometimes, it's as simple as that.
Troubleshooting:
Read The Manual: I know, I know, it's as exciting as watching paint dry, but the manual often has first-aid tips for common issues.
Descaling: Run a descaling solution through the machine every couple of months. But this is the case for most espresso machines
Check Filters and Baskets: Sometimes a clog is your only problem. Remove and clean the filters and try again.
Contact Customer Support: If you've tried all the DIY fixes and it's still acting up, reach out to Gaggia's support. They're pretty good with this stuff.
Coffee Community: There are online forums where Gaggia users share fixes for specific issues. These folks have probably spilled more coffee than you've drunk, so their wisdom is pure gold.
And hey, if all else fails, there's always the warranty. Because even Italian beauties have off days.
Comparing Gaggia New Classic Evo and Classic Energy Vibes Evo
The face-off we've all been waiting for—the Gaggia New Classic Evo vs. the Classic Energy Vibes Evo. It's like choosing between two best espresso machines; each espresso machines has its own unique flair but they both rock the house. Let's break down the gig, shall we?
Features: Both espresso machines are like the Swiss Army knives of the espresso world, packed with features. However, the New Classic Evo tends to focus more on professional-grade components, like its upgraded brass group and stainless steel filter-holder. The Classic Energy Vibes Evo, on the other hand, leans into the tech side with things like digital displays and programmable buttons.
Usability: If you're the type who likes to fiddle around, the New Classic Evo's got you covered with its manual operation. But if you're more of a "set it and forget it" kind of brewer, the Classic Energy Vibes Evo and its programmable settings might be more your jam.
Design: Both machines rock a stainless steel body because, well, who doesn't love shiny things? But the Classic Energy Vibes Evo adds a little extra glam with some more modern touches, like a sleeker interface.
Performance: Both machines have the firepower you need to pull great shots. They come with 15-bar pumps and professional steam wands. But the New Classic Evo's brass group offers more stability on temperature which is primo for those looking to fine-tune their espresso game.
Price: The New Classic Evo is usually a bit more budget-friendly, but remember, you're trading some of the digital conveniences that come with the Classic Energy Vibes Evo.
So, which one do you pick? If you're a purist who loves the art of espresso making, go for the New Classic Evo. But if you want a touch of modern convenience without compromising much on quality, then the Classic Energy Vibes Evo could be your main squeeze.
Either way, you're walking away with a rockstar affordable espresso machine. So go ahead, pick your band and let's get this coffee concert started!
Warranty and Customer Support

Ah, the safety net—the warranty and customer support. Because let's face it, we all need a little help sometimes, especially when we're knee-deep in coffee grounds and frustration. So, what's the deal with the Gaggia New Classic Evo?
Warranty: Most Gaggia machines come with a 1- to 2-year limited warranty, but it's always good to double-check the specifics. This generally covers defects in materials and workmanship. Keep in mind that the warranty usually doesn't cover user error or general wear and tear. In short, if you decide to use the machine to make mud pies or experiment with putting orange juice in the reservoir (please don't), you're on your own, buddy.
Customer Support: Gaggia has a decent reputation for customer service. They offer multiple ways to get in touch—phone, email, even social media for the digitally savvy among us. You can also dive deep into their FAQs, which is like the "Google" of Gaggia wisdom. And if your issue isn't a quick fix, they can guide you through the process of getting your machine repaired.
But wait, there's more! The online coffee community is chock-full of Gaggia users who are more than willing to share their expertise, tips, and hacks. So, if you're stuck, you've got a whole village of coffee nerds ready to help you out.
So, go ahead and pull that shot of espresso without fear. If things go south, Gaggia's got your back. Just don't go making mud pies, okay?
Buyers Guide: How We Conducted Our Researched
Alright, coffeeholics, ever wonder how we do the voodoo that we do? Buckle up, because I'm lifting the curtain to show you how we conducted our steaming hot research on the Gaggia New Classic Evo. This ain't a fluff piece, folks!
Step 1: Hands-On Testing First things first, we got our caffeine-craving mitts on this bad boy. Yup, real hands-on testing. From pulling shots to frothing milk, we did it all. No interns were harmed in the making of this review, though some jitters were experienced.
Step 2: Consult the Oracle, aka The Manual We read the user manual, front to back. Riveting stuff, let me tell you. But it gave us a deep understanding of what this espresso machines can and can't do. We even bookmarked pages. Yeah, we're nerds like that.
Step 3: Online Reconnaissance We scoured the wild, wild web—from Amazon reviews to Reddit threads, and even those deep YouTube reviews where people get strangely emotional about crema quality. We wanted to know what Joanne from Iowa and Bob from Texas thought, because every opinion matters.
Step 4: Expert Consultation We also chatted up baristas and other coffee aficionados. People who've had more caffeine in a week than most have in a year. They gave us the lowdown on what makes the Gaggia New Classic Evo tick—or not tick, as the case may be.
Step 5: Price Check We compared prices from different retailers, watched for sales, and even calculated the cost-per-shot. Yup, we did the math. You're welcome.
Step 6: Lifespan & Warranty Delve We dug into the warranty details like it was a treasure map and looked into the machine's expected lifespan. Will it last longer than your current Netflix obsession? Important stuff!
Step 7: Final Verdict After all that, we brewed one last cuppa and sat down to compile our thoughts. That's when the magic happens, people. Fingers flew across keyboards, fueled by some darn fine espresso, if I may say so.
And there you have it, the full monty on how we conduct our research. Next time you read one of our reviews, you'll know it's as carefully crafted as a double shot of liquid gold. Stay caffeinated!
Wrapping Up
Alright, folks, we've dissected the Gaggia New Classic Evo like it's a frog in a high school science lab—except way less gross and way more delicious. We've talked features, laid out the pros and cons, dived into common issues, and even spilled the beans on how we do our research. Whew! I need an espresso just thinking about it.
So, is this Italian stallion the right fit for you? If you're looking for a solid, semi-professional machine that gives you room to grow as a home barista, then yes, pull the trigger. But if you're into "press button, receive coffee," maybe sit this one out.
Don't forget, good coffee is more than a machine; it's a journey. From the bean to the cup, every step matters. The Gaggia New Classic Evo is a fantastic travel buddy on this caffeinated journey, and I say it's worth hitching a ride with Because it is an affordable espresso machine.
That's a wrap, coffee lovers! Till the next cup, may your grinds be fine, your froth be silky, and your coffee strong enough to tackle whatever life brews up. Stay caffeinated!
Jl.Surjan
Disclosure: Our blog contains affiliate links to products. We may receive a commission for purchases made through these links. However, this does not impact our reviews and comparisons. We try our best to keep things fair and balanced, in order to help you make the best choice for you.