Maple Pecan Latte: A Sweet Taste of Autumn
Ahoy, coffee aficionados! 🍁☕ Today we're diving into a seasonal sensation that'll make you wish autumn lasted all year long—Starbucks' Maple Pecan Latte! This cup of cozy is the epitome of fall, blending toasty pecan notes and sweet maple into one heck of a brew. So if your taste buds are tired of the over-hyped Pumpkin Spice Latte (sorry, PSL lovers), let's turn a new leaf! Stick around to unlock the secret recipe for making this delicious drink at home, learn why it's a limited edition, and grab some killer tips to up your coffee game. Let's roll!
What is Starbucks' Maple Pecan Latte?
Hold on to your beanies, folks, 'cause if you haven't tasted Starbucks' Maple Pecan Latte, you're missing out on a seasonal symphony for your taste buds! Imagine the warmth of freshly brewed coffee dancing with the sweet and nutty blend of maple syrup and pecans. Oh yeah, it's like autumn decided to throw a party in your cup.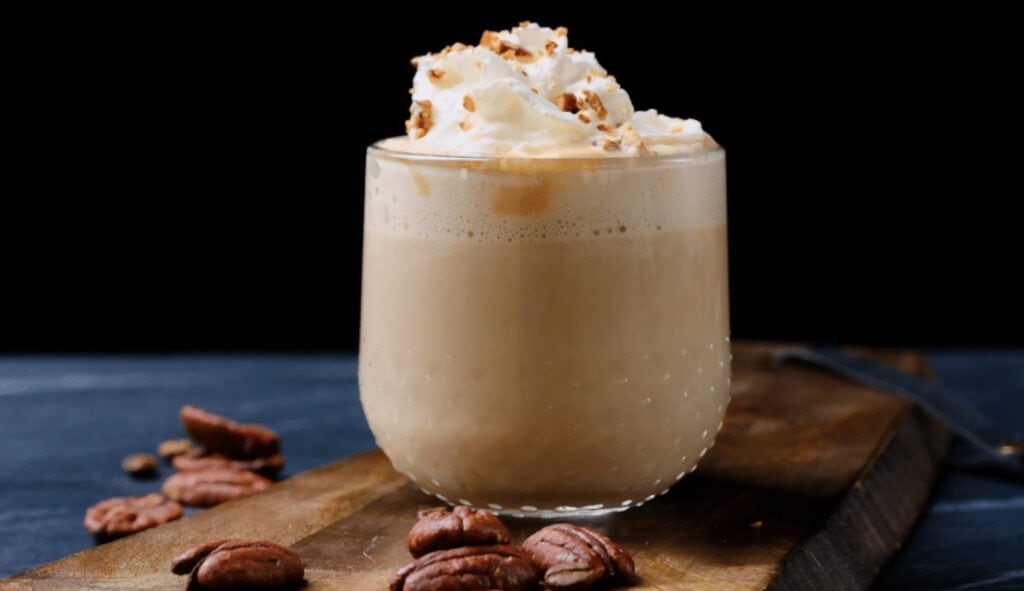 Starbucks' Maple Pecan Latte Tastes Like
You know that comfort you feel when you're wrapped up in a cozy blanket, binge-watching your favorite shows as the leaves fall outside? That's the exact vibe this Maple Pecan Latte brings to your taste buds. It's the perfect blend of Starbucks' iconic espresso and steamed milk, all jazzed up with a kick of maple pecan flavored syrup. Top it off with a sprinkle of sugar topping, and voila! You've got autumn-inspired deliciousness that even your grandma would approve of. So why settle for the usual when you can sip on the extraordinary? Trust me; this is one Starbucks brew that fully deserves its limited edition label.
Starbucks Maple Pecan Latte Recipe Copycat
Alright, don't get your mug in a twist if you missed the Maple Pecan Latte at your local Starbucks—or if you just don't want to change out of your PJs to get one. I've got you covered with a copycat recipe that'll make you the neighborhood barista hero.
YOU'LL NEED:
For this coffee sorcery, you're gonna need some essentials. Here's the shopping list:
Freshly brewed espresso (or strong coffee if you're an espresso machine-less mortal)
Steamed milk (feel free to get fancy with almond milk or oat milk)
Maple syrup (the real deal, none of that fake stuff)
Pecan flavor syrup
A dash of cinnamon or nutmeg, if you're feeling spicy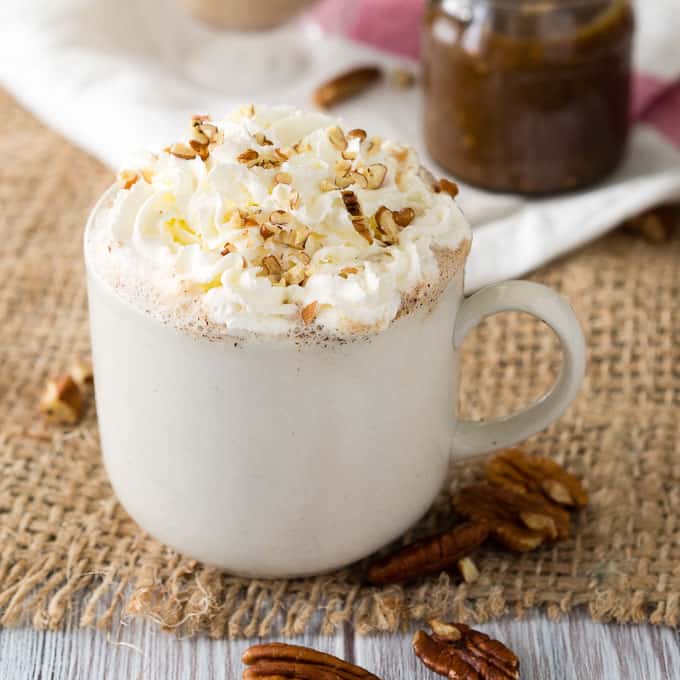 THE PROCESS:
The Brew: Start with a good ol' shot of espresso or a strong cup of coffee. The better the brew, the closer you'll get to the Starbucks magic.
The Blend: In a pot over medium heat, combine your milk, maple syrup, and pecan syrup. Stir until it's a liquid dream, but don't let it boil, folks!
Pour & Stir: Time to marry the brew and the blend! Pour the syrupy milk mix into your coffee and give it a good stir.
The Final Touch: Sprinkle some cinnamon or nutmeg on top, and there you have it—a Starbucks Maple Pecan Latte made right in the comfort of your home.
It's a super simple process, but the result is nothing short of caffeinated heaven. With this recipe, every day can be a Maple Pecan day. So go ahead, show off your barista skills on Instagram—you've earned it!
Tips and Tricks to Prepare Maple Pecan Coffee
Now that you're practically a Maple Pecan Latte scholar, let's get down to the nitty-gritty and elevate that cuppa to a masterpiece.
The Milk Matters
First off, let's talk milk. You're not just limited to cow's milk, my friends. Oat milk, almond milk, and even cashew milk can add an extra layer of flavor that'll have your taste buds doing the cha-cha. Experiment with different milk options to find your own groove. Also, for the lactose-intolerant among us—don't fret! There are plenty of non-dairy options that still bring that creamy mouthfeel.
Ice, Ice Baby
Ah, the eternal debate: hot or cold? While the OG Maple Pecan Latte comes steaming hot, who's to say you can't enjoy a chilly rendition? If you're team iced coffee, make sure to chill your brewed coffee before mixing in your syrups and milk. You can even throw in some coffee ice cubes if you're feeling extra.
Sweeten the Deal
So we've got the coffee, the milk, the syrups—but what about that sweet, sweet kick? If you find that maple syrup alone isn't cutting it, feel free to add a pinch of sugar or a drizzle of caramel. But remember, the star of the show is the maple-pecan combo, so don't go drowning it in a sea of sweetness.
The Perfect Pour
The art of pouring is not to be underestimated. Whether you're gently stirring in your flavored milk or going full barista with some latte art, make sure you mix thoroughly. Nobody likes a sip that's all milk followed by a caffeine punch to the face.
Instagram-Worthy Toppings
Let's face it, half of the joy is snapping that perfect Instagram pic to make your followers drool. Consider adding a dollop of whipped cream, a sprinkle of pecan bits, or even a sugar topping designed to catch the eye. A little flair never hurt nobody!
With these tips and tricks, your homemade Maple Pecan Coffee will not only be a delight to drink but also a feast for the eyes. Trust me, you'll be setting a new coffee standard in your household. Watch out Starbucks; we're coming for ya!
Is Starbucks Maple Pecan Seasonal?
The Elusive Seasonal Tag
Ah, the age-old question: "Is the Starbucks Maple Pecan Latte an all-year-round kinda deal?" Short answer? Nope. Long answer? Also nope, but with a twinge of seasonal sadness. This particular brew usually hits the menu as the leaves start to change, sharing the limelight with its more illustrious kin—the Pumpkin Spice Latte. So if you're a fan, better stock up like a squirrel with nuts because once winter rolls around, this autumnal elixir goes back into hibernation
Does Starbucks Have Maple Flavoring?
Okay, so you've caught the maple bug, and you're wondering if you can get that sweet nectar in your standard Venti. Good news and bad news, folks. Yes, Starbucks isn't a maple rookie. They do include maple flavoring in their arsenal, but—and it's a big but—it's generally reserved for their seasonal drinks, like our beloved Maple Pecan Latte. So unless you have a fairy god-barista or you're willing to sneak in your own maple syrup (which we do not endorse, mind you), you're likely outta luck when it's not "fall season."
What Brand of Flavor Syrup Does Starbucks Use?
Ah, the Starbucks vault of secrets—what I wouldn't give to take a peek. While they're not exactly broadcasting which brand of syrup makes the cut in their elite lineup, I've got a pro-tip for you. If you're looking to mimic that special Starbucks flavor, brands like Torani and Monin come pretty darn close. These are quality syrups used by cafes far and wide, and they can elevate your home-brewed cup of coffee from "meh" to "must-have-another.
Does Starbucks Sell Their Syrups?
Alright, DIY kings and queens, this one's for you. If you've got a serious craving and you want to bring a little bit of that Starbucks magic home, you're in luck. Many Starbucks locations do sell their syrups, so you can play barista in your own kitchen. Just head over, put on your best "I'm a coffee connoisseur" face, and ask. But a word to the wise—seasonal syrups like Maple Pecan are often as elusive in the store as they are on the menu. Don't say I didn't warn you!
By knowing the ins and outs of the Starbucks Maple Pecan Latte's seasonality and the availability of their syrups, you'll be one step closer to achieving that perfect brew. Plus, you'll have some snazzy coffee trivia to whip out at your next Zoom party. Cheers to tha
Wrapping Up
The Essential Takeaways
Alright, amigos, we've been on quite the caffeine-fueled journey today, haven't we? Let's break it down so you walk away with the knowledge nuggets you need to become a Maple Pecan Coffee connoisseur:
Seasonality: The Starbucks Maple Pecan Latte is a seasonal item, folks! Keep your eyes peeled come autumn, or be prepared to get your DIY on in the off-season.
Maple Flavor: Starbucks has the maple flavor game on lock, but it's mostly an autumnal affair. If you're hankering for that maple goodness year-round, you might have to resort to some home-brew wizardry.
Syrup Brands: Wanna get that Starbucks taste at home? Try brands like Torani or Monin to get close to that iconic flavor.
Milk Options: Don't be afraid to experiment with milk alternatives. Each one brings a unique flavor profile and texture that can elevate your cup to the next level.
Sweet and Icy: You control the sweetness and temperature. Whether you like it sweeter than a rom-com ending or cold as your ex's heart, you do you.
The Pour: Don't underestimate the power of a good stir. Consistency is key.
Insta-Game: Up your social media game with eye-catching toppings. Your coffee should look as good as it tastes, right?
For the Gram or Just for You
Whether you're sipping to impress your Instagram followers or just looking to give your morning routine a cozy, autumn-inspired kick, the Maple Pecan Coffee offers a taste that's as layered and complex as your last relationship. Okay, maybe it's more enjoyable than that, but you get the gist.
So there you have it, from the cup to the 'Gram, we've covered it all. Now, go brew something fabulous, and make sure to give Starbucks a run for their money. Cheers, coffee aficionados!
Maple Pecan Latte – Frequently Asked Questions
What is the best time of year to find the Maple Pecan Latte at Starbucks?

You'll typically find this fall favorite on the menu around early September, running through the autumn season.

Can I make Maple Pecan Coffee with cold brew coffee?

Absolutely, just add your syrups and milk to the cold brew and give it a good stir. The colder, the better!

Is the Starbucks Maple Pecan Latte available internationally?

It varies by market, but it's primarily a U.S. and Canadian thing. Check your local Starbucks to see if you can snag one.

What kind of syrup does Starbucks use for the Maple Pecan Latte?

Starbucks uses their own proprietary syrups, but you can get similar tastes from brands like Torani or Monin.

Can I get the Maple Pecan Latte decaffeinated?
Is there a vegan version of the Maple Pecan Latte?

You can make it vegan by choosing a plant-based milk option and ensuring the syrup is free of animal products.

Can I make this coffee keto-friendly?

Definitely! Opt for a sugar-free syrup and a milk alternative like unsweetened almond milk to keep it keto.

How do I achieve the perfect "foam" for my latte at home?

Use a frother or even a French press to froth your milk to silky perfection.

Can I add other flavors to my Maple Pecan Coffee?

Of course! Feel free to mix in some caramel, cinnamon, or even a touch of pumpkin spice for an extra kick.

How do I store leftover Maple Pecan syrup?

Store it in an airtight container in the fridge for up to two weeks. Just give it a good shake before you use it again.
JL Surjan
Disclosure: Our blog contains affiliate links to products. We may receive a commission for purchases made through these links. However, this does not impact our reviews and comparisons. We try our best to keep things fair and balanced, in order to help you make the best choice for you.