How to Trim a Brisket in 2023
Are you ready to unlock the ultimate secret How to Trim a Brisket without sacrificing its juicy, mouthwatering goodness? If you're tired of those dry, flavorless cuts, stay with me.
Imagine sinking your teeth into perfectly smoked, tender brisket that oozes with flavor and moisture. Your taste buds dance with joy, and your guests can't get enough. That's not a dream; it's your brisket reality!
You'll discover the art of precise trimming, keeping the juiciest parts intact while enhancing your brisket's taste. This is your ticket to BBQ stardom.
Stay tuned as we dive into the step-by-step guide, ensuring every slice is a succulent masterpiece. Say goodbye to dry brisket and hello to BBQ perfection! Ready to become the brisket maestro? Let's trim our way to BBQ greatness! 🍖🔪👑
What Trimming a Brisket is?
Trimming brisket refers to the process of removing excess fat and undesirable parts from a beef brisket before cooking it. Brisket is a tough cut of meat from the chest of a cow, and it typically consists of two main parts: the flat and the point. Trimming is done to prepare the brisket for smoking, barbecuing, or slow-cooking, as it helps improve the flavor, texture, and appearance of the final dish.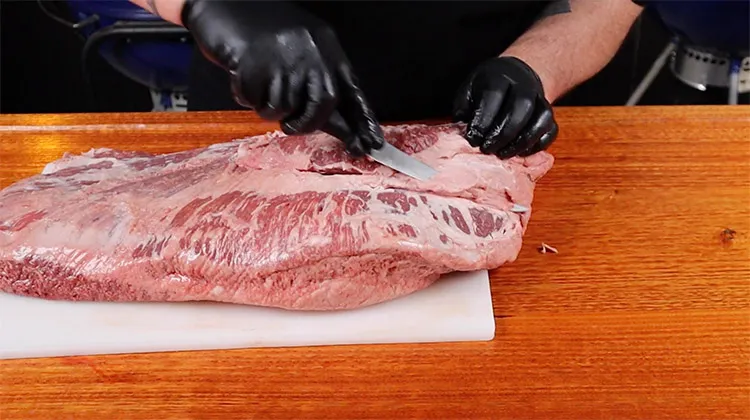 Reasons You Need To Know How To Trim a Brisket
Knowing how to trim a brisket is an essential skill for anyone who enjoys barbecue or smoking meats. Here are several reasons why it's important to know how to trim a brisket:
Improved Flavor: Trimming allows you to remove excess fat and undesirable parts of the brisket, resulting in a more balanced flavor profile. By reducing excessive fat, you can better control the meat-to-fat ratio, ensuring that the seasoning and smoke penetrate the meat more effectively.
Better Texture: Trimming helps create a more consistent thickness in the brisket, which leads to more even cooking. This helps prevent overcooking or undercooking in certain areas, resulting in a tender and juicy final product.
Smoke Absorption: Removing the fat cap and silver skin during trimming allows the meat to absorb the smoke more readily. This imparts a desirable smoky flavor that is characteristic of well-smoked brisket.
Customization: Knowing how to trim a brisket allows you to customize the cut to your preferences. You can choose the level of marbling, fat, and meat that suits your taste.
In summary, learning how to trim a brisket is a valuable skill that enhances the flavor, texture, and overall quality of your barbecue dishes. It allows you to take control of your cooking and create delicious, well-prepared brisket every time you fire up the smoker or grill.
What Are the Best Brisket Trimming Ideas?
Trimming a brisket is like sculpting a masterpiece, and we've got the secret sauce to make it legendary. Welcome to the world of "Trimking," where every slice is a triumph of flavor. Here are the steps to turn your brisket into a juicy sensation:
1. "The Fat Cap Ballet": Gently trim excess fat, leaving a kiss of flavor.
2. "Silver Skin Vanquisher": Say goodbye to the silver skin, revealing brisket's soul.
3. "Even Stevens": Ensure an even thickness for consistent cooking.
4. "Fat Cap Flip": Flip and score the fat cap for flavor infusion.
Now, let's dive into the full tutorial, where we'll break down these steps with precision and finesse. Get ready to become the ultimate Trimking in your BBQ realm!
Key Considerations For Successfully Trimming a Brisket
While our "Trimking" steps are your recipe for brisket perfection, let's not forget these essential nuggets of wisdom:
1. Quality Tools Matter: Invest in a top-notch knife. A sharp blade makes trimming a breeze and ensures clean cuts. It's your BBQ best friend.
2. Patience is a Virtue: Take your time. Rushing through trimming can lead to mistakes and uneven cuts. Brisket's worth the extra minutes.
3. Practice Makes Perfect: Don't be discouraged if your first attempt isn't flawless. Brisket trimming is an art, and like any art, it gets better with practice. Keep honing your skills.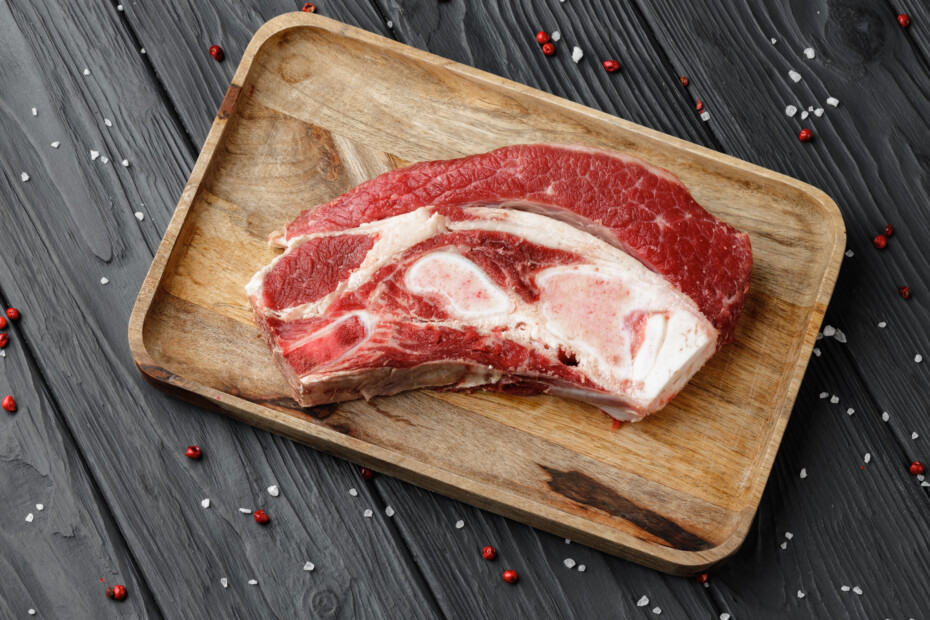 With these considerations in mind, you're set for brisket greatness. Now, let's get back to the trimming board and create a masterpiece that'll leave your taste buds singing with joy! 🍖🔪
How To Use Brisket Trimmings?
Ah, the brisket trimmings – often overlooked but packed with flavor potential! Here's how to put them to good use:
1. Beef Tallow:
Gather the fat trimmings and render them down in a pan over low heat until they melt into a golden liquid.
Strain out any solids and store the liquid beef tallow in a jar.
Use it for frying or roasting potatoes, veggies, or even to give your homemade french fries that unbeatable flavor.
2. Beef Broth:
Combine the lean meat trimmings with any leftover bones (if available) in a large pot.
Add water, onions, garlic, carrots, celery, and your favorite herbs and spices.
Simmer for hours, strain, and you've got a rich homemade beef broth for soups, stews, or cooking grains.
3. Flavor Boosters:
Finely chop the trimmings and use them as a flavor booster in chili, meatloaf, or even homemade sausages.
They can also be ground and mixed with other meats for burgers or meatballs, adding that brisket magic to your creations.
Don't let those trimmings go to waste. They're like the secret treasure chest of your BBQ adventure, adding depth and flavor to your culinary creations. 🍖🌟👨‍🍳
Tools Needed for Trimming Brisket
To become a true brisket "Trimking," you'll want to assemble your arsenal of essential tools on how to trim a brisket. Here's what you'll need:
Quality Brisket Knife: This is your trusty sidekick in the BBQ world. Invest in a sharp, long-bladed knife, ideally a boning or fillet knife. It should feel like an extension of your hand.
Cutting Board: A sturdy, large cutting board provides a safe and spacious work surface for trimming your brisket. Make sure it's easy to clean, too.
Meat Thermometer: While not directly for trimming, a reliable meat thermometer ensures you nail the cooking process after you've perfected your trim.
Sharpie or Chalk: Use this to mark the grain direction on your brisket. It's a small detail that can make a big difference when you're slicing later.
Tongs or Meat Claws: These come in handy when flipping the brisket or maneuvering it during the trimming process.
Gloves: Optional but helpful for a better grip on the brisket and to keep your hands clean.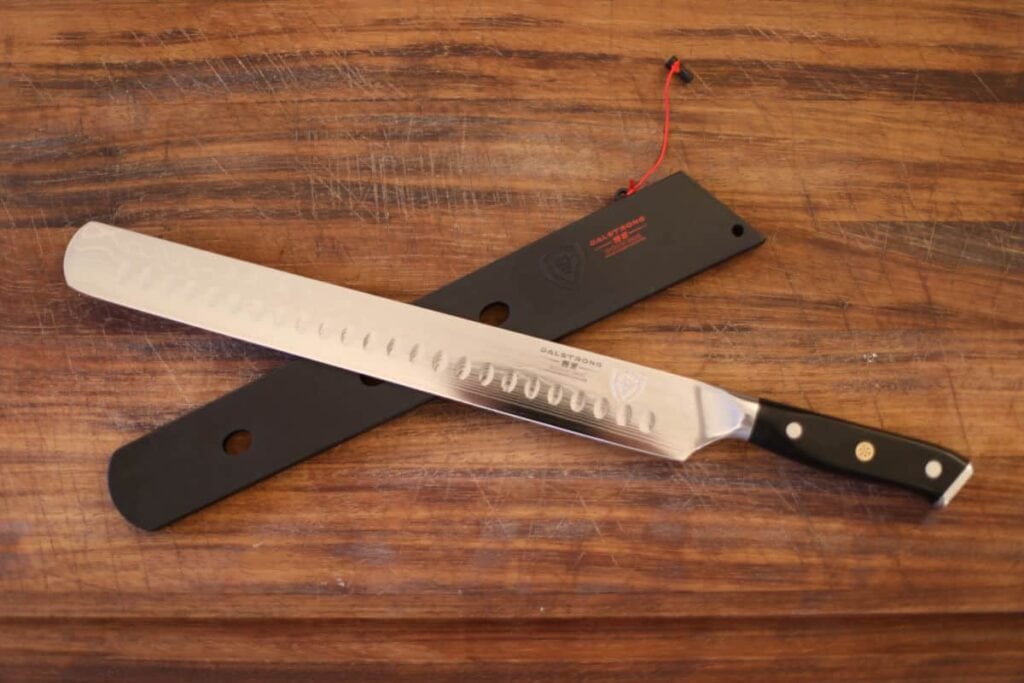 With these tools at your disposal, you're ready to embark on your trim a brisket adventure and create BBQ magic!
Common Brisket Trimming Mistakes
When it comes to trim a brisket, even the best of us can stumble. Here are some common mistakes to avoid:
Over-Trimming: Removing too much fat can leave your brisket dry and lacking flavor. Aim to leave about a quarter-inch of fat for that juicy goodness.
Ignoring Silver Skin: Neglecting to remove the silver skin underneath the fat can result in a tough and chewy texture. Take the time to get rid of it.
Uneven Thickness: Failing to ensure an even thickness across the brisket can lead to uneven cooking. Pay attention to those thinner and thicker areas and trim accordingly.
Rushing: Don't rush through the trimming process. Take your time to get it right. Precision is key in the world of brisket.
Dull Knife: Using a dull knife can make your job harder and result in messy, uneven cuts. Keep your brisket knife sharp.
Not Marking the Grain: Forgetting to mark the grain direction on the brisket can make slicing later a confusing ordeal. A simple step that makes a big difference.
Inadequate Tools: Using the wrong tools can hinder your trimming efforts. Invest in a quality brisket knife and a suitable cutting board.
Not Practicing: Like any skill, brisket trimming gets better with practice. Don't expect perfection on your first try. Keep honing your skills.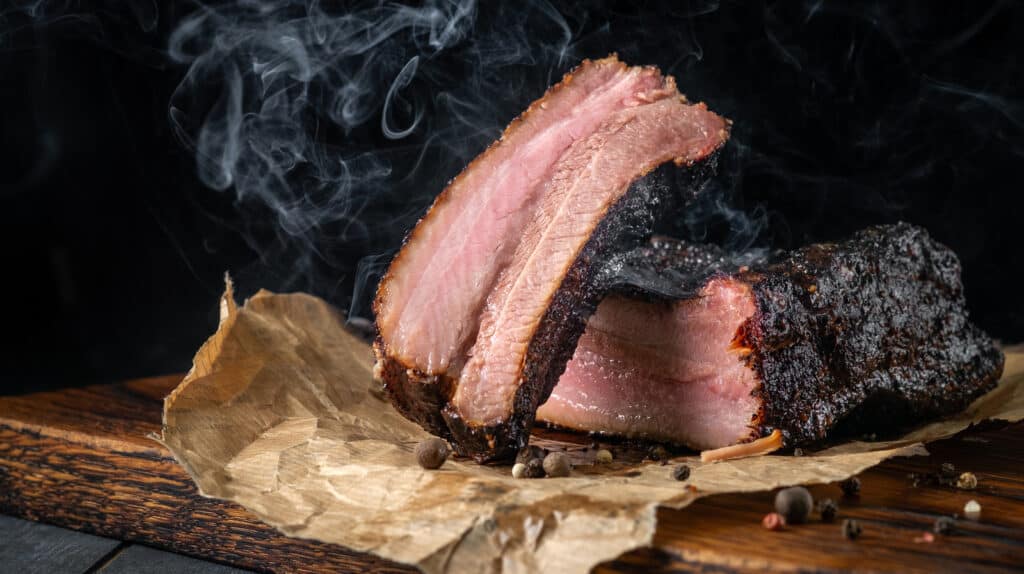 By steering clear of these common pitfalls, you'll be well on your way to becoming a brisket-trimming maestro!
Taking it to the Next Level: How to Get the Hang of Brisket Trimming
You've mastered the basics of brisket trimming, but why stop there? Elevate your brisket game with these advanced tips:
Experiment with Rubs
Beyond the classic salt and pepper rub, delve into the world of coffee-infused, bourbon-spiked, or spicy rubs. Customize your flavor profile to create signature briskets.
Wood Selection
Experiment with different wood chips or chunks for smoking. Oak, hickory, cherry, and mesquite offer distinct flavors that can take your brisket to new heights.
Resting Time:
Don't rush the resting phase. Let your perfectly smoked brisket rest for at least an hour in a foil tent to allow the juices to redistribute for a melt-in-your-mouth experience.
With these next-level tips, you'll be the undisputed BBQ champion in your neighborhood. Keep experimenting, honing your skills, and savoring the delicious journey of brisket mastery.
Wrapping Up
There you have it, fellow BBQ enthusiasts – the ultimate guide to brisket trimming, or as I like to call it, "Trimking." We've unlocked the secrets to preserving the juiciest parts while creating BBQ perfection.
Remember, practice makes perfect, so don't be discouraged by early attempts. With the right tools, patience, and these expert tips, you're well on your way to becoming a brisket maestro.
As someone who lives and breathes the world of coffee, bourbon, and BBQ, I've spent years perfecting my craft. Trust me, when it comes to brisket, I've been there, sliced that. So, keep that knife sharp, fire up the smoker, and let's embark on your brisket journey together. Your taste buds will thank you!
Jl.Surjan
Disclosure: Our blog contains affiliate links to products. We may receive a commission for purchases made through these links. However, this does not impact our reviews and comparisons. We try our best to keep things fair and balanced, in order to help you make the best choice for you.