Garrison Brothers' Lady Bird Bourbon
Greetings, bourbon aficionados, slow-life enthusiasts, and patrons of the finer things in life. This is J.L. Surjan, and today, I invite you on a journey of sensory exploration and poignant discovery. A journey punctuated with the spirit of Texas, passion, legacy, and the transcendent union of honey and cognac in Garrison Brothers' most impressive creation to date: Lady Bird Bourbon.
As a purveyor of the slow-paced life, I recognize the true beauty in taking time to savor every moment. The experience of drinking a bourbon, especially one as exquisite as Lady Bird, is more than just a tasting event. It's an intimate rendezvous with history, tradition, craftsmanship, and the luxurious marriage of meticulously curated ingredients.
Take a moment, breathe in, and let's step onto the sun-drenched, Texan soil of Garrison Brothers Distillery. Feel the intoxicating blend of wildflowers in the air, a testament to the unyielding commitment of Nancy Garrison, co-founder of Garrison Brothers Distillery, and Master Distiller Donnis Todd to our beautiful planet. Let's toast to their labor of love, to the bourbon that mirrors the dedication of its makers, and the enduring spirit of Lady Bird Johnson, who spent her life safeguarding the environment and nurturing our appreciation for its enchanting beauty.
Pour a glass, and let the journey begin.
As the sunlight dances upon your glass of Lady Bird, the bourbon greets you with the inviting aroma of freshly cut grass. Close your eyes, inhale deeply, and let the scents transport you to the sunlit meadows of Texas, a bouquet of native wildflowers in your hands. Lure of the sweet honey tugs at your senses, inviting you into a childhood memory of honey wafers and black cocoa waffle cones at the county fair.
Upon your first sip, the rich tapestry of flavors unfurls. Warm buckwheat pancakes that harken back to lazy Sunday brunches with loved ones; dark chocolate-covered cherries that remind you of stolen moments of indulgence; malted milk balls that echo past celebrations. Each sip, a journey into memories, each flavor, a note of nostalgia.
Lurking beneath the honey-sweet familiarity are the mature undertones of cognac cherries, dried figs, and plums. They emerge gracefully, revealing an adult sophistication in the bourbon that mirrors your own journey from the carefree wonder of childhood to the nuanced appreciation of adulthood. The multifaceted symphony of flavors tells a story – your story, imbued in each sip.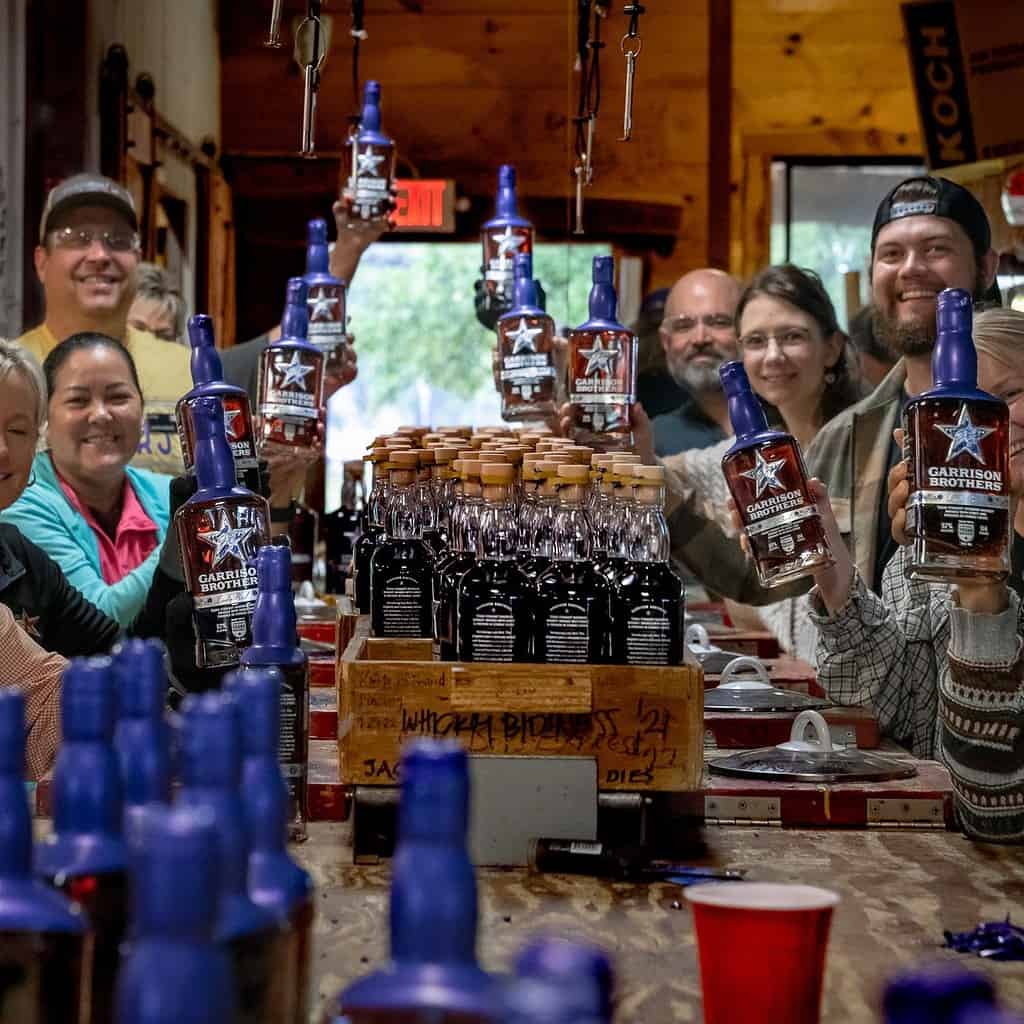 As you savor the last drop, the bourbon bids adieu with a long, satisfying finish. It lingers, just as those treasured moments of our lives linger in our hearts. And the lasting impression it leaves is one of succulent harmony, a testament to the beautiful union of honey and cognac, a sensory reflection of the bourbon's journey from its inception in the minds of Nancy Garrison and Donnis Todd to its final destination in your glass.
Lady Bird Bourbon is not just an elegant spirit; it is a tribute to a legacy, to the raw beauty of Texas, and to the joy of taking things slow. It's a promise that every moment, every ingredient, every sip is worth savoring. And with every bottle, you join us in honoring Lady Bird Johnson's impact on our world, as $5 from each bottle goes to preserving the native plants of North America through the Lady Bird Johnson Wildflower Center.
In the hustle and bustle of life, Lady Bird Bourbon stands as a reminder of what truly matters: taking a moment to appreciate the beauty around us, indulging in the fruits of hard work, and savoring the finer things in life.
So, here's to slowing down, to exquisite craftsmanship, and to honoring legacies. Here's to Garrison Brothers and their Lady Bird Bourbon. In the words of Nancy Garrison herself, "Sip it slowly, and let the harmony of honey and cognac transport you."
And indeed, as we drink to the rhythm of slow-paced life, may we find ourselves transported – to memories treasured, to moments cherished, and to a future savored. That, dear friends, is the essence of relaxed confidence refinement, the essence of Lady Bird Bourbon.
Disclosure: Our blog contains affiliate links to products. We may receive a commission for purchases made through these links. However, this does not impact our reviews and comparisons. We try our best to keep things fair and balanced, in order to help you make the best choice for you.