Gaggia Classic Color Vibes Best Review
Hey there, coffee aficionado! Imagine a world where your mornings are splashed with color and your coffee? Simply per-fetto. Enter the scene: Gaggia Classic Color Vibes. This isn't your grandma's old brewer—this is the gaggia coffee machine Picasso that's gonna jazz up your countertop and your taste buds. Get ready to fall head-over-heels for rich, creamy espresso that's as easy to make as flipping your mood playlist. Feeling curious? I bet you are. So, stick around, 'cause I'm about to serve up the hottest sip of info on this colorful beast. And trust me, you'll wanna snag one before your neighbor does! 🌈🚀
What is Gaggia Classic Color Vibes?
Oh, the Gaggia Classic Color Vibes? It's the espresso machine that's been making serious waves in the home barista scene. Imagine taking the timeless design of the OG Gaggia Classic—yeah, that sleek, no-nonsense espresso warrior—and giving it a fresh coat of awesome. That's what Gaggia did; they took their classic machine and splashed it with a palette of colors that'll make your kitchen pop like a Warhol painting.
This machine isn't just about looks, though; it's a true performer. It's got that commercial-grade group head for temperature stability, a hefty portafilter for that barista-quality espresso extraction, the professional group filter holder new colors and solenoid valve that will clear excess brew water into the drip trayand a frothing steam wand that lets you whip up microfoam so fine, your latte art will have its own Instagram following.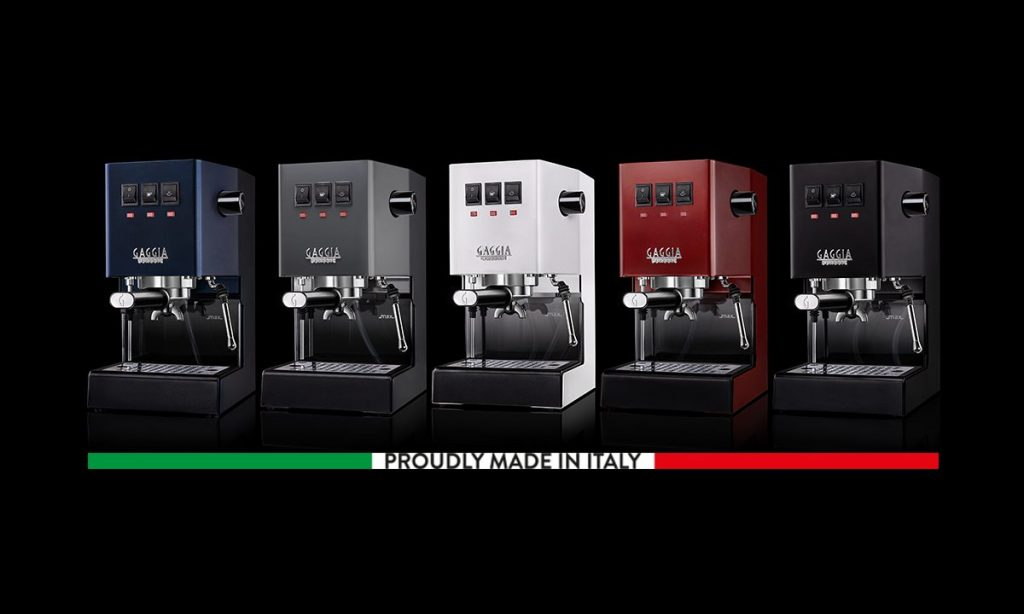 In other words, it's your trusty Gaggia Classic, but dressed for a color run. And just like the best 80s fashion, it's bold, it's bright, and it'll make you the coolest cat on the block—or at least the block's best espresso puller. Ready to brew like a pro and add some color to your coffee ritual? That's the Gaggia Classic Color Vibes for ya!
Gaggia Classic Color Vibes
The Gaggia Classic Color Vibes is a modern twist on the iconic Gaggia Classic espresso machine, known for its robust build and professional-grade brewing capabilities. This updated model maintains the key features that enthusiasts love—like the commercial-style 58mm portafilter filter holder and the three-way solenoid valve—while introducing a vibrant selection of colors to match any kitchen aesthetic.
With a rock-solid construction and user-friendly operation, the easy to use steam knob promises consistent espresso shots and steamed milk, perfect for crafting anything from a ristretto to a latte. Ideal for the home barista looking to combine style with serious espresso-making prowess.
Is It Worth the Price?
Absolutely, the Gaggia Classic Color Vibes is worth its price for espresso enthusiasts. Think of it as an investment in top-notch Italian coffee culture right in your kitchen. It's not just about the flashy features like the pro-grade filter holder and that awesome steam wand for perfect froth.
This machine is built to last, a real workhorse, unlike those flimsy coffee makers that give up after a few rounds. So, if you're serious about your espresso and plan on using it a lot, this machine is like the trusty cast-iron skillet of the coffee world. Worth every penny for that daily barista-level coffee fix!
What Makes Gaggia Classic Pro Color Vibes Unique?
What sets the Gaggia Classic Color Vibes apart is its clever blend of time-honored tradition and a fresh, contemporary look. Here's the scoop: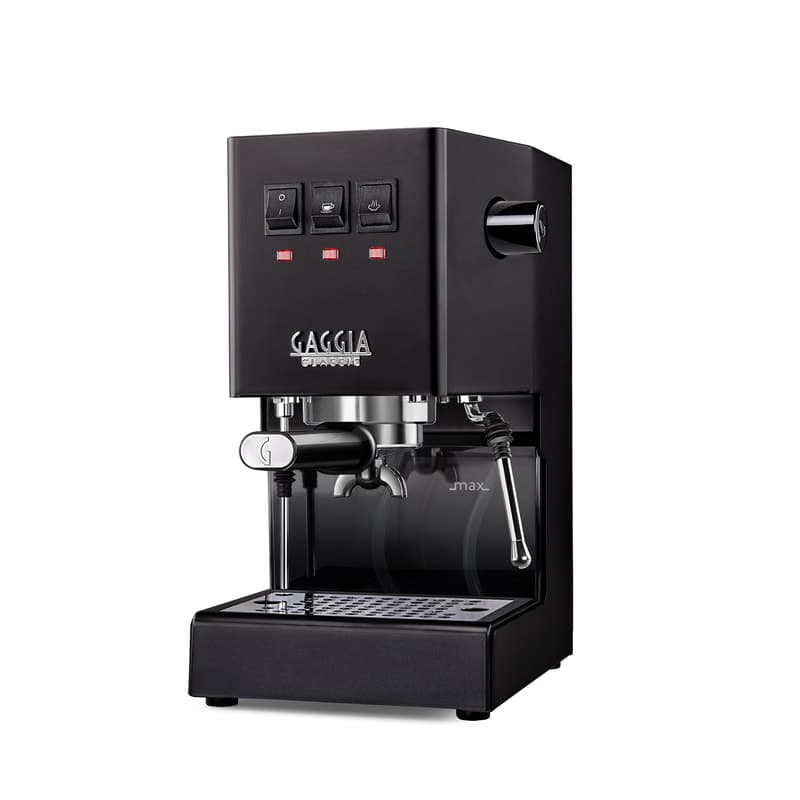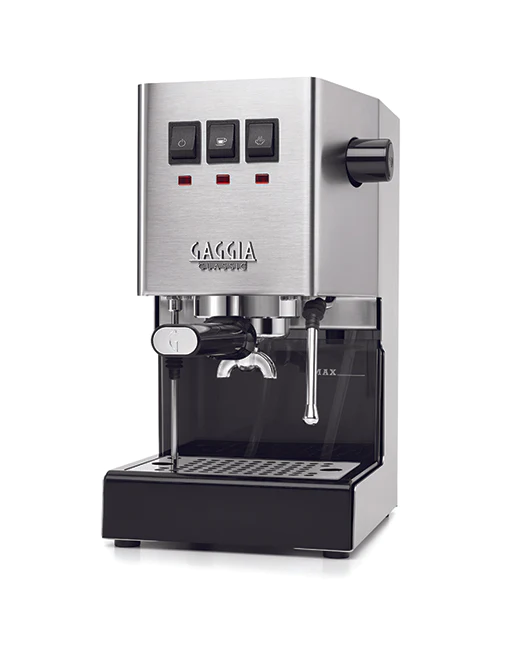 In essence, the Gaggia Classic Color Vibes is for those who don't just want to make espresso—they want to make it while making a statement. It's for the bold, the bright, and the bean-obsessed.
Steam Wand Wizardry
Double Shot Stainless Steel Filter Baske
Built Like a Tank
Hot Color Choices
Ease of User
Professional Performance: This machine has got the chops with its professional-grade group head and filter holder that'll keep your espresso shots consistent and delicious.
Price Point
Size Matters
Learning Curve
Maintenance
No Built-in Grinder
Commercial Steam Wand: It might not be as strong as some would hope because its steaming milk power can be a bit underwhelming. It takes a long time to steam milk leading to longer times for frothing milk.
Features Espresso Machine
All right, here's a quick-fire run-down of what the Gaggia Classic Color Vibes is all about, from its roots to its frother:
Pro Coffee Handle:
The chromed brass filter-holder is straight from the pros, ensuring your espresso has that authentic café-quality taste.
Steam Wand/Milk Master:
The pro steam wand turns your milk into a cloud of creamy perfection, ready to float atop your espresso.
Push-Button Genius:
New rocker buttons mean making espresso is as easy as tapping your favorite tune.
Pressure Perfected:
The 15-bar pump delivers the golden standard of pressure to get that authentic crema and a deep-flavored shot every time.
Basically, the Gaggia Classic Color Vibes is where Italian tradition meets a modern vibe, ensuring every espresso shot is an experience, not just a routine.
Gaggia Classic Color Vibes Espresso Machine Highlights:
Whether you're a budding barista or a coffee connoisseur, this new gaggia classic pro vibes combines classic brewing methods with modern convenience and a dash of style.
How many colors does the Gaggia Classic Color Vibes Have?
The Gaggia Classic Color Vibes struts into the spotlight with five snazzy colors:
Classic Blue: A timeless hue that's both deep and calming, perfect for the sophisticated sipper.
Industrial Grey: A sleek and modern pick that screams urban chic, it'll make your coffee corner look like a downtown loft.
Polar White: Crisp and clean, this one's for minimalists who love a pristine setup as much as they love a pristine cuppa.
Cherry Red: Bold and lively, it's the life of the kitchen party, and a color that's as passionate about espresso as you are.
Thunder Black: The classic black is all about elegance and mystery, a surefire pick to add some sleek sophistication to your morning routine.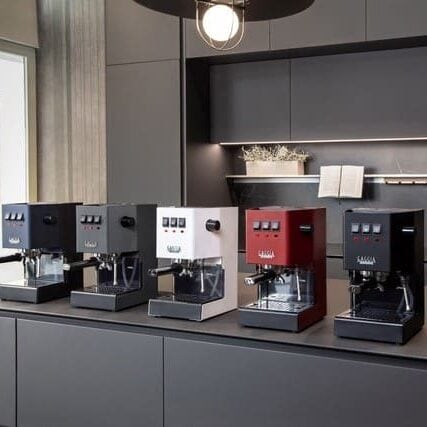 Each color isn't just a coat of paint; it's a personality, ready to match yours or make a statement on your countertop. Whether you're in the mood for something that pops or prefer a hue that's more subdued, the Gaggia Classic Color Vibes has got your palette—and your palate—covered.
Is Gaggia Classic Color Espresso Machine
Vibes user-friendly?
Absolutely, the Gaggia Classic Color Vibes is the kind of user-friendly that'll have coffee novices and aficionados alike pulling shots like pros. Think of it as the friendly neighborhood barista in a box. With its straightforward rocker buttons, you don't need a decoder to start brewing. It's as easy as one, two, espresso! The indicators are the cheat sheet to let you know what's happening—green for go, and you're only a press away from the magic happening.

And then there's the set-up. You won't be fiddling with a puzzle of parts; it's designed to get you from zero to caffeinated with minimal fuss. The big water tank is a front-loader, easy to handle, and the filters are ready to cater to whichever coffee mood you're in—solo espresso shot or a double? Even the steam wand plays nice, turning your milk into froth without the need for a barista's diploma. So yeah, it's user-friendly, and then some; it's almost like it wants to be your new best coffee buddy in making a good espresso shot.
Ease of Setup and Use:
Setting up and using the Gaggia Classic Color Vibes is like the first time you tie your laces—seems tricky at first, but once you've got it, it's like riding a bike. Here's the lowdown:
Unboxing to Brewing: Pop this beauty out of the box, and you'll find it practically ready to go. Just a quick rinse of the water tank, a check on the parts, and you're all set to plug in and heat up.
Water Tank Tango: The 2.1L water tank slides out easily from the front. Fill it up, slide it back in, and you're on your way to Espresso Town.
Rocker Buttons Rodeo: Those new rocker buttons? They're a cinch to use. One for on/off, one for brewing, and one for steam—it's like playing a game where every press rewards you with coffee.
Filter Fun: Whether you're a newbie or a seasoned espresso expert, you've got a filter holder for every mood. Choose the Crema Perfetta for a forgiving shot or the traditional ones if you're feeling more hands-on.
Double Shot Stainless Steel Filter Basket: It's typically equipped with a double shot stainless steel basket, perfect for those who love a strong, rich espresso.
Steam Wand Waltz: Want froth milk? The professional steam wand is your dance partner, twirling your milk into creamy microfoam that's ready for latte art.
Cup Warming Cha-Cha: Place your cups on top, and they'll warm up while the machine does its thing—meaning you'll get your espresso poured into toasty cups for that extra touch of perfection.
Clean-Up Conga: Post-brew clean-up is no conga line, but it's straightforward. The solenoid valve keeps things neat, leaving you with a dry puck that's easy to knock out.
And there you have it. No PhD required, just a love for coffee and maybe a quick glance at the manual to get the specifics down. After a few brew cycles, you'll be flipping those rocker switches and pulling good espresso shots like it's second nature.
Why Should I Buy the Gaggia Classic Color Vibes?
Buying the Gaggia Classic Color Vibes is like getting VIP access to the espresso club—it's a game-changer for your daily grind, literally. First off, you're buying into legacy—Gaggia's been in the espresso biz since forever, and they've packed all that expertise into this machine. It's the kind of craftsmanship that says "This shot's gonna be good espresso," even before you taste it.
But let's talk brass tacks—brass as in the pro-grade filter holder. It gives you that just-right temperature stability, which is pretty much the secret sauce for nailing the perfect espresso. You get the power of a commercial machine tucked inside a sleek little package that won't hog your countertop.
And customization? You've got it. With those eye-popping colors, this machine doesn't just brew, it expresses—your style, your mood, your kitchen vibe. It's like the chameleon of espresso machines, ready to stand out or blend in as you see fit.
Plus, this isn't some throwaway gadget. It's built to last, with a body of zinc-coated steel that'll go the distance. And that solenoid valve thingamajig? It's ensuring you won't be left with a soppy mess of used grounds—it's tidy espresso, every single time. So if you want café-quality without actually having to put on pants and go to a café, this is your ticket.
Compatibility with Coffee Types:
The Gaggia Classic Color Vibes is like a good friend who gets along with everyone—it plays nice with a variety of coffee types. Ground coffee, fresh beans? No problem. ESE (Easy Serve Espresso) pods for those rush-hour mornings? It's got you covered.
The included stainless steel filter basket options give you the freedom to experiment. You can go for the single or double-shot baskets when you're in the mood to tamp and dial in that perfect grind. Or, if convenience is the name of the game, pop in an ESE pod for a quick, no-fuss espresso without compromising on quality.
This versatility brewing process is a huge plus because let's face it, coffee preferences can be as mood-dependent as your choice in music. Some days you're all about that meticulously crafted, hands-on espresso experience, and on others, you just want a quick, decent shot before heading out the door. With the Gaggia Classic Color Vibes, you don't have to choose—you can have your (coffee) cake and eat it too.
Who is it for and Who is it not?
The Gaggia Classic Color Vibes espresso machines are a bit like a Swiss Army knife for coffee enthusiasts—it's for someone who appreciates the art and craft of a great espresso and isn't afraid to get hands-on in the pursuit of their perfect cup. It's for the tinkerer, the perfectionist, the "just-one-more-adjustment" folks who revel in the ritual as much as the result. If you're the type who gets a little thrill every time you nail the milk froth or the espresso extraction just right, this is your jam.
On the flip side, it's not the set-it-and-forget-it type's best bud. If your idea of coffee prep is pressing a button and walking away, this might be more like a high-maintenance pet than a trusty appliance. And if your mornings are more about the mad dash out the door than savoring the subtle notes of your hand-crafted brew, you might not find the Classic Color Vibes worth the extra time and cleanup.
So, if you're after convenience with a capital "C", or you prefer your coffee life to be as simple as instant granules dissolving in hot water, there are plenty of push-button, pod-loving machines that'll do the trick. But if you're someone who wants to play an active part in your caffeination and you don't mind a bit of a learning curve, the Gaggia Classic Color Vibes could be your espresso soulmate.
Common Problems and Troubleshooting Gaggia Classic Color Vibes espresso machines
Ah, the Gaggia Classic Color Vibes. It's like that friend who's super reliable until they're not, and then things can get interesting. Here's the lowdown on some common hiccups and how to play the troubleshooting maestro:
Flow Issues – If the water's more a trickle than a torrent, it might be a sign the machine is begging for a descaling. Calcium and lime are the party crashers here. Run a descaling solution through the system, and it should get back to its spritely self.
Temperature Tantrums – If your espresso is coming out with the chill of a cold shoulder, it's probably an issue with the heating element or thermostats. This one's a bit technical, so you might need to get on the blower to a professional.
Steam Wand Whimpers – If that wand isn't giving you the froth you're frothing for, check for milk clogs. A good steam wand purge and a clean can often sort it out. If it's still lackluster, you might need to replace the steam valve.
Leaks and Puddles – Find water under your machine? Could be loose connections or a worn-out gasket or drip tray. Tighten up where you can and swap out any gaskets that have given up the ghost.
Grumpy Grinder – If you're pairing it with a grinder and it's not playing nice with the grind size, you'll need to adjust the grind coarser or finer depending on whether it's a gusher or a dripper.
Buttons and Lights Go Rogue – When the lights start flashing like a disco or the buttons aren't responding, it's often a sign of an electronic snafu. Power cycling (the ol' "turn it off and on again") can work wonders. If it's still throwing a fit, then the electronics might need professional attention.
Remember, these machines are a bit like high-performance sports cars; they need a pit crew's mindset. Regular maintenance, a good understanding of the machine, and a bit of TLC can prevent most of the issues. But for the more gremlin-like problems, never be shy to call in the cavalry (a.k.a. customer support or a professional technician).
Tips for Potential Buyers on Making a Decision
Gather 'round for some straight-shot advice when considering whether to welcome the Gaggia Classic Color Vibes into your home.
If you've ticked these boxes and your heart still beats faster at the thought of a Gaggia Classic Color Vibes on your countertop, then my friend, you might just be ready to take the plunge. If there are more "no's" than "yes's" here, it's worth exploring other seas in the vast ocean of coffee machines. Remember, it's all about finding the perfect match for your personal coffee journey.
Warranty and Customer Support:
Just a pro tip: Always register your machine if that's an option. It can streamline the whole support process if you need it. And keep your receipts and any documentation in case you need to prove your purchase date for warranty issues.
So, sip easy knowing that you're not flying solo with this purchase. The warranty and customer support are like the crema on your espresso – they make a good thing even better.
Buyers Guide: How We Conducted Our Research
Here's a peek behind the curtain on how I dive deep to bring you the goods on the Gaggia Classic Color Vibes:
Expert Espresso Encounters: I chat up baristas, pro espresso machine repair techs, and coffee aficionados who've had hands-on experience with the Gaggia Classic Color Vibes. Their insights on performance, durability, and quirks give me the inside track.
User Reviews and Espresso Espionage: I sleuth around customer reviews on retail sites, coffee forums, and social media. These are the folks living with these machines day in, day out – they're the real MVPs with the honest scoop.
Feature Face-Offs: I compare specs and features with other machines in the same class. This helps pinpoint where the Gaggia Classic Color Vibes shines and where it might be hiding in the shadows.
The Long Haul Look-See: How does this machine age? I seek out old-timers who've been brewing with the Gaggia for years. They've got the lowdown on its longevity or any mid-life crises it might have.
The Coffee Community Chorus: I don't just rely on one source – I harmonize the whole range of feedback. That means looking at both the raving reviews and the rants, because the truth usually hangs out somewhere in the middle.
Test Drive Time: When possible, I get my hands on the machine for a personal test drive. I push its buttons, froth some milk, and pull shots until I feel like I've gotten to the heart of what it's all about.
Tech Talk: I dig into the technical aspects – the boiler size, pump pressure, temperature stability. You know, the nerdy stuff that makes a big difference in your daily cup.
The Aesthetic Assessment: Let's not forget looks – they matter. I eyeball the design, the build quality, and how it might fit into kitchens from the minimalist to the retro-chic.
Value Verification: It all comes down to bang for your buck. I weigh the cost against the features, performance, and the competition to see if it's a smart investment.
Support System Scrutiny: Last but not least, I investigate the warranty, customer service, and support infrastructure. Because even the best machines need a bit of TLC or a shoulder to lean on now and then.
Combining all these elements gives me a comprehensive view of the Gaggia Classic Color Vibes, so I can spill the beans to you with confidence. Just like crafting the perfect espresso, it's all about the right blend of sources and a keen eye for detail.
Wrapping Up
Alright, we've taken a pretty thorough espresso expedition with the Gaggia Classic Color Vibes. From its chic Italian threads to the impressive features that might make your barista pals green as a well-steamed matcha latte, we've covered the grounds.
Remember, this machine is a bit like high-fashion – it's not just about the bold colors and the shiny finish, but the craftsmanship beneath. With its pro features, you're not just buying a coffee machine; you're stepping into the shoes of a home barista, ready to pull shots that could make an Italian nonna nod in approval.
But, it's not all roses and crema. It's a commitment – of space, time, and cash. This machine asks you to embrace the espresso-making ritual, to be part of the process rather than just a spectator.
Whether you're chasing the ultimate home espresso setup or just really jazzed about that cup warmer, your decision should be as tailored to you as a custom espresso blend. If you feel that little jolt of joy thinking about a Gaggia Classic Color Vibes on your counter, then maybe it's time to make that leap.
Just be sure you're ready for the ride – espresso is a journey, not a pit stop. So, to all you potential buyers out there, weigh your options, trust your coffee gut, and whatever you choose, enjoy the brew-tiful moments to come!
Jl.Surjan
Disclosure: Our blog contains affiliate links to products. We may receive a commission for purchases made through these links. However, this does not impact our reviews and comparisons. We try our best to keep things fair and balanced, in order to help you make the best choice for you.