Firestone & Robertson Distilling Co. – A Labor of Love, Grain to Glass
In the Lone Star State, where the swagger of tradition meets the thrill of innovation, Firestone & Robertson Distilling Co. has emerged as a spirited torchbearer. Born from the shared dreams of two friends, Leonard Firestone and Troy Robertson, this Fort Worth-based distillery represents a labor of love, an enduring homage to the art of distillation, and the relentless pursuit of crafting the perfect whiskey.
Leonard Firestone's entry into the world of spirits seemed almost predetermined, having been raised around vineyards and award-winning culinary taverns. A journey through politics, television media, and a successful stint in entrepreneurship eventually led him to discover his true calling in the craft distilling industry. Firestone's obsession with handcrafted spirits bloomed into an undeniable passion, a pursuit of flavor, and a love for the meticulous craftsmanship that defines the spirit industry.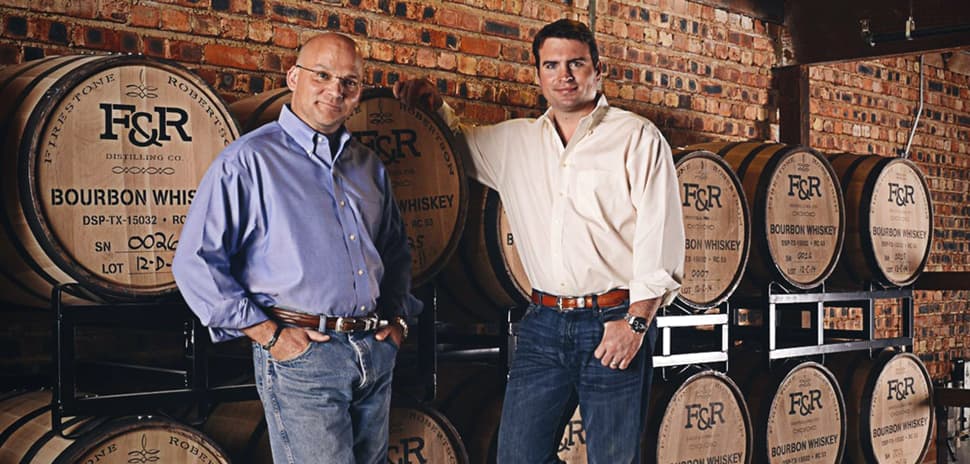 The story of Troy Robertson, a third-generation Texan with deep roots in the oil industry, mirrors Firestone's own. After a successful career in the financial side of energy, his innate desire to create something tangible took precedence. Robertson's fascination with whiskey, its unique personality, and complex narratives proved irresistible, and the idea to build a whiskey distillery in Fort Worth set him on a path of self-education and research.
Their meeting, orchestrated by a shared fascination for the craft, only further solidified their mutual desire to create something exceptional. It was an unusual yet perfect union — a friendship born of shared passions and a coincidence that neither of them could ignore.
As they worked to transform their dream into a reality, they welcomed Rob Arnold, a native of Louisville, Kentucky, with a rich family history in the bourbon industry. A scientist by training, Arnold's love for distillation and his academic background in microbiology made him the ideal person to join as their Head Distiller.
The distillery, nestled in a refurbished Prohibition-era warehouse south of downtown Fort Worth, stands as a testament to their dedication to authenticity, craftsmanship, and quality. The charm of the past combines seamlessly with state-of-the-art distilling equipment to create a unique environment where creativity flourishes and superior spirits are born.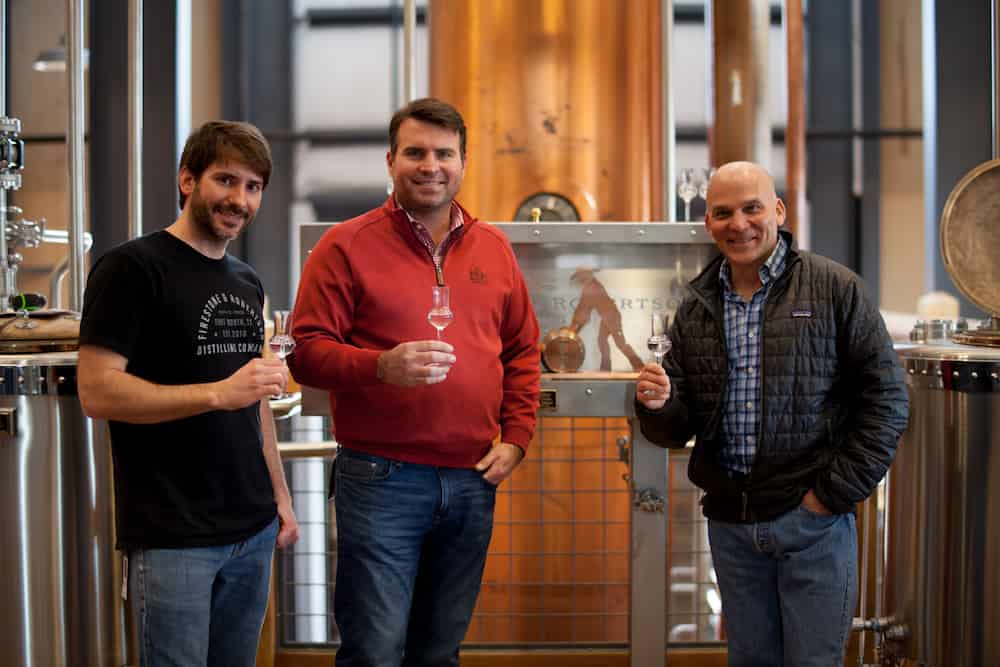 Their TX Bottled in Bond Straight Bourbon serves as a prime example of this commitment to quality and tradition. The bottled-in-bond designation, a distinction that dates back to 1897, underscores the painstaking efforts that Firestone & Robertson undertook to craft this exemplary spirit. To earn this accolade, the bourbon must be crafted under the watchful eye of one master distiller, at one distillery, within one season. The maturation process must span at least four years in new charred oak barrels, and the final product must be bottled at exactly 100 proof.
Firestone & Robertson's Bottled-In-Bond Texas bourbon, the first of its kind, is a manifestation of this commitment to quality, authenticity, and innovation. It's a testament to their relentless pursuit of excellence, where each sip narrates the tale of their shared dream, the rigorous crafting process, and their love for the Lone Star State.
Their story is an homage to friendship, shared dreams, and a deep-rooted respect for traditional distilling. It's the story of two men who have defied the odds, pushing past obstacles and dedicating themselves to a craft they hold dear. It's the story of Firestone & Robertson Distilling Co., a beacon of authenticity and craftsmanship in the ever-expanding universe of craft distilling. It is, in every sense, the spirit of Texas.
Their passion for their craft, their products, and their dedication to delivering exceptional spirits is clear in every bottle that leaves their distillery. In the words of Leonard and Troy, "We'd like nothing better than to show you how we create them, and, of course, give you a sample of each delicious product. Please come visit us. That would make us (and hopefully you) very happy." Their enthusiasm for sharing their labor of love is as potent as the spirits they craft, a testament to their commitment and love for the world of whiskey.
Firestone & Robertson Distilling Co. is not just a distillery. It is a living, breathing manifestation of a shared dream, a friendship, and a labor of love that has been bottled for all to savor. From their distillery in Fort Worth, Texas, they have crafted more than just exceptional spirits. They have crafted a legacy.
Disclosure: Our blog contains affiliate links to products. We may receive a commission for purchases made through these links. However, this does not impact our reviews and comparisons. We try our best to keep things fair and balanced, in order to help you make the best choice for you.