Caramel Apple Coffee: An Orchard in a Cup, Baby!
Hey, coffee and fall flavor fanatics! What do you get when you mash up the comforting warmth of a cup o' joe with the iconic taste of autumn—caramel apple? You get Caramel Apple Coffee, the favorite fall liquid hug your soul didn't know it needed. Stick around if you're curious how to turn your morning brew into a harvest festival in a mug. It's like apple picking without the flannel. Get ready for this caramel apple extravaganza; it's gonna be a delicious ride!
Alright, that's your teaser. Let's get to the good stuff, shall we?
What is Caramel Apple Coffee, Anyway?
First off, if you're new to the fusion of apple and coffee, don't worry—you're not alone. We're diving into this sumptuous combo that's taking over the fall drink scene faster than you can say "pumpkin spice latte, who?
Imagine biting into a fresh apple, crisp and juicy, then swirling it in gooey caramel. Now, add that blast of flavor to a robust cup of coffee. That's what we're talkin' about here: a Caramel Apple Coffee that is a full-on autumnal fiesta in your mouth. It combines the earthy depth of coffee with the sweet and tangy zest of apple and caramel. It's like a caramel apple went on a blind date with your morning brew and they hit it off big time.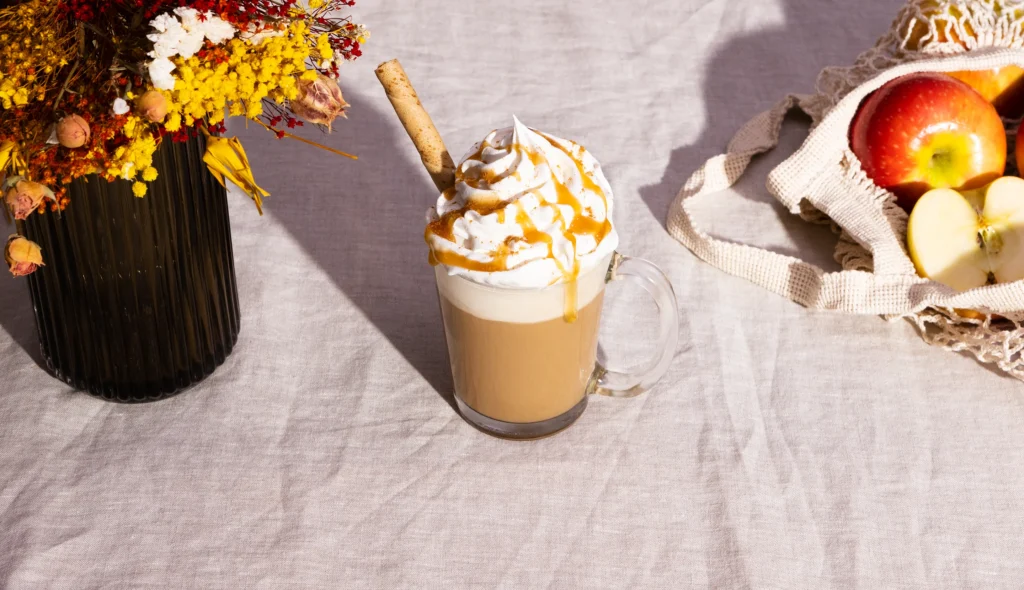 In the seasonal realm of things, this drink is a break from your typical cinnamon and pumpkin-flavored everything. It takes the traditional flavors of caramel apple cider and puts a caffeinated spin on it. You're not just waking up; you're celebrating the season every time you take a sip!
How To Make Caramel Apple Coffee: Recipe Time!
Alright, enough drooling over the idea; let's get down to business. Your tastebuds are already celebrating, I can tell. Get ready to transform your humble kitchen into a gourmet café with this ridiculously simple recipe.
Ingredients You'll Need:
Freshly brewed coffee: 1 cup (Use your favorite blend; we're not here to judge)
Apple cider: 1/4 cup (the fresher, the better)
Caramel syrup: 2 tablespoons (Or more if you're feeling saucy)
Ground cinnamon: A pinch (or to taste)
Whipped cream: For topping (optional but recommended)
Here's How to Stir Up the Magic:
Brew Your Coffee: Start by brewing up a cup of your favorite coffee. Whether you're a French press fan or an espresso enthusiast, go with what you love.
Heat the Apple Cider: In a separate saucepan, heat your apple cider until it's just about to boil. You can also do this in the microwave if you're short on time or just lazy (it's cool; we've all been there).
Combine and Stir: Add the heated apple cider to your coffee cup. Stir in the caramel syrup and give it a good mix.
Add a Pinch of Spice: Sprinkle that pinch of cinnamon on top. It adds a little extra fall flavor that's way better than those fake autumn-scented candles.
Top It Off: If you're feeling fancy, go ahead and top it off with some whipped cream. Maybe even drizzle a little more caramel on there; I won't tell.
There ya have it! You're now the proud creator of your very own Caramel Apple Coffee. Take a sip and tell me that ain't a whole orchard of deliciousness in a cup!
Variations: When Good Just Ain't Good Enough
Look, the standard Caramel Apple Coffee is already a home run, but what if you wanna go all Babe Ruth and shoot for the fences? Let's explore some killer variations to keep your morning brew as exciting as a last-minute BBQ invite.
A Boozy Twist: Caramel Apple Fall Sangria Coffee
Ah, Caramel Apple Fall Sangria Coffee—So let's break this down. Caramel Apple Fall Sangria Coffee is pretty much the cocktail-equivalent of putting on a warm flannel shirt while apple-picking and simultaneously sipping on a Pumpkin Spice Latte. Yeah, it's that cozy.
Ingredients:
Freshly brewed coffee: 1 cup
Apple cider: 1/4 cup
Caramel vodka: 1 oz (if you're feeling bold)
Pinot Grigio: A splash (or a pour, I'm not your mom)
Instructions:
Make the Coffee Base: Brew up that coffee like you're about to face Monday morning.
Mix in the Booze: Add the apple cider and caramel vodka to the coffee.
Top Off your cocktail with Wine: Go ahead, and pour a splash of Pinot Grigio in there. It's five o'clock somewhere, right?
The Dessert Lover: Caramel Apple Coffee Float
Now we're diving deep into the pleasure zone! A Caramel Apple Coffee Float? That's like if autumn had a baby with an ice cream truck, and they decided to serve it in a coffee shop.☕🍎
Instructions:
Brew and Mix: Just like the original recipe, brew your coffee and mix it, Use apple cider thats freshly pressed and caramel.
Add Ice Cream: Plop a scoop of vanilla ice cream right into the cup. You heard me.
Stir and Enjoy: Give it a gentle stir and dive into this dessert-disguised-as-a-beverage.
Trust me, these variations aren't just gilding the lily; they're wrapping that lily in gold leaf and putting it in a Tiffany's box. Enjoy experimenting, ya flavor adventurer!
Key Considerations: The Fine Print for Your Sipping Pleasure
So you're amped to turn your kitchen into a Caramel Apple Coffee haven—awesome! But before you go running to the grocery store like it's Black Friday, there are a few key things to consider to make sure your brew is the best it can be. You wouldn't slap just any sauce on your BBQ, would you?
Choosing Your Coffee
Flavor Profile: Aim for a coffee blend that's more on the earthy, nutty side. Something too fruity or acidic might make your drink taste like a Jolly Rancher got lost in your cup, and nobody wants that.
Picking Your Apple Cider
Fresh or Store-Bought: If you can snag some fresh apple cider from a local apple orchard, you're winning. If not, just make sure to get a brand that doesn't taste like liquified Jolly Ranchers. Trust me, it's a thing.
Spiced or Not: If you're a cinnamon fan, go ahead and get spiced apple cider. If you prefer to control the spiciness, opt for the regular kind and add your own ground cinnamon.
The Caramel Question
Syrup vs Sauce: You can use caramel syrup for a more liquid consistency, or you can go with a thicker caramel sauce for that ooey-gooey goodness. Choose your own caramel adventure, folks.
Instructions:
Read Labels: If you're at the store, read the labels, people! Check the ingredients to ensure you're not buying something that's 90% sugar and 10% apple.
Taste Test: Before combining anything, do a little taste test of each ingredient. You want to make sure the flavors will play nice.
Experiment: Once you've got your prime ingredients, don't be afraid to experiment a little. More caramel, less cider—make it your own!
By giving a hoot about these considerations, you're not just making a drink; you're crafting an experience. And that, my friends, is how legends are made. Cheers!
Conclusion: Wrapping Up the Orchard-In-A-Cup Experience
Hey, we've been through a lot together in this post, haven't we? From decoding what Caramel Apple Coffee is, to nailing down the perfect recipe and its badass variations, all the way to the finer points of coffee-cider-caramel synergy. It's been a ride as satisfying as sinking your teeth into a freshly grilled BBQ rib.
Celebrate the Season with Every Sip
This Caramel Apple Coffee isn't just a drink, folks. It's a seasonal celebration in a cup! It's your perfect fall treat for those crisp mornings or cozy nights in. And let's be real, it's a heck of a lot easier to whip up than an apple pie.
Here's What to Remember:
Quality Ingredients: Get the best coffee and fresh apple cider you can lay your hands on. They're the backbone of this drink.
Customize: Feel free to add or skip ingredients to suit your own taste. If you're the adventurous type, go ahead and stir in some caramel vodka or even wine!
Savor the Moment: Whether it's the morning jolt or the evening relaxer, make sure to take a moment to truly enjoy this fall-flavored masterpiece.
Well, there you have it! You're now a certified expert in the world of Caramel Apple Coffee. So go ahead, celebrate the season one cup at a time, and don't forget to share your own twists on this fall classic!
FAQ: The Nitty-Gritty of Your Apple-Centric Coffee Curiosities
Alright, let's get to the part where I read your mind and answer all those burning questions you've got simmering in the back of your noggin.
Can I use apple juice instead of apple cider?
Yep, you can, but be warned: the flavor won't be as rich or sophisticated as apple cider.
What type of wine should I use if I'm going for the Caramel Apple Sangria Coffee?
A dry riesling or pinot grigio works best to balance the sweetness.
What if I don't want alcohol? No worries!
You can skip the booze entirely or use flavored vodka without alcohol.
Can I make this ahead of time?
You sure can! Just combine all the ingredients in a large pitcher and store it in the fridge a few hours before serving. Stir well to combine when you're ready to enjoy.
Does it have to be served hot?
Nope! You can serve this as a chilled treat too. Just add some ice cream for extra indulgence.
Do I need to get fancy with the coffee beans?
You don't have to, but a higher-quality coffee will certainly elevate the drink.
Where can I find caramel vodka?
Most grocery stores and liquor stores should have it, just check the bottle labels carefully.
Can I make it sweeter?
Feel free to add more caramel sauce or syrup to reach your desired level of sweetness.
What can I sprinkle on top?
A sprinkle of cinnamon or even some cheese for a savory twist can add a finishing touch.
Can I make this a Halloween or Thanksgiving specialty?
Absolutely! This drink screams fall and would be a hit at any seasonal gathering.
Do you have any recommendations for other fall treats to pair this with?
Apple cider donuts or even a slice of apple pie would be heavenly alongside this Caramel Apple Coffee.
So there you go! You're now prepped and ready to dive into the world of Caramel Apple Coffee like a pro. Go on, make your kitchen smell like an orchard and your taste buds dance the cha-cha!
JL Surjan
Disclosure: Our blog contains affiliate links to products. We may receive a commission for purchases made through these links. However, this does not impact our reviews and comparisons. We try our best to keep things fair and balanced, in order to help you make the best choice for you.