Best Retractable Patio Awnings In 2023
Tired of having your peaceful patio lounging interrupted by a sudden downpour? Imagine enjoying your morning coffee, soaking up the sun, or hosting a barbecue without worrying about the whims of Mother Nature. Enter retractable patio awnings: your sun shade canopy against unpredictable weather and harmful UV rays. Yes, 2023 is the year of chic and functional outdoor spaces, and you, my friend, are just a click away from upping your patio game. So, settle down, dive in, and let us reveal the best retractable patio outdoor shade awning of this year. Trust us, your patio is silently begging for this upgrade!
What Are the Top Retractable Patio Awnings?
Whether you're looking for a high-end retractable patio awning that offers premium features and superior quality or an entry-level model that offers great value for money, there are options available that can meet your needs. In our thorough research, we have narrowed down to the top two retractable patio awnings that stand out in their respective categories.
HIGH END
ENTRY LEVEL
ADVANING 16'x10′ Motorized Patio
Retractable Awning, Luxury Series
STEELAID Manual Retractable Awning
Brief Description: The best high-end model that stands out for its superior quality, exceptional functionality, and elegant design.
Price: $2,319.90
Brief Description: A chic, minimalist, and affordable solution for your patio that still offers great quality and easy installation.
Price: $159.99
Our high-end choice, the ADVANING 16'x10′ Motorized Patio Retractable Awning from the Luxury Series, is truly top-tier. It excels in both form and function with its premium quality materials, advanced features, and elegant design. This awning provides a substantial area of shade and boasts a motorized operation for ease of use. This product is also shipped fully assembled, ready for installation.
The STEELAID Manual Retractable Awning is an affordable option that does not skimp on quality or aesthetics. Despite its lower price, this awning is stylish, practical, and easy to install. Its size and design are perfect for those seeking to add shade to their patio without a substantial financial investment. This awning is also quite easy to maintain, only needing occasional cleaning to keep it in top shape.
Overview
The Outsunny 13′ x 8′ Retractable Awning is a marriage of style, sophistication, and functionality. It offers a user-friendly retractable mechanism and a minimalist design that not only enhances your outdoor space but also provides protection and shade from the elements. Its robust build and easy maintenance promise to add comfort and style to your patio for years.
Key Benefits
A perfect blend of elegance and practicality, enhancing your outdoor space.
Easy-to-operate retractable mechanism for smooth and quiet adjustments.
Robust aluminum and steel construction ensures durability and longevity.
Provides effective heat reduction and protection against sunburns.
Can be attached to various surfaces such as concrete, solid brick, or wooden walls.
Pricing
This awning is priced at $199.99. Given its superior features and benefits, it offers excellent value for your money.
Pros & Cons
Pros:
User-friendly with an easy retractable mechanism.
Elegant design that complements any outdoor decor.
Durable construction that withstands weather conditions.
Provides a sizable shaded area of 104 ft².
Cons:
Installation requires at least 8.2′- 11.5′ height up the wall.
Not recommended for use during strong winds and heavy rain.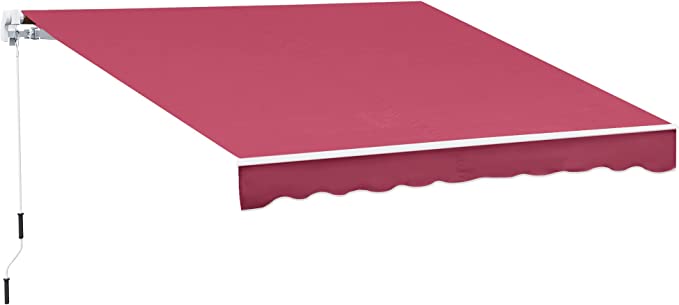 Overview
The ALEKO Manual Retractable Patio Awning is a combination of vintage charm and modern functionality. Known for its durable build and stylish appeal, this awning is an excellent choice for individuals looking for a refined outdoor aesthetic. It operates manually, ensuring effortless maintenance. A soft brush and mild soap are all you need to keep it looking pristine. Plus, the installation process is simple, with a detailed manual guide to help you through the steps.
Key Benefits
Anti-rust, making it perfect for shade and UV protection.
Long-lasting, with a powder-coated steel frame and black aluminum construction.
Manual operation for easy adjustment.
Polyester fabric promotes air flow, reducing trapped heat and moisture.
Can be mounted on reinforced concrete, wood-framed, and brick walls.
Pricing
This patio awning is available for $269.99, offering superb quality and craftsmanship for its price.
Pros & Cons
Pros:
High durability and rust resistance.
Manual operation for easy adjustments.
Elegant design and long-lasting service.
Polyester fabric allows for improved air circulation.
Cons:
Not suitable for loose stones or drywall mounting.
Must be retracted during heavy winds and storms.
Overview
The Yaheetech 10 × 8 Ft Patio Awning, Retractable Sun Shade is an ideal choice for smaller patios requiring effective sun protection. This awning combines easy operation with effortless cleaning and maintenance, thanks to its compact size. With the included installation guide, you'll find adding this luxurious accessory to your outdoor space is as easy as enjoying a quiet evening with your favorite drink.
Key Benefits
Offers excellent sun protection for outdoor spaces.
Features a wavy edge for added decorative beauty.
Hand crank for easy and smooth adjustments of the awning.
Electricity-free operation means no additional utility costs or power outage concerns.
Suitable for installation on any smooth and hard surface.
Pricing
This beautifully crafted patio awning is priced at $119.99, offering excellent value for those wanting to enhance their smaller patios.
Pros & Cons
Pros:
Compact size makes it ideal for smaller patios.
Easy manual operation for effortless adjustments.
Attractive design adds to the beauty of your outdoor space.
Can be installed on various hard surfaces.
Cons:
Not suitable for larger patios due to its size.
Lack of electric operation may be less convenient for some users.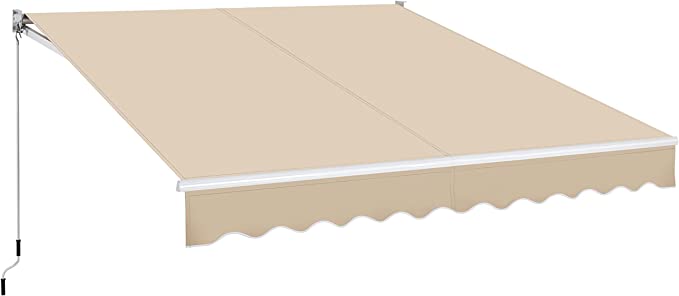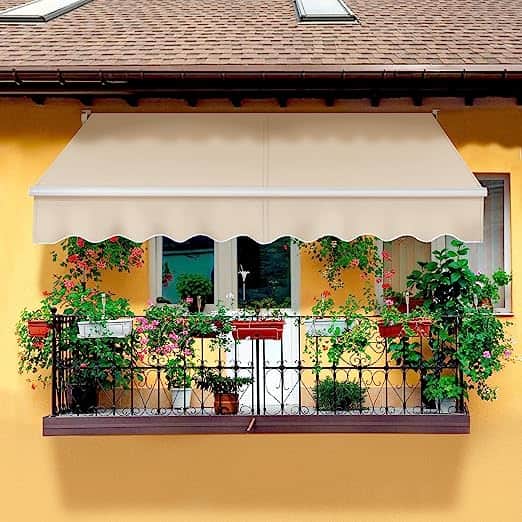 Overview
The AECOJOY 13'×10′ Patio Awning Retractable Awning Sun Shade Awning Cover represents luxury and convenience in harmony. Perfect for larger spaces, this awning provides an expansive shaded area. The retractable design offers easy use and maintenance, making it a superb choice for those who prioritize their relaxation time. The awning comes with a detailed instruction manual, ensuring a hassle-free installation process.
Key Benefits
High-quality fabric with anti-UV protection, windproof (up to 30mph), and rain protection.
Made from durable aluminium alloy and steel frame for stability and strength.
The long, adjustable crank (59″) allows for easy retraction to suit your sun or shade needs.
Versatile use, perfect for shading above windows or doors, whether indoors or outdoors.
Pricing
Priced at $274.99, the AECOJOY Patio Awning offers a blend of luxurious size, design, and convenience.
Pros & Cons
Pros:
High-quality, weather-resistant fabric for enhanced durability.
Large size makes it suitable for spacious outdoor areas.
Easy-to-use retractable design.
Versatile use, perfect for a variety of outdoor spaces.
Cons:
May not be ideal for smaller spaces due to its size.
Should be retracted in stormy weather to prolong its lifespan.
Overview
The STEELAID Manual Retractable Awning is a chic, minimalist solution for your patio. This awning features a non-screw installation method, making setup incredibly easy. The clean, simple design ensures this awning is a stylish addition to any outdoor space, and maintenance is as effortless as the setup – a simple dusting and occasional wash are all that's needed to keep it in top condition.
Key Benefits
Crafted with 100% premium polyester fabric for UV and water protection.
A sizable 78″ pop-up canopy with a 47″ opening offers significant sun protection.
The awning's height can be adjusted from 86″ to 122″ using the hand-crank-operated mechanism.
Easy, drill-free installation onto virtually any surface.
Pricing
The STEELAID Manual Retractable Awning is priced at $159.99, offering a balance of chic design and ease of installation and maintenance.
Pros & Cons
Pros:
Quality materials and construction provide durability and weather protection.
Easy to install and adjust to your desired height.
Simple, minimalist design adds a stylish touch to any outdoor space.
Cons:
The simple design may not suit all aesthetic tastes.
May not be large enough for those needing extensive coverage.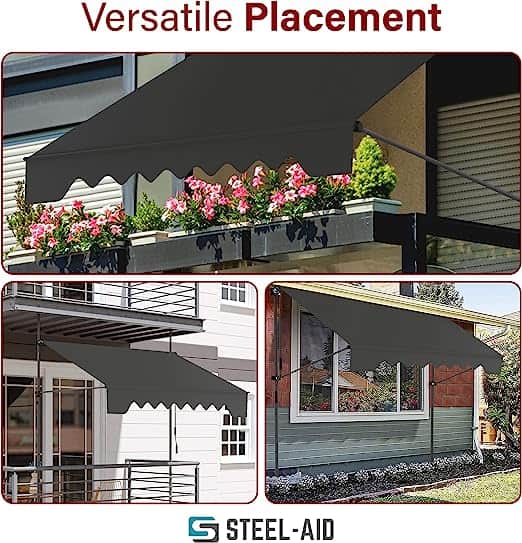 Overview
The Diensweek Patio Awning offers a luxurious blend of convenience and style with its motorized operation. Fully assembled upon arrival, installation is as simple as possible, and the awning transitions from sun-soaked to shade-filled at the touch of a button. Easy to clean and maintain, this awning is an excellent choice for anyone seeking modern convenience and style.
Key Benefits
Large size (15′ x 10′) provides ample shade.
Durable, corrosion-resistant frame and armature made from 3430 grade steel.
Includes awning, remote controller, mounting bracket, instruction manual, and additional mounting hardware.
The fabric is water-resistant, resistant to sun fading, and offers 80UV+ solar protection.
Fully motorized for ease of use and convenience.
Pricing
The Diensweek Patio Awning is priced at $1,599.99. Though on the pricier side, the motorized operation, large size, and quality of construction justify the investment.
Pros & Cons
Pros:
Fully motorized, offering ease of use and convenience.
High-quality, durable fabric provides excellent protection from the elements.
Large size for ample shade.
Cons:
Higher price point might be a barrier for some.
Installation may require professional assistance, especially for non-concrete walls.
Overview
Representing the finest in patio awning design, the ADVANING Luxury Series combines elegance and sophistication. Its motorized operation ensures effortless usability, and its vast size of 16'x10′ provides a significant area of shade, making it ideal for larger patios. High-quality fabric ensures easy cleaning and maintenance.
Key Benefits
Sizeable coverage (16′ x 10′) for extensive shade.
Motorized operation for easy usability.
High-quality European fabric with UV80+ Sun Protection.
Complete kit includes everything needed for installation.
Durable construction with a premium standard 40×40 mm Powder Coat Steel Frame Torsion Bar & 70mm Diameter Aluminum Roller Tube.
Pricing
The ADVANING 16'x10′ MOTORIZED Patio Retractable Awning is priced at $2,319.90. The investment in this outdoor canopy is justified by its large size, motorized operation, high-quality fabric, and complete installation kit.
Pros & Cons
Pros:
Large size and motorized operation offer a luxurious experience.
The use of top-tier components ensures longevity.
Comes with a 5-Year Limited Warranty and Lifetime Tech Support.
The fabric is fade resistant and offers UV80+ sun protection.
Cons:
The high price might not suit all budgets.
Might require professional installation given its size and weight.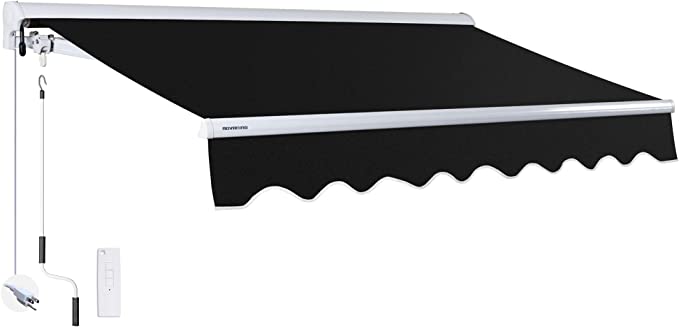 What Is a Retractable Patio Awning?
A retractable patio awning or adjustable pergola shade cover is an innovative and practical solution for those who love spending time outdoors but want to have control over how much sun or shade they're exposed to. This type of awning, typically made of durable and weather-resistant materials, can be extended to provide shade or retracted to allow more sunlight. They add functional elegance to patios, decks, and any outdoor space, enhancing comfort and aesthetic appeal.
The key feature that differentiates retractable patio awnings from traditional ones is their flexibility. They offer the convenience of adjusting the covering based on the weather or personal preference, making them highly versatile. Moreover, these awnings often come with either manual or motorized mechanisms, providing users with a choice between an economical or a more luxurious experience.
In addition, some retractable patio awnings incorporate additional features such as UV protection, waterproofing, and design elements like decorative edges, contributing to their growing popularity. Regardless of the size of your outdoor space, there's likely a retractable patio awning that can enhance its usability and appearance. The variety in size, color, material, and operational mechanisms ensures there's a suitable option for every homeowner's unique needs and preferences.
Why Do I Need a Retractable Patio Awning in My Life?
A retractable patio awning can significantly enhance your outdoor living experience. Whether you are a passionate gardener, an outdoor entertainer, or simply someone who enjoys spending time in their yard, a patio awning provides an optimal balance between sunlight and shade. With the flexibility to extend or retract the awning, you can customize your outdoor setting based on your needs and weather conditions. This allows you to make the most of your patio, garden, or balcony, whether you're reading a book, hosting a barbeque, or enjoying your morning coffee.
Additionally, a retractable patio awning adds a layer of protection for your home. It can shield your outdoor furniture from harmful UV rays, rain, and other weather elements, extending the life of your furnishings. It also reduces the amount of direct sunlight that hits your windows, helping to keep your indoor spaces cooler and potentially reducing air conditioning costs.
Lastly, a retractable patio awning can enhance the aesthetic appeal of your home. With various designs, materials, and colors available, you can select an awning that complements your home's exterior design. A well-chosen patio awning can increase your home's curb appeal, creating a stylish and inviting outdoor area. Thus, adding a retractable patio awning in your life not only enhances functionality and comfort but also adds value to your home.
Buyers Guide: How We Conducted Our Research
When conducting our research to identify the best retractable patio awnings, we utilized the following approach:
Product Specifications: We started by examining the product specifications, including the size, material, weight, and dimensions of each awning. This helped us understand the product's durability, functionality, and whether it would be suitable for different types of patios.
Pricing: We compared the prices of various products to see which offered the best value for money. This didn't necessarily mean choosing the cheapest option, but rather finding a balance between cost and the quality of the product.
Features: We took a deep dive into the features of each product, looking at aspects such as whether the awning is motorized or manual, the level of sun protection it offers, its retractable mechanism, and any unique attributes like decorative edging or non-screw installation.
Negatives: We also scrutinized the potential drawbacks or missing features of each product. This might include limitations in size options, lack of motorization, or challenges in installation or maintenance.
Customer Reviews: We looked at the experiences of people who had purchased and used these awnings. Customer reviews are a goldmine of information, often highlighting practical considerations and long-term durability that might not be immediately evident.
Support or Refund: We checked to see if the company provides after-sales service or a refund policy. Good customer support can be a crucial factor if you run into issues during installation or operation, and a solid warranty or refund policy provides a safety net for your purchase.
Brand Reputation: Finally, we considered the reputation of the brand. Brands with a proven track record of quality and customer satisfaction can generally be trusted to deliver good products.
By considering all these factors, we have tried to provide you with a comprehensive and unbiased guide to the best retractable patio awnings available in the market.
Wrapping Up
In wrapping up, it's clear that a retractable patio awning can be an invaluable addition to your outdoor living space. It can provide crucial shade during hot summer days, protect against sudden rain showers, and enhance the overall aesthetic of your patio. Choosing the right awning involves careful consideration of various factors such as size, material, price, features, and brand reputation.
Our detailed comparison and analysis of different models aimed to simplify this process and help you make an informed decision. By considering product specifications, customer reviews, pricing, and manufacturer support, we've endeavored to bring you the most comprehensive guide to buying a retractable patio awning.
We believe that our expertise and thorough research methodology can serve as a reliable resource in your quest for the perfect patio awning. After all, we understand the importance of not just finding a product that meets your immediate needs, but one that will also stand the test of time. Whether you're a seasoned homeowner looking to upgrade your patio or a newcomer seeking a value-for-money awning, we're confident that this guide has equipped you with the insights you need to make the best choice.
FAQ: Frequently Asked Questions
Q1: How does a retractable patio awning work?
A: A retractable patio awning works by using a mechanism to roll or fold the awning fabric up against the house wall. This can be done manually with a hand crank, or automatically with a motor.
Q2: How much does it cost to install a retractable patio awning?
A: The cost of installing a retractable patio awning can vary widely depending on the size, material, and complexity of the installation. On average, you might expect to pay anywhere from $200 to $800 for professional installation.
Q3: Can a retractable awning be left out in the rain?
A: Most retractable awnings can handle light to moderate rain, but it is not recommended to leave them out in heavy rain or stormy conditions, as this could damage the awning.
Q4: How do I maintain a retractable patio awning?
A: Maintaining a retractable patio awning involves cleaning the fabric with mild soap and water periodically, checking the operation of the mechanism, and lubricating the moving parts if necessary. It's also advisable to retract the awning in high wind or heavy rain to prevent damage.
Q5: Does a retractable awning add value to a home?
A: Yes, a retractable awning can potentially add value to your home by increasing its outdoor living space and making it more appealing to potential buyers.
Q6: How long does a retractable awning last?
A: The lifespan of a retractable awning can vary depending on the quality of the materials used and how well it's maintained. Generally, a well-made and properly cared for awning can last between 10 and 15 years.
Q7: Do I need a permit to install a retractable awning?
A: The need for a permit to install a retractable awning will depend on local building codes. Some municipalities may require a permit, while others may not. It's always best to check with your local building department to be sure.
Q8: Can retractable awnings withstand wind?
A: Most retractable awnings can withstand light to moderate winds, but it's not recommended to leave them extended in high wind conditions as it could damage the awning.
Q9: How do you clean a retractable awning?
A: To clean a retractable awning, you can use a mild soap and water solution and a soft brush. Rinse thoroughly and let it dry completely before retracting the awning.
Q10: Are retractable awnings waterproof?
A: While most retractable awnings are water-resistant, they are not typically waterproof. They are designed to provide shade and protection from light rain, but may not keep your patio completely dry during a heavy downpour.
Q11: Can you use a retractable awning in the winter?
A: While it is possible to use a retractable awning in the winter, it's generally not recommended due to the potential for snow and ice to accumulate on the fabric, which could damage the awning.
Q12: Are retractable awnings easy to install?
A: The ease of installation will depend on the specific awning model and the construction of your home. While some homeowners might be able to install a retractable awning themselves, others may prefer to hire a professional to ensure it's installed correctly and safely.
Q13: Can you repair a retractable awning?
A: Yes, many parts of a retractable awning can be repaired, including the fabric, the mechanism, and the motor (if it has one). However, depending on the extent and nature of the damage, it might be more cost-effective to replace the awning.
Q14: Do retractable awnings protect against UV rays?
A: Yes, many retractable awnings are made with fabric that provides UV protection, helping to shield your patio and home from harmful UV rays.
Q15: Should I choose a manual or motorized retractable awning?
A: The choice between a manual and motorized retractable awning will depend on your budget, needs, and preferences. Motorized awnings offer convenience and ease of use, while manual awnings are typically less expensive and don't require electricity.
Q16: Can I install a retractable steelaid awning on any type of siding?
A: Retractable steelaid awning can be installed on a variety of siding materials, including wood, vinyl, stucco, and brick. However, the installation method and hardware may vary depending on the type of siding.
Jl.Surjan
Disclosure: Our blog contains affiliate links to products. We may receive a commission for purchases made through these links. However, this does not impact our reviews and comparisons. We try our best to keep things fair and balanced, in order to help you make the best choice for you.