Best Coffee Shops in Santa Barbara 2023
Ahoy, fellow caffeine crusaders and leisure lovers! It's JL Surjan here, diving deep into the aromatic alleyways of Santa Barbara, where the sun kisses the sea and the coffee warms the soul. This coastal gem isn't just about its picturesque beaches or the Spanish Revival architecture; it's also a haven for bean enthusiasts like yours truly. So, whether you're a local looking to rediscover your city's brews or a traveler seeking the finest coffee shop by the Pacific, I've got your back.
Nestled between the towering Santa Ynez Mountains and the glistening Pacific Ocean, Santa Barbara's coffee scene has evolved into a blend of tradition and innovation, where local roasters and passionate baristas craft liquid masterpieces that tantalize the senses. From cozy, sunlit corners to sleek modern spaces, the city's coffee shops offer not just a cup of java, but an experience that elevates the art of caffeine consumption to new heights.
Join us as we explore the best coffee shops in Santa Barbara, where every sip is a harmonious journey through the flavors of this coastal paradise!
What Are the Top Best Coffee Shops in Santa Barbara?

Ah, you're putting me on the spot, huh? Well, alright! But let me remind you, beauty (and taste) is subjective, especially when it's wrapped in the aroma of freshly brewed coffee. Still, if I had to play favorites based on my bourbon-infused, BBQ-loving heart, here are the Top 3 Best Coffee Shops from our Santa Barbara escapade:
| FIRST PLACE | SECOND PLACE | THIRD PLACE |
| --- | --- | --- |
| Lighthouse Coffee | Dune Coffee Roasters | Handlebar Coffee Roasters |
| A beacon for all coffee aficionados, Lighthouse shines with its unique blends and inviting ambiance. It's where the Santa Barbara community comes to catch up, one cup at a time. | With a strong emphasis on the origin of their beans, Dune serves up a brew that tells a story. Here, coffee is not just a beverage; it's a journey. | A mecca for coffee lovers, Handlebar offers not just a drink, but an experience. Founded by two ex-pro cyclists, it's the perfect pit stop for both your caffeine and adrenaline fixes. |
| | | |
Now let's continue our journey in discovering the best coffee shop in the area.
Oh boy, Pura Vida isn't just a catchphrase here—it's a whole mood. Drawing inspiration from the laid-back Costa Rican philosophy of "pure life," this coffee shop offers more than just your average brew. Every cup served here comes with a side of relaxation and an invitation to live life at a leisurely pace.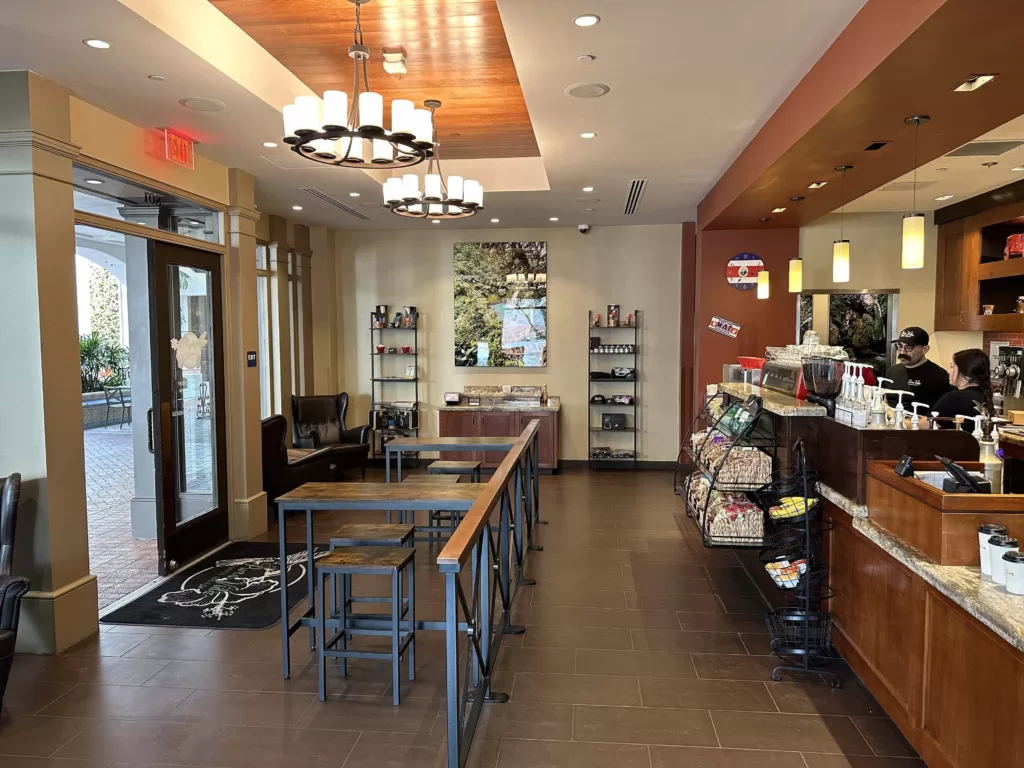 Home to some of the finest brews in town, this joint promises a cup that's roasted to perfection. Every sip is a testament to their dedication to quality.
If you're cruising through downtown Santa Barbara and you're in need of some caffeinated bliss, make sure you drop everything and head straight to Santa Barbara Roasting Company. This isn't just another coffee shop; it's the ultimate sanctuary for coffee lovers.
The second you walk in, the aroma hits you like a well-crafted punchline—bold and unforgettable. You might even forget what you came in for. But don't worry, because their menu is jam-packed with delicious options to remind you. And speaking of the menu, can we talk about their espresso drinks? Imagine sipping on something so luxurious, it's like treating your tastebuds to a day at the spa.
And if espresso isn't your jam, then prepare yourself for the heavenly revelation that is their iced oat milk latte. This isn't just a fad drink; it's the kind of drink that makes you question all your past beverage choices. It's smooth, it's creamy, and it's the perfect balance of oat milk and coffee that you didn't know you needed in your life.
Santa Barbara Roasting Company is where locals hang and where tourists stumble upon and wish they had back home. It's not just a Santa Barbara coffee shop—it's THE Santa Barbara coffee shop that delivers quality in every cup. So if you find yourself in downtown Santa Barbara, don't just pass by; make it your mission to experience this Java wonderland for yourself.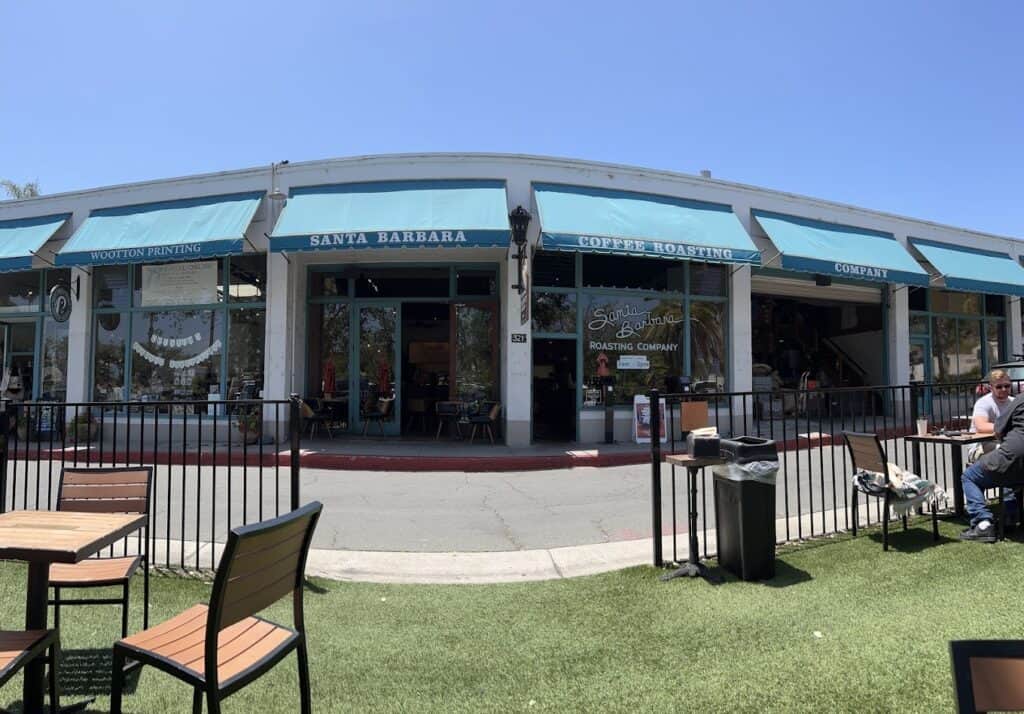 As the name suggests, this spot is a brilliant ray of sunshine in the Santa Barbara coffee scene. Dawn isn't just a café; it's a vibrant market filled with fresh produce and artisanal products. The coffee? Rich, robust, and crafted with love. Whether you're kick-starting your day with a frothy cappuccino or winding down with an evening cold brew, Dawn promises a refreshing blend of community and caffeine.
Bridging the gap between old-school charm and modern brew techniques, Old Town is where past meets present in the most delicious way possible. The coffee shop for coffee aficionados and java junkies! Boy, do I have a gem of a spot for you—Old Town Coffee in Downtown Santa Barbara. If you're looking for the cream of the crop in the Santa Barbara coffee shop scene, this is your sanctuary. I mean, this place is like the nirvana of caffeine, people!
First off, let's talk location. Nestled in the heart of Downtown Santa Barbara, Old Town Coffee is your oasis in a desert of franchise fast food and overpriced tourist traps. Imagine sippin' on a perfectly crafted iced oat milk latte, while basking in that Cali sun, right in the cultural epicenter of the city. Yeah, it's that magical.
Now, on to the drinks. If espresso drinks were a religion, Old Town Coffee would be the high priest. We're talkin' silky smooth, rich, and full-bodied shots pulled by baristas who treat espresso like an art form. And for you non-traditionalists out there, you've got to try their iced oat milk latte. Oat milk's natural sweetness and creaminess pair perfectly with their espresso, making it a drink worthy of the gods, or at least, Instagram.
And let's not overlook the vibes. The ambiance in this Santa Barbara coffee shop is as welcoming as grandma's house—if your grandma was a hipster with a vinyl collection. Whether you're setting up shop with your laptop or catching up with friends, the atmosphere strikes that rare balance of cozy and cool.
So, in summary, if you find yourself in Downtown Santa Barbara, do yourself a favor and swing by Old Town Coffee. Your taste buds will throw you a thank-you party, and hey, you might just find your new favorite coffee spot.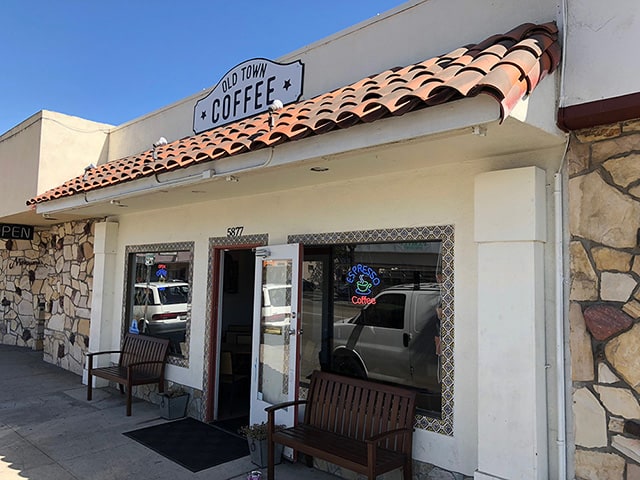 This coffee shop oozes charm with its laid-back vibe and exceptional coffee selections. A haven for creatives and thinkers, it's where ideas brew as strong as the coffee.
If you find yourself visiting Santa Barbara and seeking the crème de la crème of Santa Barbara coffee shops, look no further than CAJÉ Coffee Shop. As a connoisseur of all things brewed, it's not just a favorite coffee shop for the locals but a must-visit for anyone passionate about their caffeine.
Let's talk morning coffee. There's nothing quite like the first sip of excellently brewed coffee to kickstart your day, and CAJÉ Coffee Shop delivers on that promise in spades. Offering a selection of top-notch brewed coffee and cold brew, this establishment knows how to satisfy your caffeine fix with unparalleled finesse.
Outdoor seating is also a noteworthy feature of this coffee shop, elevating the experience of drinking coffee to a whole new level. The ambience of the outdoor seating area serves as the perfect backdrop for both your morning coffee ritual and those mid-afternoon iced coffee indulgences.
And speaking of iced coffee, CAJÉ Coffee Shop has curated an offering that hits the mark every single time. Coupled with their delicious coffee, it's a combination that can't be beaten. So, whether you're a resident or merely visiting Santa Barbara, don't miss out on experiencing what could very well become your new favorite coffee shop.
There you have it, folks! Among the array of Santa Barbara coffee shops, CAJÉ Coffee Shop holds its own and then some. Perfect for drinking coffee, catching some rays in their outdoor seating, and just enjoying the Santa Barbara vibe.
Aiming straight for the heart of coffee purists, Dart Coffee offers meticulously crafted brews, ensuring every cup hits the mark. We're diving into the crème de la crème of Santa Barbara coffee shops: Dart Coffee. Nestled in the heart of downtown Santa Barbara, this place is an oasis of flavor, aroma, and good vibes that'll elevate your caffeine game to the stratosphere when visiting Santa Barbara.
Now, you could be aimlessly wandering through any ol' Santa Barbara coffee shop, searching for your daily caffeine fix, but Dart Coffee is where you'll find a cup that's more than just fuel—it's a masterpiece. I mean, the name "Dart Coffee" alone should pierce your interest.
When you step foot into this hallowed hall of beans and brews, you're greeted by the rich symphony of freshly brewed coffee. Dart Coffee knows its beans, folks. This isn't your run-of-the-mill, popped-in-the-microwave cuppa joe. Oh no, they've curated a blend of coffee beans that are practically serenading your taste buds with each sip of their delicious coffee.
Speaking of taste, let's talk about their expansive menu. Are you a fan of espresso drinks? Well, you've hit the jackpot. Dart Coffee's baristas are like alchemists, transforming simple ingredients into liquid gold. But wait, there's more! For those of you riding the wave of the matcha craze, their iced matcha latte is a must-try. It's so good, it should probably come with a warning label.
Ah, but let's not forget the cold brew. Oh, the cold brew! Brewed to perfection and served with a side of 'you'll never want anything else,' Dart Coffee's cold brew is like a symphony conducted by Mozart himself—if Mozart were into coffee, that is. Did I mention that Dart Coffee knows how to do cold brew? Because they really, really do.
So the next time you find yourself in downtown Santa Barbara, you could visit all the other Santa Barbara coffee shops, or you could make a beeline for Dart Coffee. Your taste buds will thank you, your caffeine cravings will be satiated, and you'll leave feeling like you've discovered the last great frontier of truly exceptional brewed coffee
More than just a coffee shop, it's a culinary experience. Live Oak masterfully balances its menu between tantalizing eats and rich, flavorful coffees. Their outdoor seating is perfect for people-watching.
With a touch of international flair, LOKUM is where Santa Barbara's diverse coffee culture truly shines. Expect a brew that's as worldly as it is delicious.
With its roots set deep in passion and quality, handlebar coffee roasters isn't just serving coffee; they're crafting an experience. The brainchild of two ex-pro cyclists, this place knows how to push the limits, both in the realm of sports and in the world of coffee. Plus, have you tried their espresso? Absolute magic.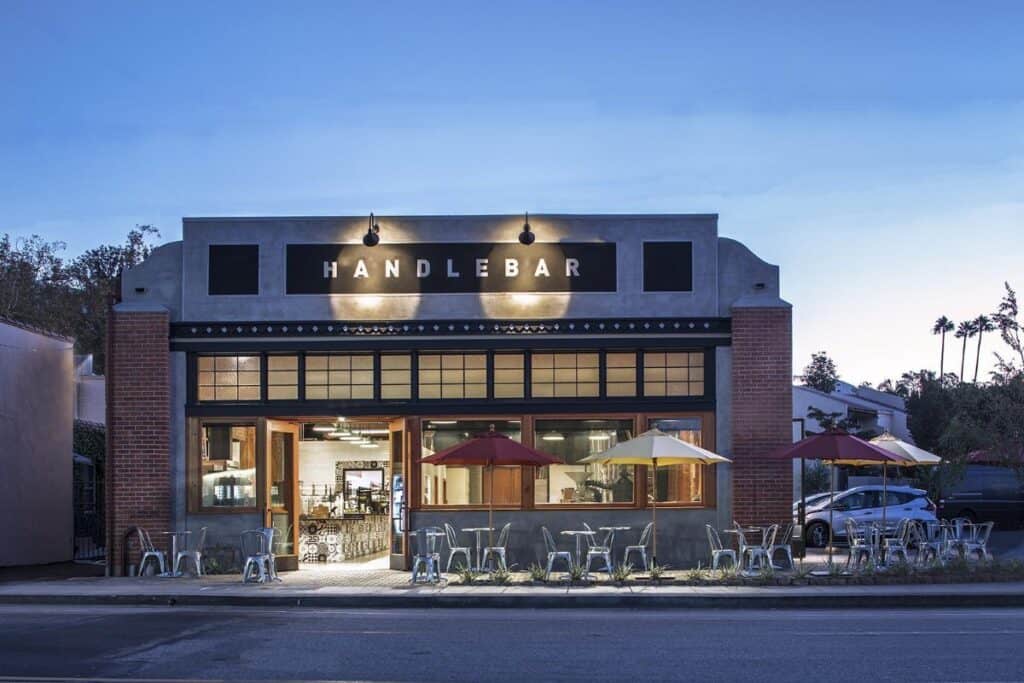 Ah, Dune! This is where every sip takes you on a world tour. Their emphasis on bean origin ensures that you're not just drinking coffee, you're partaking in a global tale of flavors, traditions, and artisanal expertise.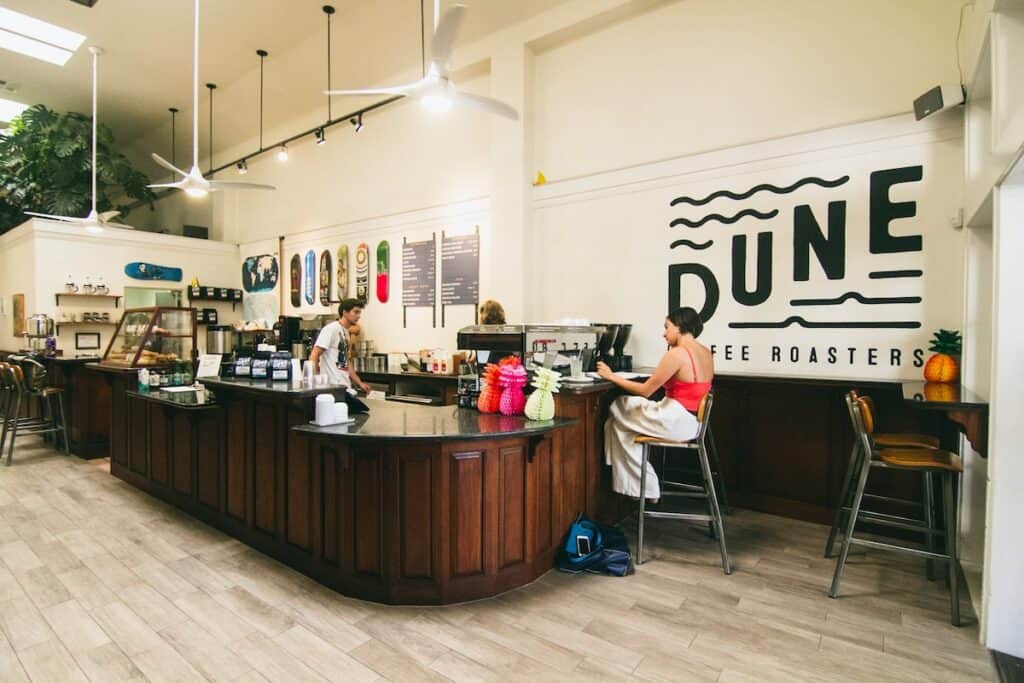 This place is more than just a café; it's a community hotspot. From their expertly roasted blends to the welcoming vibe, Lighthouse stands as a testament to Santa Barbara's vibrant coffee culture. It's no wonder locals and visitors alike are drawn to it like moths to a… well, lighthouse.
What are Coffee Shops in Santa Barbara Like?
Santa Barbara, with its idyllic coastline and Spanish-inspired architecture, is quite the retreat for those seeking a mix of relaxation and refined taste. And its coffee shops? They're like little bubbles of heaven for caffeine enthusiasts.
Ambiance & Architecture:
Many coffee shops in Santa Barbara exude that Mediterranean charm – terracotta roofs, white stucco walls, and intimate courtyards with bubbling fountains. These spots are bathed in natural light, often adorned with potted plants, creating the perfect backdrop for an Instagram shot or a leisurely read.
Blend of Traditional and Modern:
From rustic, old-school roasters that swear by traditional brewing techniques, to chic, modern cafes that experiment with coffee mocktails (ever tried a lavender-infused cold brew?), Santa Barbara's coffee scene is diverse. You might find a third-wave café next to a classic Italian-style espresso bar.
Outdoor Seating:
Given its blessed weather, many cafes offer al fresco seating. Imagine sipping your flat white, feeling the gentle coastal breeze, as you gaze upon palm trees and the distant Pacific. If the gods drank coffee, I reckon this would be their spot.
Sustainability:
Many coffee spots in Santa Barbara are eco-conscious. They source beans ethically, practice sustainable farming, and even offer discounts for customers with reusable cups. The love for nature and coffee go hand in hand here.
Local and Artisanal:
Santa Barbara's coffee culture is deeply rooted in the local ethos. You'll find many cafes roasting their beans in-house, sourcing dairy from local farms, and offering pastries from nearby bakeries. Some even host local artists, turning the space into a part-time gallery.
A Dash of Luxury:
Given Santa Barbara's posh vibe, don't be surprised to stumble upon cafes that serve gourmet pastries, offer coffee tasting sessions, or even pair their brews with fine chocolates or, in our world, a dash of bourbon.
In essence, coffee shops in Santa Barbara are not just pit stops for a caffeine fix. They are experiences. An ode to the relaxed, yet luxurious lifestyle of this coastal town. So, the next time you're strolling down State Street or basking in the sun at Butterfly Beach, remember to grab a cup. You won't regret it!
Why Do I Need to Know the Best Coffee Shops in Santa Barbara?
Ah, my caffeinated compadre! If you're asking, "Why do I need to know this coffee shop in Santa Barbara?", then let me regale you with some top-notch reasons that'll have you booking the next flight to Cali (with a travel mug in hand, of course).
1. Embrace the Slow Life:
In a world that's buzzing faster than a double espresso shot, Santa Barbara's coffee joints are an invitation to embrace the slow life. It's not just about sipping coffee; it's about savoring every moment. If you've been hustling too hard, a coffee break here might just be the therapy you need.
2. Bourbon, BBQ, and Beans:
Now, not every café might serve you bourbon or BBQ on the side, but the spirit? It's there! Think of the intricate flavors of coffee as you'd think of a fine bourbon or the smokiness of BBQ. These cafes are a haven for the sophisticated palate.
3. Impeccable Aesthetics:
You don't just walk into a café in Santa Barbara; you walk into a masterpiece. Every nook and cranny is crafted for the 'gram. And if you're anything like me, JL Surjan, you appreciate beauty, be it in a cup or the surroundings.
4. Networking with the Nifty:
Santa Barbara is known for its affluent and artsy crowd. A simple "hey, what are you drinking?" could lead to a stimulating conversation about the nuances of a single-origin brew, a potential business idea, or even just a delightful chat about the joys of life.
5. Dive Deep into Coffee Culture:
If you're a coffee enthusiast, Santa Barbara's scene is a delightful deep dive. With a mix of old-school roasters and innovative brew bars, you get a front-row seat to coffee's evolving journey.
6. Elevate the Everyday:
Ever had one of those days where everything feels mundane? The coffee shops in Santa Barbara are your antidote. They transform a regular coffee run into an event, an adventure, a darn-near spiritual experience.
7. Because… Why Not?
Life's short. Drink good coffee. Meet interesting people. And if there's a spot that promises a combination of luxury, leisure, and lip-smacking brews, you don't need a better reason to know about it!
So, next time you're contemplating the mysteries of life, or just wondering where to get a solid brew, remember Santa Barbara's coffee magic awaits.
Wrapping Up
Alright, fellow java junkies and explorers of the finer things in life, let's circle back and tie this coffee bag up! This is JL Surjan, your trusty guide through the fragrant lanes of Santa Barbara's coffee scene.
From the aromatic embrace of Handlebar Coffee Roasters to the globally-inspired tales in each cup at Dune, and the radiant glow of Lighthouse Coffee that promises comfort with every sip, our coastal gem of Santa Barbara has proven to be a brew-tiful haven for coffee lovers. It's a town where the waves of the Pacific play a symphony that's perfectly complemented by the clinks of coffee mugs.
But remember, my friends, while I've served up a list for you, coffee, much like life, is best when you explore it at your own pace. So the next time you're in Santa Barbara, whether it's a misty morning or a sunny afternoon, grab a cuppa, take a seat, and soak in the views and brews.
FAQs: Frequently Asked Questions
Q1. Why is Santa Barbara's coffee scene so special?
A: Apart from its killer views and vibe? Santa Barbara seamlessly weaves Mediterranean charm with modern coffee culture. It's a haven for bean lovers, offering an exquisite blend of tradition and innovation.
Q2. Do these coffee shops serve food as well?
A: Oh, you betcha! Many Santa Barbara cafes offer a delightful range of pastries, sandwiches, and sometimes, even a touch of BBQ. Because why should coffee have all the fun, right?
Q3. Can I find vegan or dairy-free options in Santa Barbara coffee shops?
A: Absolutely! Santa Barbara is pretty woke when it comes to catering to all dietary needs. From almond to oat milk, you'll find a variety of dairy-free delights.
Q4. Is there a specific area in Santa Barbara known for its coffee shops?
A: While the entire town boasts stellar coffee spots, State Street is a particular hotspot. With a plethora of cafes, it's the unofficial 'caffeine lane' of Santa Barbara.
Q5. Do Santa Barbara coffee shops usually have Wi-Fi? I'm a digital nomad!
A: Welcome to the club! Most cafes in Santa Barbara are digital nomad-friendly, offering Wi-Fi to ensure your work gets as much fuel as you do.
Q6. Any coffee shops with a view?
A: Santa Barbara and views go hand in hand. Many cafes, especially those closer to the coast, offer dreamy vistas of the Pacific. It's like sipping on a cup of horizon!
Q7. I love bourbon and BBQ as much as coffee. Any cafes that cater to my specific tastes?
A: Firstly, we should be besties! Secondly, while it's rare to find a café that serves bourbon and BBQ, some spots infuse their dishes and drinks with smoky and boozy notes. A delightful nod to our unique trifecta of loves!
Q8. Are there any coffee workshops or tasting sessions I can attend?
A: Several Santa Barbara cafes host coffee tastings, brewing workshops, and even latte art classes. Check in advance, and you might just catch one during your visit.
Q9. How late are these coffee shops open?
A: While timings vary, many coffee shops in Santa Barbara are open till the evening, with a few stretching their hours till late night, especially on weekends.
Q10. Can I buy local coffee beans to take home?
A: Absolutely! Many cafes and roasters in Santa Barbara sell their signature blends and single-origin beans. It's like taking a piece of Santa Barbara home with you.
Q11. Are the coffee shops in Santa Barbara pet-friendly?
A: Many of them are! Given the laid-back vibe and love for furry friends in Santa Barbara, you'll find numerous spots where your four-legged pals are welcome, especially in outdoor seating areas. Just make sure to keep 'em leashed and well-behaved.
Q12. Any recommendations for cold brews or iced coffee on a hot day?
A: Santa Barbara's got you covered! Almost every cafe offers cold brews or iced variants of their drinks. Some even throw in unique flavors and infusions, giving your regular cold brew a snazzy twist.
Q13. Is there a best time of the year to explore the coffee scene in Santa Barbara?
A: While coffee is a year-round delight, visiting during the fall can be especially enchanting. The cooler weather and festive vibes, combined with special seasonal brews (pumpkin spice, anyone?), make it a treat.
Q14. How does Santa Barbara's coffee culture compare to bigger cities like LA or San Francisco?
A: While LA and SF have their own bustling coffee scenes, Santa Barbara offers a more intimate and relaxed experience. The town combines the sophistication of big city cafes with the charm of a coastal retreat.
Q15. Do these cafes host live music or events?
A: You bet! Many coffee shops double up as cultural hubs, hosting live music nights, poetry readings, and even art exhibits. It's coffee served with a side of culture.
Q16. Can I find international coffee styles like Italian espressos or Australian flat whites?
A: Absolutely! Santa Barbara's coffee shops embrace global coffee cultures. So, whether you're craving a strong espresso shot or a creamy flat white, they've got you covered.
Q17. Are there any specialty coffee shops that offer rare or unique coffee beans?
A: Yes, there are! Some cafes in Santa Barbara pride themselves on sourcing rare beans from specific regions, offering coffee connoisseurs a unique tasting experience.
Q18. How eco-friendly are these coffee shops?
A: Santa Barbara takes its environmental responsibilities seriously. Many cafes use sustainable practices, from sourcing beans to reducing waste. Don't be surprised to see compostable cups, solar-powered setups, or even discounts for bringing your own mug.
Q19. What about non-coffee options? Do these places serve teas or other beverages?
A: Of course! While coffee might be the star, most cafes also have a selection of teas, hot chocolates, and other beverages to cater to all tastes.
Until our next caffeinated rendezvous, keep those beans grinding, the bourbon smooth, and let every BBQ sizzle tell a story. Cheers, and happy sipping!

Yours,

Jl.Surjan

Disclosure: Our blog contains affiliate links to products. We may receive a commission for purchases made through these links. However, this does not impact our reviews and comparisons. We try our best to keep things fair and balanced, in order to help you make the best choice for you.