Best Coffee Shops in Portland 2023: One Sip at a Time
Well, well, well. If you've clicked on this post, you're probably one of two people.
The first: a coffee enthusiast who can tell an Arabica from a Robusta with their eyes closed.
The second: someone who just ran out of instant coffee and thought, "Perhaps it's time for an upgrade." Either way, my dear caffeine lover, welcome! Whether you're chasing that robust bourbon aftertaste, finding solace in a hearty BBQ sandwich, or simply yearning for a peaceful spot to nurse your espresso, Best Coffee Shops in Portland is unmatched.
Nestled in the heart of the Pacific Northwest, Portland is a city renowned for its vibrant culture, lush landscapes, and undeniable love affair with coffee. As dawn breaks over the city's eclectic neighborhoods, the aroma of freshly brewed beans wafts through the air, enticing both locals and visitors to embark on a caffeine-fueled journey. In this bustling metropolis, a captivating array of coffee shops awaits, each offering a distinct blend of flavors, ambiance, and community. Join us as we delve into the enchanting world of Portland's best coffee shops, where every sip is a delightful adventure.
Beyond the tantalizing aromas and masterful brews, these coffee shops serve as vital hubs for community and connection. Locals gather to discuss everything from local politics to the latest indie music, while out-of-towners find a warm welcome and a chance to immerse themselves in Portland's laid-back charm. With a myriad of diverse and inclusive spaces, these coffee shops effortlessly embody the city's progressive spirit, fostering an environment where creativity flourishes and friendships bloom over shared cups of liquid inspiration.
Without further ado, let's dive!
What are the Top Best Coffee Shop in Portland?
These coffee shops are the epitome of Portland's coffee scene, each offering a unique and refined experience that will leave you craving more!
| FIRST PLACE | SECOND PLACE | THIRD PLACE |
| --- | --- | --- |
| Coava Coffee Roasters | Lionheart Coffee Company | Push x Pull Coffee |
| A masterclass in coffee craftsmanship, Coava Coffee Roasters takes the crown as the best in Portland. Their dedication to sourcing the finest beans and expert roasting techniques result in flavors that dance on your palate like a symphony. It's a coffee haven for those who seek the perfect balance of complexity and refinement. | Fit for coffee royalty, Lionheart Coffee Company secures its place as a regal contender. With a commitment to excellence and attentive baristas, every cup feels like a celebration of refined taste. It's a charming and elegant spot that treats you to a coffee experience fit for kings and queens. | For the adventurous coffee explorer, Push x Pull Coffee steals the show with its bold and creative blends. Their rotating menu keeps the surprises coming, and each visit promises an exciting journey through innovative coffee flavors. It's a playground for those seeking to push the boundaries of their coffee palate. |
| | | |
Stay caffeinated and let's continue our coffee exploration,
This little gem offers a true coffee oasis. From their expertly crafted pour-over brews to their cozy ambiance, Tov Coffee knows how to make you feel right at home. It's the kind of place where you come for the coffee and stay for the warm, friendly atmosphere.
Calling all sneakerheads and coffee enthusiasts! Deadstock Coffee combines two passions under one roof: sneakers and specialty coffee. With their unique sneaker-themed decor and outstanding coffee offerings, it's a must-visit spot for the style-conscious coffee lover.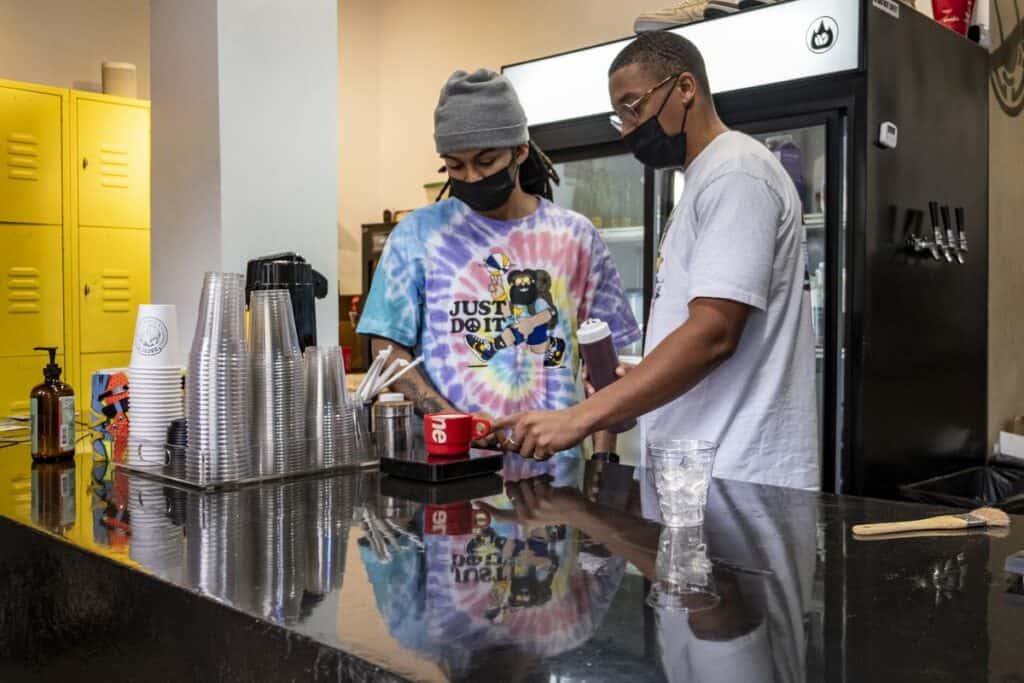 Prepare to be transported to Mexico with each sip at La Perlita. This coffee shop brings the flavors and spirit of Mexico to Portland, serving up traditional Mexican coffee blends and pastries that will have your taste buds doing the salsa.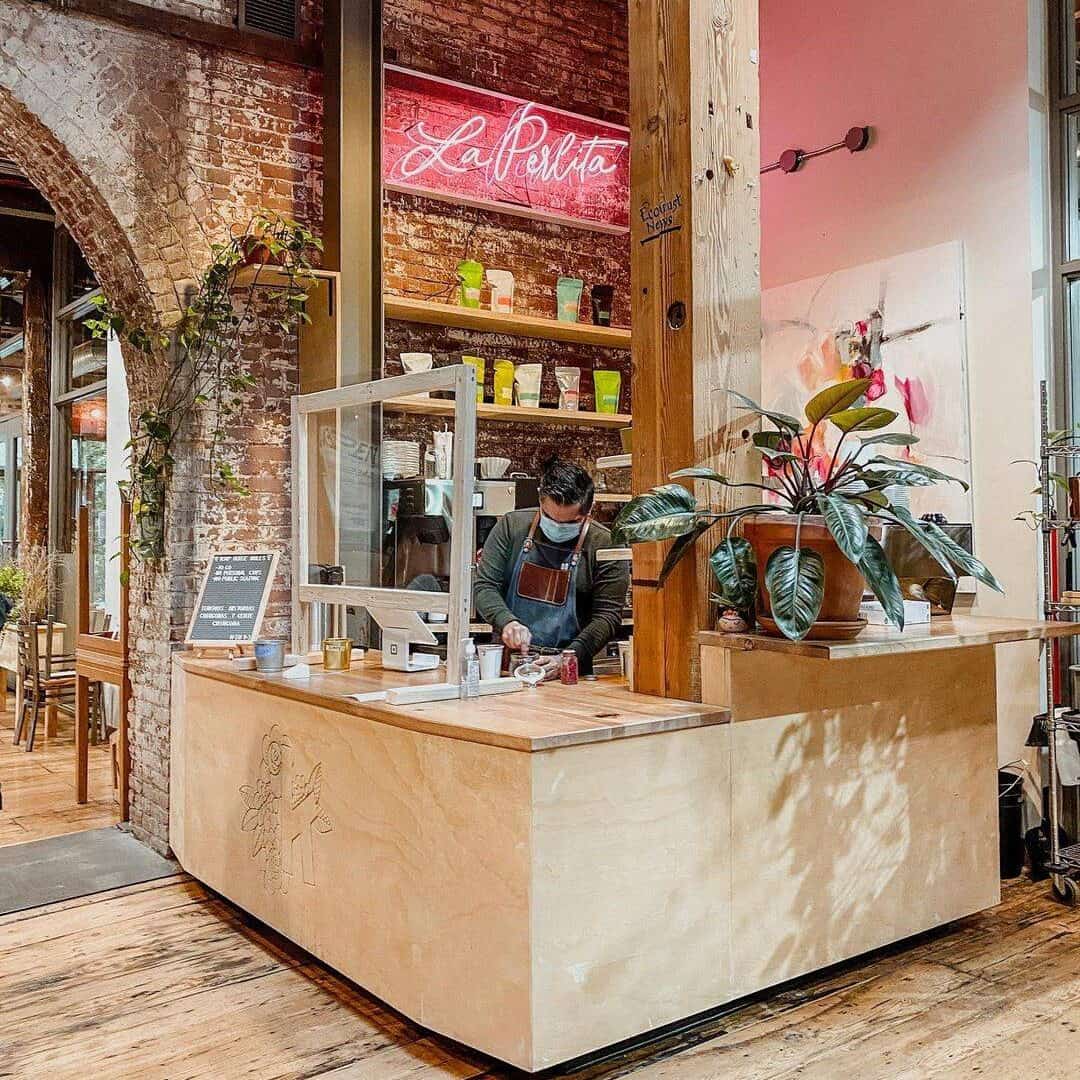 An exciting journey awaits at Push x Pull Coffee. This coffee playground brings innovation and creativity to the forefront, daring to experiment with bold and unique coffee blends. Every visit is a surprise, with a rotating menu that never fails to impress. If you're an adventurous coffee explorer, Push x Pull is your destination.
For those who appreciate the simple pleasures, Good Coffee delivers excellence in every cup. Their dedication to quality and consistency is evident in their smooth and well-balanced brews. The unpretentious and friendly atmosphere makes it the perfect spot for relaxing with a book or engaging in delightful conversations over a warm cup of coffee.
Roasting their beans with a sense of passion and precision, Upper Left Roasters elevates the coffee experience to a whole new level. With meticulous attention to detail and a commitment to sustainable practices, their coffee truly captures the essence of Portland.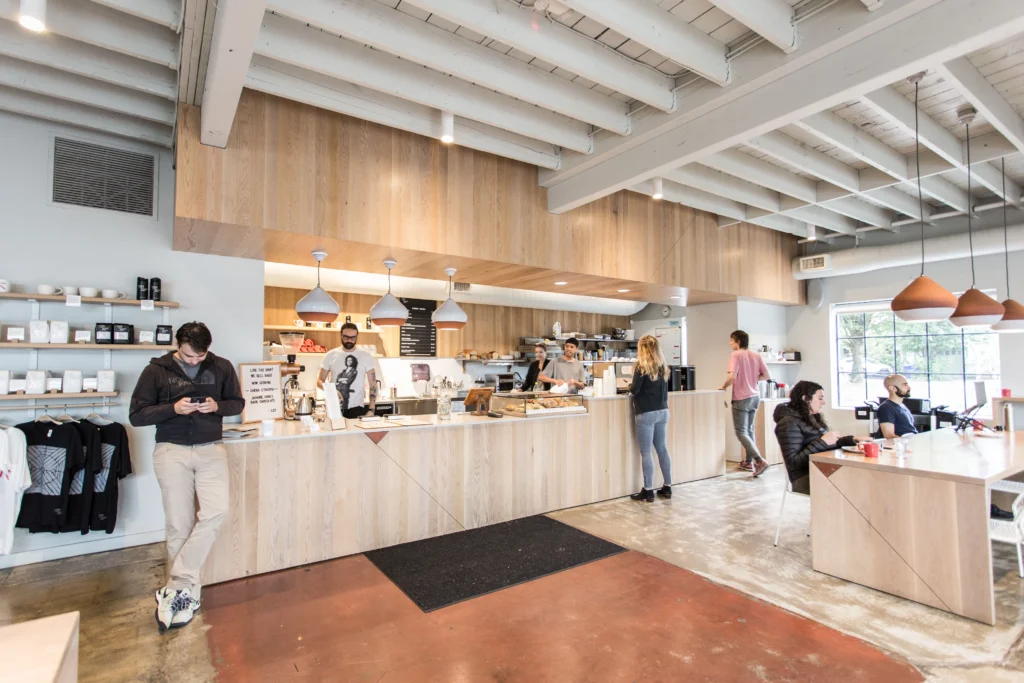 Prepare to be treated like coffee royalty at Lionheart Coffee Company. This elegant and charming coffee shop serves up coffee fit for kings and queens. Their commitment to perfection shines through in each brew, and the attentive baristas ensure that every visit is a regal experience. Coffee at Lionheart is not just a drink; it's a celebration of refined taste.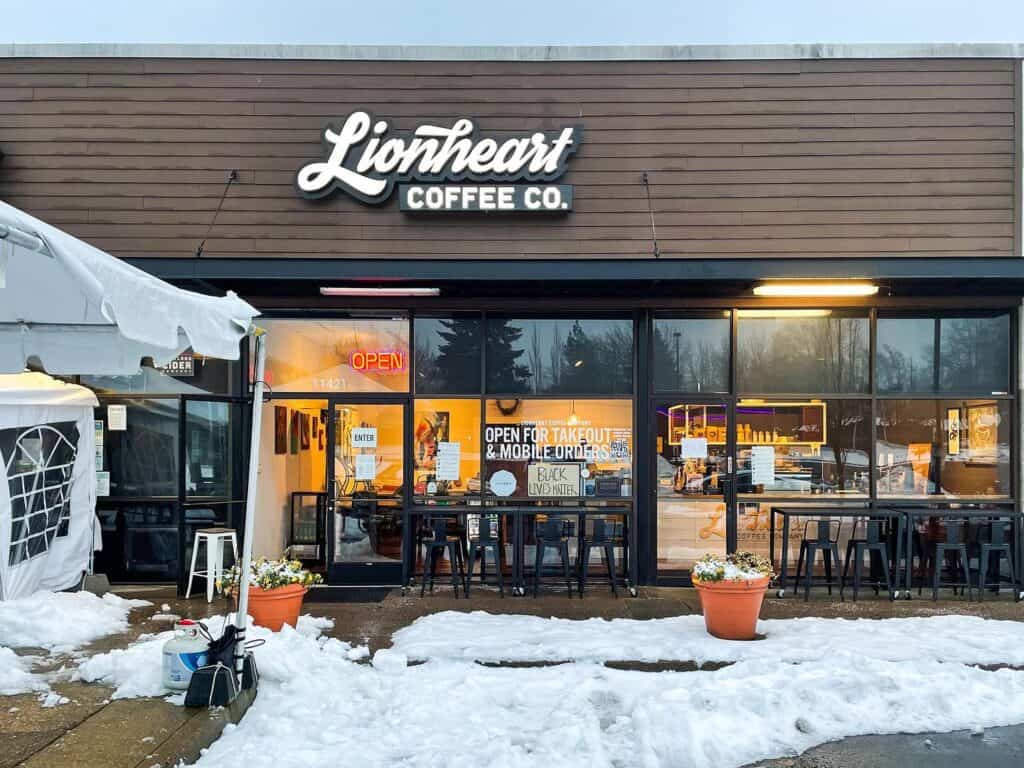 Last but certainly not least, Coava Coffee Roasters is a local legend. Their coffee is the epitome of balance and flavor, brewed with precision and served with a side of passion. A visit to Coava is a pilgrimage for any coffee aficionado.
Sterling Coffee is the epitome of coffee craftsmanship. With a focus on sourcing the finest beans and roasting them to perfection, their brews are a symphony of flavors. Prepare to have your taste buds dazzled by their expertly pulled espresso shots and carefully crafted lattes.
In a world where coffee meets art, Futura Coffee Roasters takes center stage. Not only do they create exceptional coffee blends, but their coffee labels are also designed by local artists, making each cup a work of art in itself. Sip on their brews and marvel at the fusion of taste and creativity.
Never say never to this coffee shop! Known for their innovative and ever-evolving coffee menu, they push the boundaries of what's possible in a cup. Their commitment to sustainability and community involvement makes every visit an ethically conscious and delicious journey.
Step into a slice of European charm right in the heart of Portland. Cafe Zamora brings the flavors of Spain to the city, offering rich Spanish coffee blends that will transport you to the bustling cafes of Madrid. Pair your coffee with a delectable churro, and you've got yourself a mini Spanish fiesta.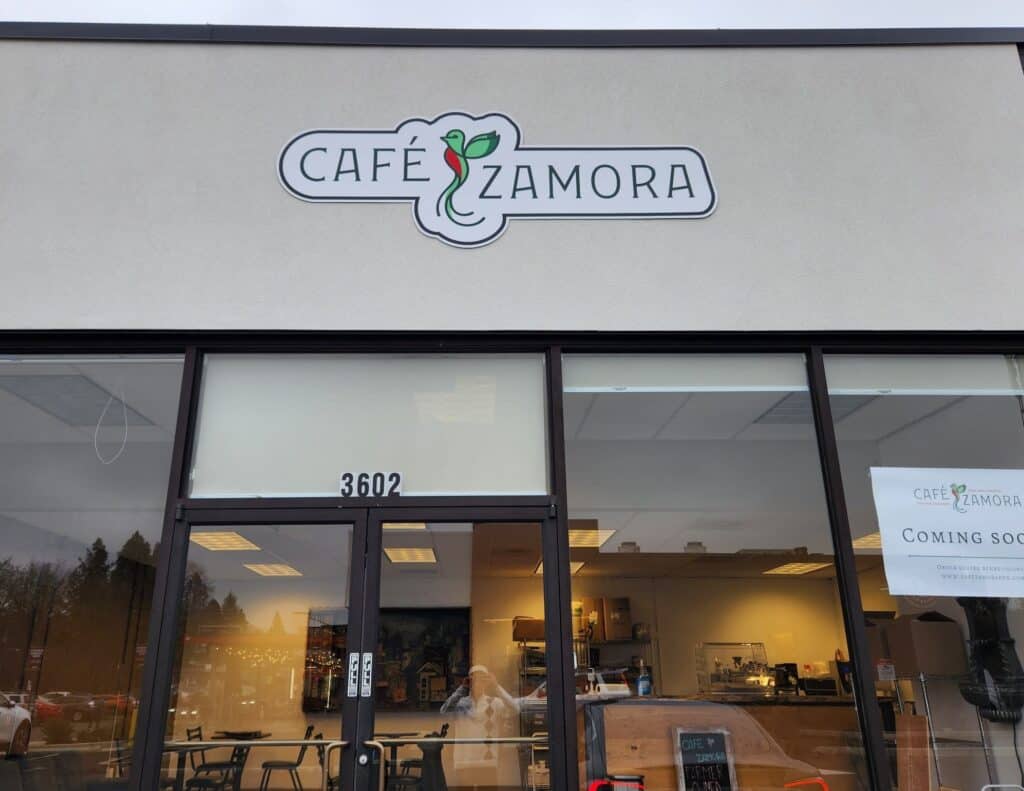 What are Coffee Shops in Portland Like?
Ah, diving into the world of Portland coffee shops, are we? Well, buckle up, buttercup, because it's a wild, caffeinated ride. Portland's coffee culture is as deep and rich as a well-steeped French press. Let's get brewing on this.
1. Eclectic and Artsy:
Portland coffee shops are like the hipster wardrobes of the city – unique, artsy, and with a dash of quirk. You'll often find repurposed furniture, local artwork gracing the walls, and an ever-so-slight disdain for mainstream. Oh, and fairy lights. Lots of them.
2. Roast Masters:
Portland takes its beans seriously. Many cafes roast their own, with baristas more knowledgeable than my encyclopedia. They're the coffee whisperers, turning beans into liquid gold. Whether it's single-origin, blends, or experimental roasts, they've got it all.
3. A Nook for Every Mood:
Whether you're in the mood for some quiet contemplation, a casual meet-up with friends, or an energetic work environment, there's a café that fits the bill. Some are like cozy living rooms, while others buzz with energy, mimicking mini coworking spaces.
4. Environmentally Conscious:
Portland is green, not just in its lush landscapes but in its ethos. Many coffee shops promote sustainable practices, be it through compostable cups, sourcing beans ethically, or supporting local farmers.
5. Beyond the Brew:
These aren't just places to grab a cup o' joe. They're community hubs. Expect poetry readings, live acoustic sessions, board game nights, and even occasional latte art competitions.
6. Foodie Delights:
While coffee is the hero, the sidekicks deserve a shoutout too. From gourmet pastries and pies to sandwiches with artisanal cheeses and locally sourced ingredients, the food offerings are often as delightful as the beverages.
7. Bourbon, BBQ and… Coffee?:
Well, being me, I have to say – Portland's love for flavors doesn't stop at beans. Don't be surprised if you find a place that serves a smoky bourbon or has BBQ on the menu. After all, why limit yourself when you can have the best of all worlds?
8. Outdoorsy Vibes:
Many coffee shops come with patios, terraces, or outdoor seating areas. Given Portland's picturesque surroundings, it's a joy to sip your brew alfresco, especially when the weather gods are in a good mood.
Why Do I Need to Know the Best Coffee Shops in Portland?
Alright, let's break it down like a fresh bag of coffee beans. Why do you need to know about this coffee shop in Portland?
1. The Experience, Baby:
It's not just about guzzling down a cup of coffee; it's about savoring every moment of it. This particular Portland shop is a blend of ambiance, music, and that indescribable "vibe" that makes your soul do a little happy dance.
2. Bean There, Done That:
Portland is renowned for its coffee culture, and this shop is a shining star in that caffeinated universe. Knowing about it is like having insider info on the best bourbon in Kentucky or the juiciest BBQ in Texas.
3. Conversation Starter:
Ever been in one of those awkward silences on a date or a meeting? Whip out your knowledge about this gem of a coffee shop, and voila! You've got yourself a brewing conversation. Plus, it gives you major street cred in coffee snob circles.
4. Unique Brews:
This isn't your run-of-the-mill caramel latte joint. We're talking exotic beans, innovative brewing techniques, and flavors that dance on your palate like a Broadway show. Might even find a bourbon-infused coffee if you're lucky!
5. The Pairings:
And no, I'm not just talking about coffee and cake. This shop, with its Portland spirit, might just surprise you with pairings like espresso with brisket sliders or a mocha with bourbon glaze donuts. It's culinary art, my friend.
6. The Stories:
Every coffee shop has stories simmering beneath its surface. From the dreams of its owners to the regulars with their quirks and tales, knowing this coffee shop is like holding a novel filled with fascinating tales.
7. Slowing Down:
In the hustle and bustle of life, this coffee shop is a gentle reminder of the joys of slowing down. It embodies the essence of savoring life one sip, one moment at a time.
So, next time you find yourself in Portland, or just daydreaming about its coffee scene, remember this: knowing this coffee shop isn't just about caffeine; it's about embracing an experience, a culture, and the luxurious art of leisure.
Wrapping up
Well, it's time to wrap up this caffeinated journey, my friend. I hope I've quenched your thirst for all things coffee, bourbon, and BBQ in Portland. Remember, it's not just about the beverages; it's about the experiences, the stories, and the moments that make life rich and flavorful.
As you venture out into the world of quiet confidence, refinement, and leisure, don't forget to take a moment to savor the finer things life has to offer. Whether you find yourself in a cozy coffee haven, a bourbon-infused paradise, or a BBQ joint with mouthwatering delights, relish every sip and every bite.
And of course, if you ever need more coffee, bourbon, or BBQ wisdom, you know where to find me at jlsurjan.com.
FAQs:
Q: What makes Portland's coffee scene so special?
A: Portland's coffee scene is a unique blend of artistry, sustainability, and a passion for craftsmanship. The city's coffee shops are like creative hubs, offering a plethora of handcrafted brews, environmentally conscious practices, and a cozy ambiance that invites you to slow down and savor every sip.
Q: Are the coffee shops in Portland welcoming to newcomers?
A: Absolutely! Portlanders are known for their friendly and inclusive nature. Whether you're a seasoned coffee connoisseur or a curious newbie, you'll find a warm welcome and baristas ready to guide you through the world of coffee.
Q: Do these coffee shops serve food as well?
A: Oh, you bet! Many coffee shops in Portland take their culinary game seriously. From delectable pastries to savory BBQ sandwiches and everything in between, you'll find a wide range of food offerings to complement your coffee experience.
Q: Is it true that some coffee shops in Portland offer bourbon-infused drinks?
A: You heard it right! Portland's love for bourbon doesn't stop at the bar. Some coffee shops are known to experiment with bourbon-infused coffee blends and unique cocktails that combine the best of both worlds.
Q: Can I find artisanal, small-batch roasted coffee in Portland?
A: Absolutely! Portland takes its coffee roasting seriously. Many coffee shops roast their own beans, ensuring you get a fresh, unique, and flavor-packed cup every time.
Q: Are these coffee shops suitable for work or study?
A: Definitely! Some coffee shops in Portland offer a relaxed and inspiring environment, making them perfect spots for work, study, or catching up on your latest blog post (wink).
Q: How do I find these coffee shops in Portland?
A: Ah, the hunt! Fear not, my friend. Use search engines, coffee enthusiast forums, or local guides to uncover the hidden gems of Portland's coffee scene. Alternatively, follow my blog jlsurjan.com for the latest coffee adventures and recommendations.
Q: Do these coffee shops host any events or workshops related to coffee, bourbon, or BBQ?
A: Oh, they do! These coffee havens are more than just places to get your daily caffeine fix. You'll find events like coffee tastings, bourbon pairing nights, BBQ workshops, and even latte art competitions. Keep an eye on their social media pages or websites for upcoming events.
Q: Are there any coffee shops with unique themes or concepts that stand out from the rest?
A: You betcha! Portland's coffee scene is a playground for creativity. You might stumble upon coffee shops with themes ranging from vintage jazz clubs to futuristic sci-fi spots. Prepare to be pleasantly surprised!
Q: Are these coffee shops dog-friendly?
A: Woof, woof! Many coffee shops in Portland are indeed dog-friendly. They know that our furry companions love a good outing just as much as we do. Some even offer special dog-friendly treats and water bowls.
Q: Can I find artisanal coffee roasters selling their beans at these coffee shops?
A: Absolutely! Many coffee shops collaborate with local artisanal roasters, giving you the chance to take home a bag of freshly roasted beans to recreate your favorite brews or bourbon-infused coffee concoctions.
Q: Are there any coffee shops with outdoor seating, perfect for enjoying the beautiful Portland weather?
A: Oh, yes! Portland's love for nature and the outdoors extends to its coffee culture. You'll find coffee shops with charming outdoor seating, perfect for basking in the sun while sipping your cup of joe.
Q: Do these coffee shops have loyalty programs or membership perks for regular visitors?
A: Some coffee shops do indeed offer loyalty programs, special discounts, or membership perks for their regular customers. So, if you find a coffee haven that feels like your home away from home, be sure to inquire about their loyalty offerings.
Until next time, stay curious, keep seeking the finest things in life, and may your coffee always be as smooth as bourbon on a summer night.
Jl.Surjan
Disclosure: Our blog contains affiliate links to products. We may receive a commission for purchases made through these links. However, this does not impact our reviews and comparisons. We try our best to keep things fair and balanced, in order to help you make the best choice for you.