Are you ready to discover the mouthwatering delight that can transport you to biscuit heaven? Get ready to indulge in the ultimate biscuit experience that will leave you craving for more.
Picture this: a warm, fluffy biscuit with a golden-brown crust, delicately breaking apart to reveal layers upon layers of buttery goodness. It's the kind of biscuit that melts in your mouth and instantly fills you with pure satisfaction.
Desire: Whether you're a die-hard biscuit enthusiast or simply appreciate the simple pleasure of a well-made biscuit, we've got a treat in store for you. We've scoured the culinary landscape far and wide to bring you the definitive list of the 12 best restaurant biscuits in 2023. These delectable creations will tantalize your taste buds and redefine your expectations of what a biscuit should be.
Are you ready to embark on a gastronomic adventure? Prepare yourself for an article that will take you on a journey through the crème de la crème of biscuit excellence. Discover the hidden gems, the iconic classics, and the innovative twists that will leave you yearning for more.
Whether you're planning your next foodie getaway or simply want to treat yourself to a biscuit extravaganza, this article is your guide to biscuit perfection. Get ready to satisfy your cravings and experience the sheer bliss that can only come from the best biscuits in town.
Get cozy, grab a cup of coffee, and let the biscuit adventure begin. Are you ready to dive into a world of flaky, buttery delight? Let's go!
Who got the Best Biscuits?
Wondering who truly reigns supreme when it comes to crafting the best biscuits? Look no further! We've compiled a comprehensive list of the top contenders, ranking them based on flavor, texture, and that irresistible homemade quality. Get ready to delve into a biscuit extravaganza as we unveil the champions of biscuit perfection.
Here's a sneak peek at our top three contenders:
The Silver Skillet – Atlanta, Georgia: This iconic eatery has mastered the art of biscuit-making, offering a heavenly combination of a golden crust and a tender, flaky interior. Each bite will transport you to biscuit nirvana.
Sunrise Biscuit Kitchen – Chapel Hill, North Carolina: Known for their legendary biscuits, Sunrise Biscuit Kitchen delivers a taste that is unmatched. With their perfect balance of buttery richness and lightness, their biscuits are a true culinary delight.
Loveless Cafe – Nashville, Tennessee: Loveless Cafe takes biscuits to a whole new level of perfection. Their biscuits are made with love and care, resulting in a heavenly texture that is both fluffy and melt-in-your-mouth.
Now, get ready for a detailed exploration of each contender, along with additional noteworthy participants in the race for the title of the best biscuits in 2023. From hidden gems to well-known establishments, we'll uncover the secrets behind these culinary marvels and provide you with the ultimate biscuit guide. So, grab a seat, prepare your taste buds, and let the biscuit showdown begin!
| Rank | Restaurant | Location |
| --- | --- | --- |
| 1 | The Silver Skillet | Atlanta, Georgia |
| 2 | Sunrise Biscuit Kitchen | Chapel Hill, NC |
| 3 | Loveless Cafe | Nashville, TN |
Note: The above table showcases the top three contenders, but the full article will dive into the complete list of the 12 best restaurant biscuits in 2023.
Loveless Cafe
Nashville, Tennessee
Serving customers since 1951, Loveless Cafe has become an iconic fixture of Nashville's culinary scene. Their handmade biscuits are famed for their perfect balance of flakiness and firmness, providing a satisfying bite each time. With their own biscuit mix sold nationwide, the biscuits' unique taste is preserved in the hearts of Southerners far and wide.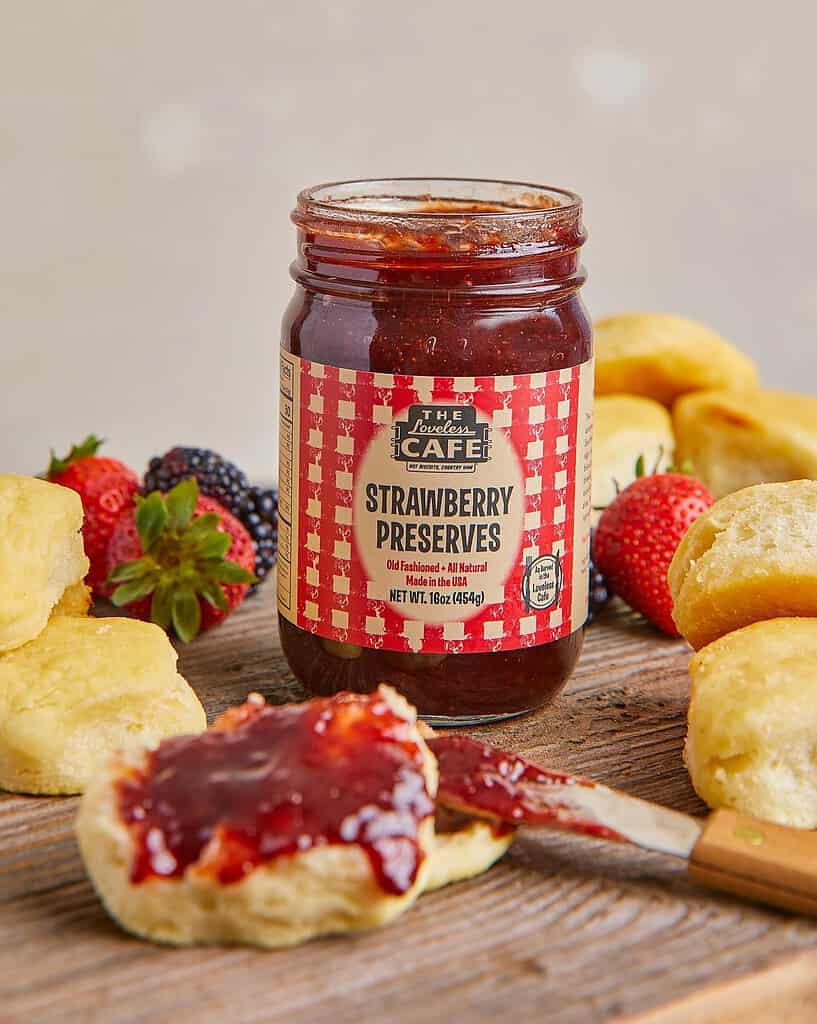 Fred's Market
Riverview, Florida
Fred's Market is built on the tradition of "farm to plate," reflecting its commitment to serving fresh, locally sourced foods. The biscuits are remarkable for their rustic simplicity and homely taste, transporting you back to days of Sunday family breakfasts.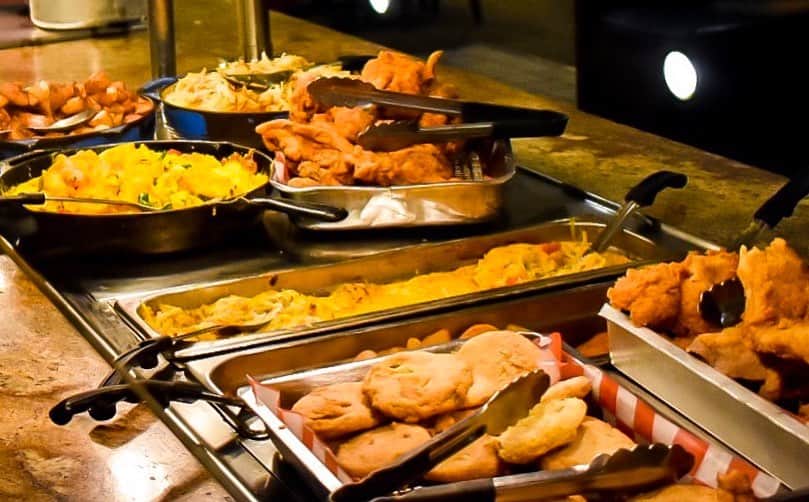 Big Bad Breakfast
Mobile, AL
With locations across the South, Big Bad Breakfast is a bastion of hearty, comfort food. The biscuits are noted for their light, airy texture and a hint of tanginess from the buttermilk. Paired with their house-made sausage gravy, it's a breakfast experience unlike any other.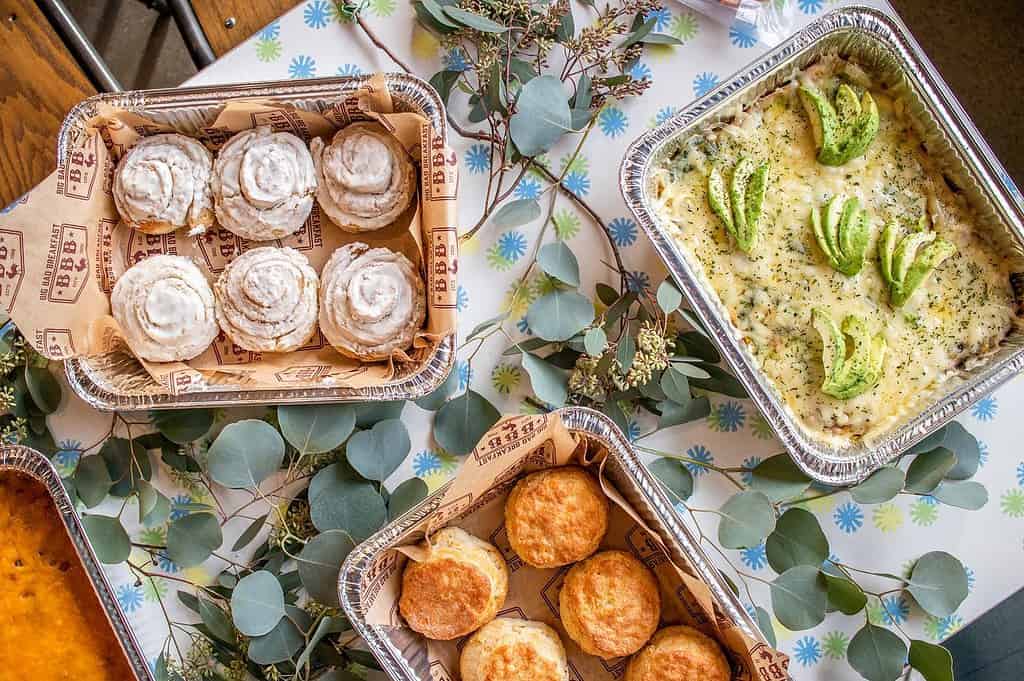 The Silver Skillet
Atlanta, Georgia
Operating since 1956, this retro diner is a slice of Atlanta's history. The biscuits are an exercise in perfection, with a delightful combination of a golden-brown crust and a fluffy interior. The Silver Skillet's biscuits have also had their share of the limelight, appearing in various TV shows and films.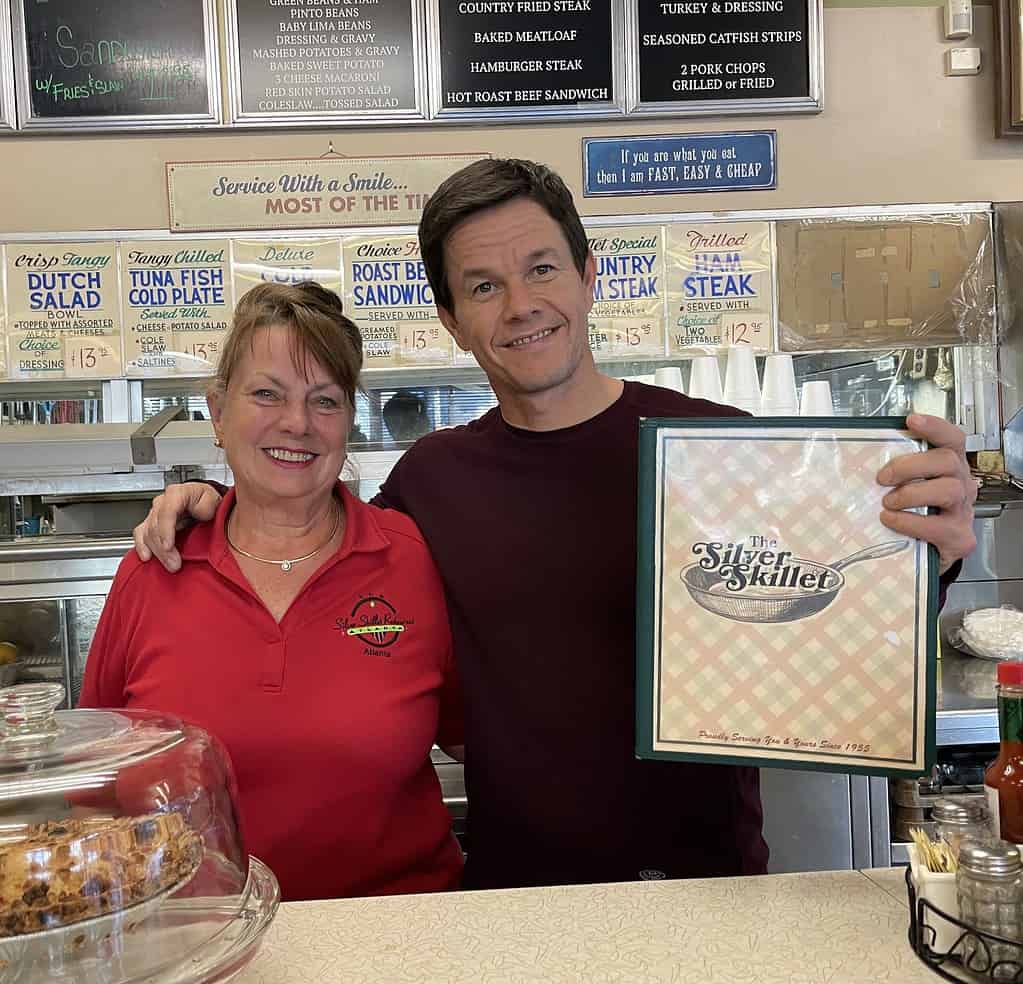 The Biscuit Shop
Starkville, Mississippi
This family-owned establishment is famous for its from-scratch, handmade biscuits. With a slight crunch on the outside and a warm, soft inside, these biscuits provide a unique and mouthwatering experience. Their selection of unique flavors keeps locals and visitors returning for more.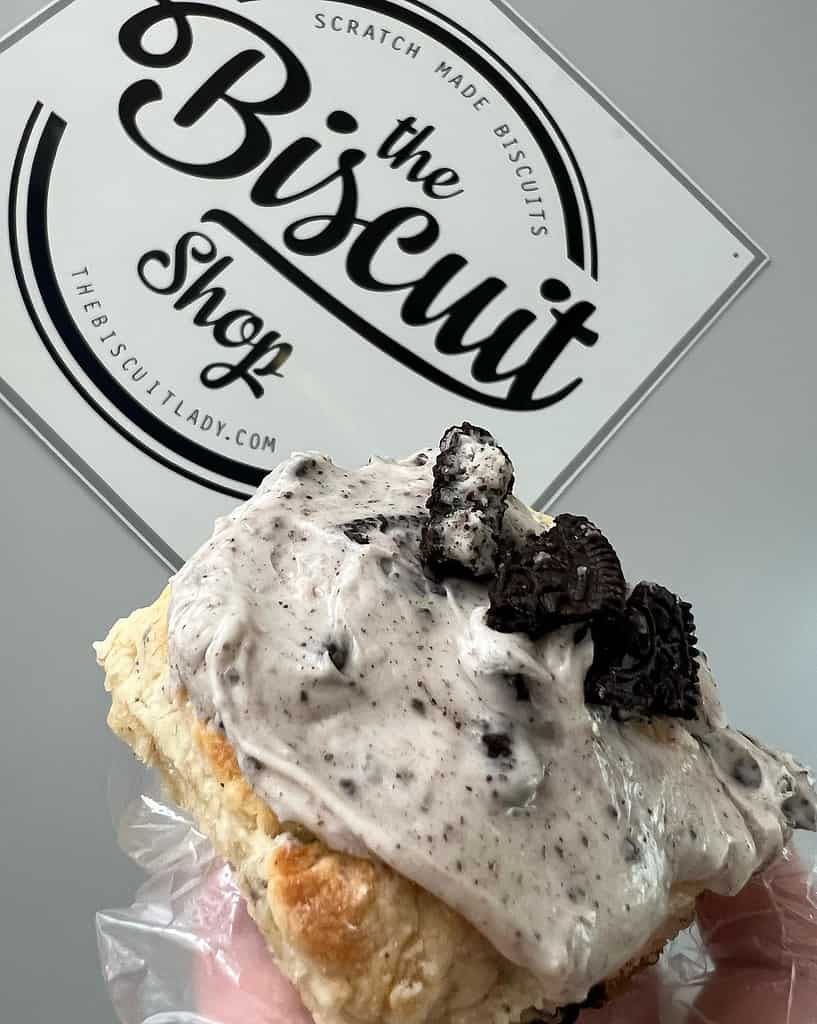 Biscuit Head
Asheville, North Carolina
Known for its giant "cathead" biscuits, Biscuit Head offers an extensive menu for all biscuit lovers. Their biscuits are noted for their size, flakiness, and creative toppings available, offering a unique spin on this classic Southern staple.
Rise Biscuits and Donuts
Durham, North Carolina
Rise Biscuits and Donuts combines the best of sweet and savory. The biscuits, buttery and flaky, are the perfect savory contrast to their sweet, gourmet donuts, creating a flavor profile that is utterly unforgettable.
Dick Russell's Bar-B-Cue

Mobile, Alabama
A beloved establishment since 1954, Dick Russell's offers biscuits that serve as the perfect accompaniment to their famous barbecued meats. Their biscuits are soft and comforting, soaking up the delicious flavors of the barbecue.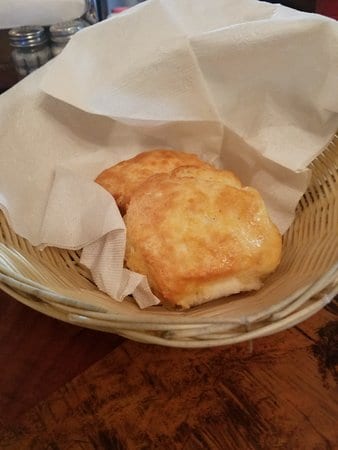 Sunrise Biscuit Kitchen
Chapel Hill, North Carolina
An unassuming drive-through with a powerful culinary punch, Sunrise Biscuit Kitchen offers large, fluffy biscuits filled with a variety of delicious fillings. The variety and quality of these offerings have won the establishment several accolades, including a feature on Food Network's "The Best Thing I Ever Ate."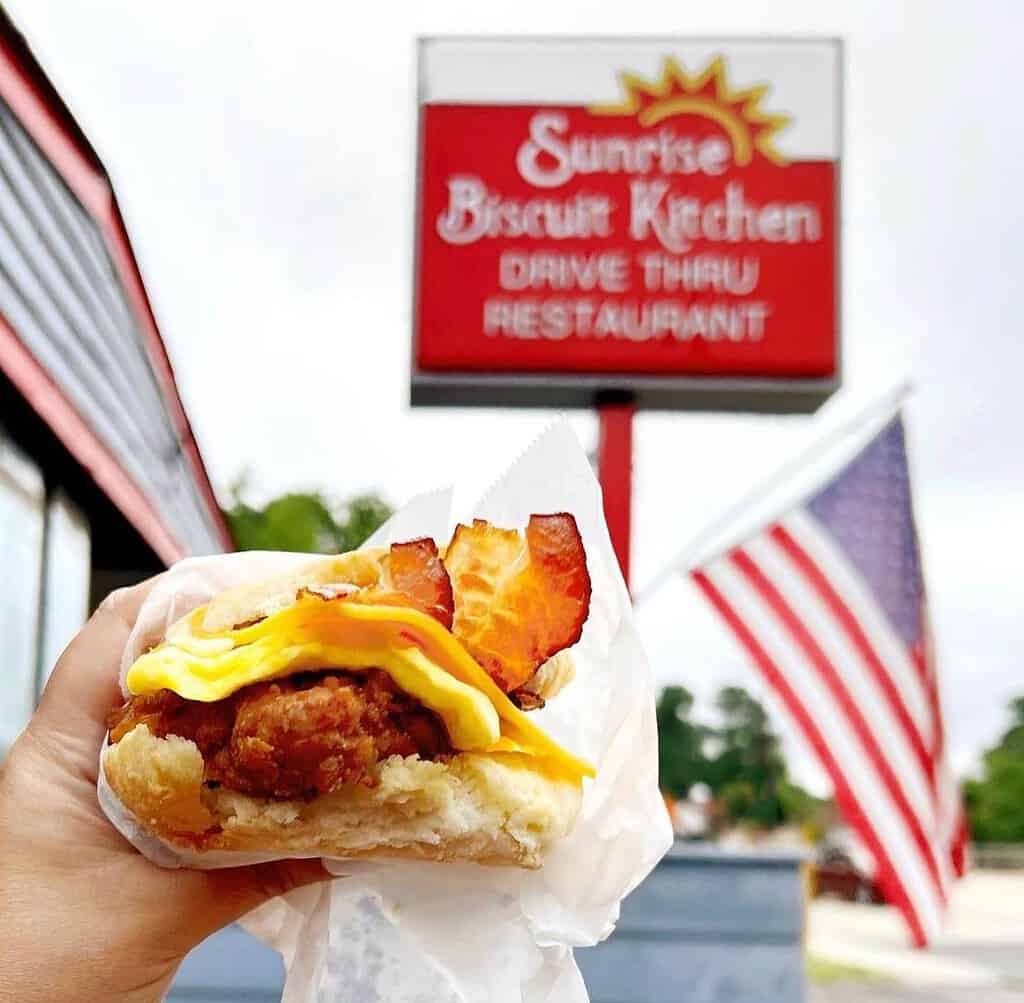 Biscuits + Groovy
Austin, Texas
A food truck with a playful name and serious biscuits. The biscuits here are noted for their soft, fluffy texture and the unique experience of being drenched in mouthwatering gravies and loaded with toppings, making every bite a unique flavor experience.
Blackberry Farm
Walland, Tennessee
Located within a luxurious resort, the biscuits at Blackberry Farm are made with utmost sophistication. They offer a refined taste that harmonizes perfectly with the upscale, tranquil setting of this rural retreat.
Callie's Hot Little Biscuit

Charleston, South Carolina
This award-winning, artisanal bakery is famous for its small, handmade biscuits. These biscuits
What Is a Biscuit?
A biscuit is a beloved baked good that holds a special place in the hearts and palates of people around the world. While the term "biscuit" may vary in meaning across different countries, in the context of this article, we'll focus on the American interpretation.
In the United States, a biscuit is a type of bread product that is typically soft, flaky, and buttery. It is commonly enjoyed as a breakfast item but can also be served as a side dish or used as a base for sandwiches. Biscuits are made from a simple combination of flour, fat (usually butter or shortening), leavening agents (such as baking powder or baking soda), and liquid (often milk or buttermilk). The dough is mixed, rolled out, and then baked until golden brown.
The beauty of a biscuit lies in its versatility. Whether enjoyed plain, with a dollop of butter, or used as a vehicle for savoring gravy or jams, biscuits offer a comforting and satisfying experience. They have become a staple of Southern cuisine in the United States, where they are often cherished as an essential part of hearty breakfasts and soulful meals.
So, whether you're a biscuit aficionado or new to the world of biscuits, get ready to explore the diverse flavors, textures, and techniques that make biscuits a beloved culinary delight.
How Can Biscuits Be Good for Me?
While biscuits are often regarded as indulgent treats, they can still offer some nutritional benefits when prepared with certain ingredients and consumed in moderation.
Firstly, biscuits can provide a good source of energy due to their carbohydrate content. Carbohydrates are a primary source of fuel for the body, providing energy for daily activities and bodily functions.
Additionally, biscuits can be a source of essential nutrients. For example, if whole grain flour is used in the biscuit dough, it can provide dietary fiber, which promotes healthy digestion and helps maintain stable blood sugar levels.
Lastly, biscuits can be enjoyed as part of a balanced diet when paired with nutritious accompaniments. For instance, having a biscuit with a side of fresh fruit or a protein-rich topping can enhance its nutritional value and contribute to a more balanced meal.
It's important to note that the overall nutritional profile of a biscuit will depend on the ingredients used, portion size, and frequency of consumption. Opting for homemade biscuits with healthier substitutions, such as whole grain flour or reduced sugar, can further enhance their nutritional value. As with any food, moderation is key to enjoying biscuits as part of a well-rounded diet.
How We Conducted Our Researched?
When conducting our research to determine the best biscuits in 2023, we followed a comprehensive process to ensure accuracy and thoroughness. Here are the steps we took:
Compilation of candidate restaurants: We compiled a list of renowned biscuit-serving restaurants from various regions across the United States based on their reputation, customer reviews, and culinary expertise.
Gathering information: We delved into each restaurant's menu, specifically focusing on their biscuit offerings. We examined the ingredients used, preparation methods, and any unique characteristics that set their biscuits apart.
Personal experiences and testimonials: To gain firsthand insights, we took into account personal experiences and testimonials from patrons who had visited these restaurants. We explored online reviews, social media platforms, and food-related forums to gauge the general consensus on the quality of the biscuits.
Comparative analysis: We evaluated the biscuits based on multiple factors, including flavor, texture, appearance, aroma, and overall satisfaction. We compared each restaurant's biscuits against one another to identify standout qualities and unique selling points.
Consideration of additional factors: In addition to the taste and quality of the biscuits, we also considered factors such as ambiance, service, reputation, and overall dining experience to ensure a well-rounded evaluation.
Ranking and selection: Taking all the gathered information into account, we ranked the restaurants based on the overall excellence of their biscuits. We considered pricing, features, negatives, and the availability of support or refund policies to offer a holistic view of each contender.
Through this rigorous research process, we aimed to present an objective and comprehensive list of the 12 best restaurant biscuits in 2023, providing readers with a trustworthy and informative guide to satisfy their biscuit cravings.
Wrapping Up
In conclusion, our exploration of the best biscuits in 2023 has taken us on a delightful journey through the world of flaky, buttery goodness. From iconic eateries to hidden gems, we've uncovered the champions of biscuit perfection, ranking them based on flavor, texture, and overall satisfaction.
By following our meticulous research process, we have provided you with a comprehensive guide to the top contenders in the biscuit realm. Whether you're a biscuit enthusiast seeking the ultimate indulgence or simply curious about the finest biscuits around, our article serves as your go-to resource.
With personal experiences, testimonials, and thorough analysis, we have curated a list that captures the essence of biscuit excellence. From the mouthwatering offerings of The Silver Skillet in Atlanta, Georgia, to the legendary creations of Sunrise Biscuit Kitchen in Chapel Hill, North Carolina, and the heavenly delights at Loveless Cafe in Nashville, Tennessee, we have unveiled the stars of the biscuit world.
So, why should you trust our recommendations? We have conducted extensive research, considered multiple factors, and prioritized both personal experiences and customer feedback. Our dedication to providing you with accurate and insightful information ensures that you can embark on your own biscuit adventure with confidence.
Now, armed with the knowledge of the best biscuits in 2023, it's time to indulge your taste buds and treat yourself to the ultimate biscuit experience. Explore, savor, and enjoy the culinary wonders that these esteemed establishments have to offer. Let the aroma of freshly baked biscuits and the anticipation of each bite transport you to biscuit heaven.
Remember, the world of biscuits is vast and ever-evolving, so keep exploring, trying new places, and discovering your personal favorites. Happy biscuit hunting!
FAQ: Frequently Asked Questions
Q1. What is the best way to store biscuits to keep them fresh?
A: To keep biscuits fresh, store them in an airtight container or resealable bag at room temperature. Avoid exposing them to moisture or extreme heat.
Q2. Can I freeze biscuits for later use?
A: Yes, biscuits can be frozen for later use. Once cooled, place them in a freezer-safe bag or container, and they can be stored for up to three months. Thaw them at room temperature or reheat in the oven when ready to enjoy.
Q3. Can I substitute ingredients in a biscuit recipe?
A: Yes, you can experiment with ingredient substitutions in biscuit recipes. For example, you can substitute butter with shortening or use different types of flour, such as whole wheat or gluten-free alternatives.
Q4. How do I achieve a flaky texture in biscuits?
A: To achieve a flaky texture in biscuits, it's important not to overmix the dough. Incorporate the fat (butter or shortening) into the dry ingredients just until the mixture resembles coarse crumbs.
Q5. Can I make biscuits without using dairy or eggs?
A: Yes, biscuits can be made without dairy or eggs. You can use plant-based milk (such as almond or oat milk) and substitute butter with dairy-free alternatives or vegetable oil.
Q6. What is the difference between biscuits and cookies?
A: The term "biscuit" in the United States typically refers to a soft, flaky bread product, while "cookies" are sweet baked treats made from a dough that often contains sugar, eggs, and flavorings.
Q7. How can I make my biscuits rise more?
A: To help biscuits rise more, ensure that your leavening agents (baking powder or baking soda) are fresh and active. Also, handle the dough gently and avoid overworking it.
Q8. Can I make biscuits without using an oven?
A: Yes, biscuits can be made without an oven. You can try cooking them on a stovetop using a skillet or griddle. This method typically produces slightly different results but can still be delicious.
Q9. Are there any gluten-free biscuit options available?
A: Yes, there are gluten-free biscuit options available. You can find recipes and pre-made mixes that use gluten-free flours like almond flour, rice flour, or a blend of gluten-free grains.
Q10. What is the secret to achieving a golden-brown crust on biscuits?
A: To achieve a golden-brown crust on biscuits, brush the tops with melted butter or milk before baking. This helps to promote browning and adds flavor.
Q11. Can biscuits be made without using baking powder or baking soda?
A: While baking powder or baking soda is typically used to leaven biscuits, there are alternative methods available. For example, you can use yeast as a leavening agent, but it requires a longer rise time.
Q12. Are biscuits a healthy breakfast option?
A: Biscuits can be enjoyed as part of a balanced breakfast when made with nutritious ingredients and consumed in moderation. Opting for whole grain flour, reducing added sugars, and pairing them with protein and fruits can enhance their nutritional value.
Q13. Can I make biscuits without using all-purpose flour?
A: Yes, you can make biscuits without using all-purpose flour. Experiment with alternative flours like whole wheat, spelt, or a combination of different grains to suit your dietary preferences.
Remember, the key to making the perfect biscuit lies in experimentation, practice, and adapting recipes to suit your individual preferences and dietary needs. Enjoy the process of creating and savoring these delectable treats!
Jl.Surjan
Disclosure: Our blog contains affiliate links to products. We may receive a commission for purchases made through these links. However, this does not impact our reviews and comparisons. We try our best to keep things fair and balanced, in order to help you make the best choice for you.