13 Best Fall Coffee Drinks in 2023
Hey there, coffee lovers! Fall is the perfect season for a warm cup of joy, don't ya think? As the leaves change and you dig out your coziest sweaters, we're serving up the 21 best fall coffee drinks you've gotta try this year. From classics like Pumpkin Spice Lattes to bold newcomers, we've got something for every autumn-loving sipper out there. So grab your favorite mug; it's time to fall in love with coffee all over again. 🍂☕
13 Fall Coffee Drinks (To Try at Home & Out)
Alright, gather 'round you caffeinated connoisseurs. Whether you're hitting up your local coffee shop or brewing your own cup of coffee at home, we've got you covered. We've scoured the lands—from Starbucks to your momma's kitchen—to find the most amazing fall coffee drinks you've gotta try this season. I'm talking pumpkin spice magic, cinnamondelights, and even some cozy, ice-cold brews for those transitional autumn days. So, put on your favorite fall sweater and get ready for a coffee flavor explosion that's as comforting as a warm blanket. Cheers to the fall season, y'all!
1. Pumpkin Spice Latte
Ah, the Pumpkin Spice Latte, or as I like to call it, "Fall in a Cup." This popular fall coffee drinks is the granddaddy of 'em all. You might've had your first one at Starbucks, but making it at home lets you play barista, tweakin' it to your heart's content.
Ingredients:
1 shot of espresso or 1 cup of strong brewed coffee
1 cup of milk (any type, your choice)
2 tablespoons of pumpkin puree
1 tablespoon of sugar
1/2 teaspoon of pumpkin pie spice
A dash of vanilla extract
Whipped cream for topping (optional, but c'mon, live a little!)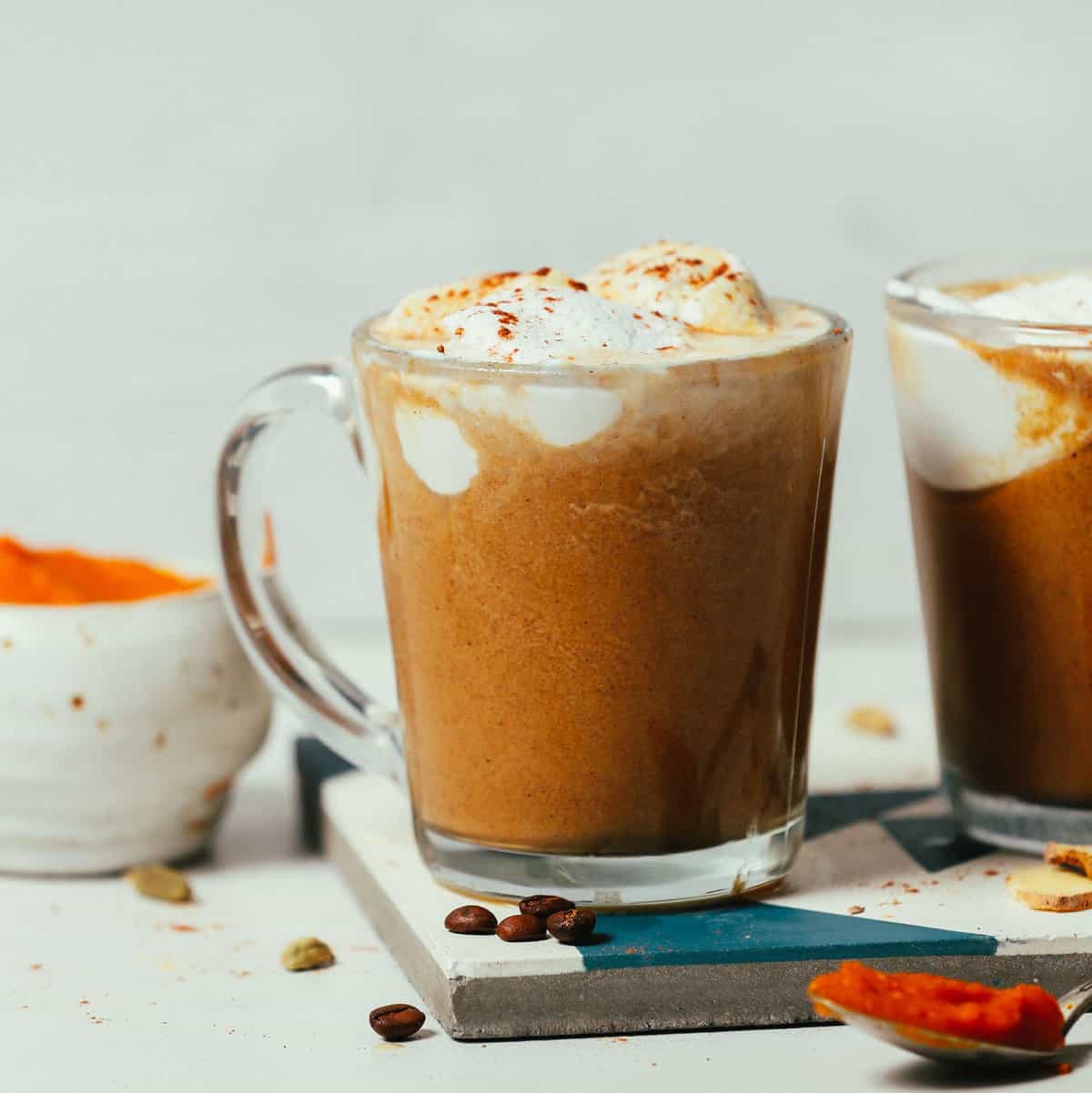 Instructions:
Prepare Your Espresso or Coffee: If you have an espresso machine, brew a single shot of espresso.
Heat and Froth the Milk: Pour the milk into a small saucepan and place it over medium heat. If you have a milk frother, use it to froth the milk until it's creamy and has a good amount of foam.
Add Pumpkin Spice Syrup: Stir in 2 to 3 tablespoons of pumpkin spice syrup into the hot, frothed milk.
Combine Coffee and Milk: Pour your brewed espresso or coffee into a coffee mug. Slowly pour the spiced, frothed milk over the coffee.
Optional Toppings: Sprinkle a pinch of ground cinnamon or pumpkin spice blend over the whipped cream for a delightful garnish.
Enjoy Your Pumpkin Spice Latte: Serve your homemade Pumpkin Spice Latte immediately while it's still hot and comforting.
And there you go! Your very own Pumpkin Spice Latte, made from the comfort of your home. No more waiting in those long Starbucks lines for your favoritefall coffee drinks! 🎃☕
2. Smoked Butterscotch Latte
Alright, if you're bored of pumpkin everything or just want to mix things up, listen up! The Smoked Butterscotch Latte is like a campfire meet-cute with a cup of coffee. It's got that rich butterscotch flavor kissed with a smoky flair—talk about a delicious autumn coffee treat!
Ingredients:
1 shot of espresso or 1 cup of strong brewed coffee
1 cup of milk (your choice, make it your own)
2 tablespoons of butterscotch sauce
A pinch of smoked sea salt
A dash of cinnamon
Optional: Whipped cream and extra butterscotch drizzle for topping (I mean, why not?)
Instructions:
Fire Up That Coffee: Whether you're using a high-tech espresso machine or a trusty French press, start by making your coffee or espresso.
Warm the Moo Juice: Heat your milk on the stove. Keep it hot, not boiling. We're making a latte, not cheese.
Get Saucy: In that warm milk, mix in your butterscotch sauce, smoked sea salt, and a dash of cinnamon. Stir until you can't resist a taste.
Pour & Unite: Grab your favorite mug and pour in your coffee. Follow that with your smoky, butterscotchy milk mix. Give it a lil' stir.
Pile on the Good Stuff: If you're going the extra mile, top it off with whipped cream and an artistic drizzle of butterscotch sauce.
The First Sip: Ah, yes. Take that first sip and revel in the smoky-sweet symphony that's just elevated your fall coffee game.
Remember that you can adjust the sweetness and spiciness of your latte by varying the amount of pumpkin spice syrup you use. Feel free to customize it to your liking, and enjoy the cozy flavors offall coffee drinks.
3. Hazelnut Mocha
Oh, baby, are you in for a treat. Hazelnut Mocha is like the classy, sophisticated cousin of the Pumpkin Spice Latte. This coffee drink is a go-to when you want to feel like you're tasting something gourmet but can't be bothered to put on real pants and go out. Nutty, chocolatey, and oh-so-warming, it's a favorite fall coffee drink that's sure to please.
Ingredients:
1 shot of espresso or 1 cup of strong brewed coffee
1 cup of milk (your preference, be the milk monarch)
2 tablespoons of hazelnut syrup
1 tablespoon of cocoa powder
A tiny pinch of sea salt
Optional: Whipped cream and a sprinkle of cocoa for that Instagram-worthy finish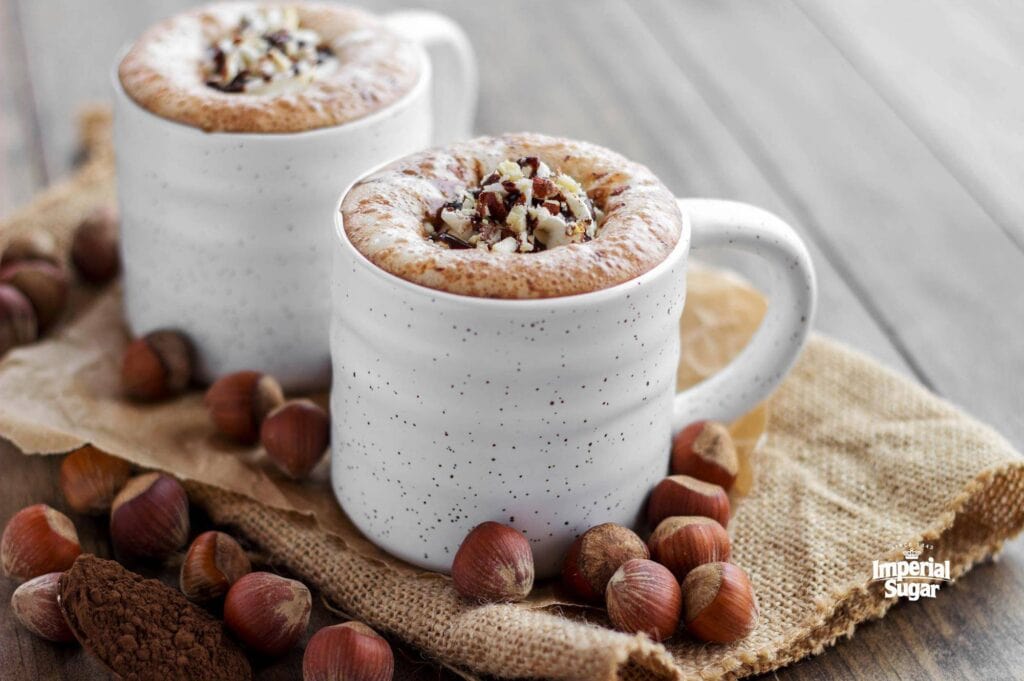 Instructions:
Brew It: Get that coffee or espresso going. This is the backbone of your delicious concoction.
Milk Time: On the stove, warm your milk until it's just short of a boil. Keep those bubbles in check!
Nutty Business: Add your hazelnut syrup, cocoa powder, and a pinch of sea salt to the milk. Whisk it until it's as smooth as a jazz saxophonist.
Mixology Time: Into your favorite mug, pour your coffee first, then top it off with the hazelnut-choco milk of the gods.
Jazz It Up: Top with whipped cream and a cocoa sprinkle if you're feeling like the star you are.
The Best Part: Grab that mug, wrap your hands around it like it's your long-lost love, and smell it Mmm…fall in a cup, but make it fashion.
This Hazelnut Mocha is like a warm fall hug with a nutty twist. So go ahead, make it your new autu
4. Peppermint Hot Mocha
Alright, my peppy little peppermints, let's get your taste buds tingling! Peppermint Hot Mocha is that zesty yet cozy blend that's perfect for shaking up your autumn coffee routine. It's like if Christmas came early but decided to hang with fall for a bit. And let's be real, who doesn't want a bit of that holiday spirit sprinkled into their cup of coffee?
Ingredients:
1 shot of espresso or 1 cup of strong brewed coffee
1 cup of milk (Skim, almond, oat—pick your potion)
2 tablespoons of cocoa powder
1 tablespoon of peppermint syrup
Optional: Whipped cream and a candy cane or peppermint stick for that extra pizzazz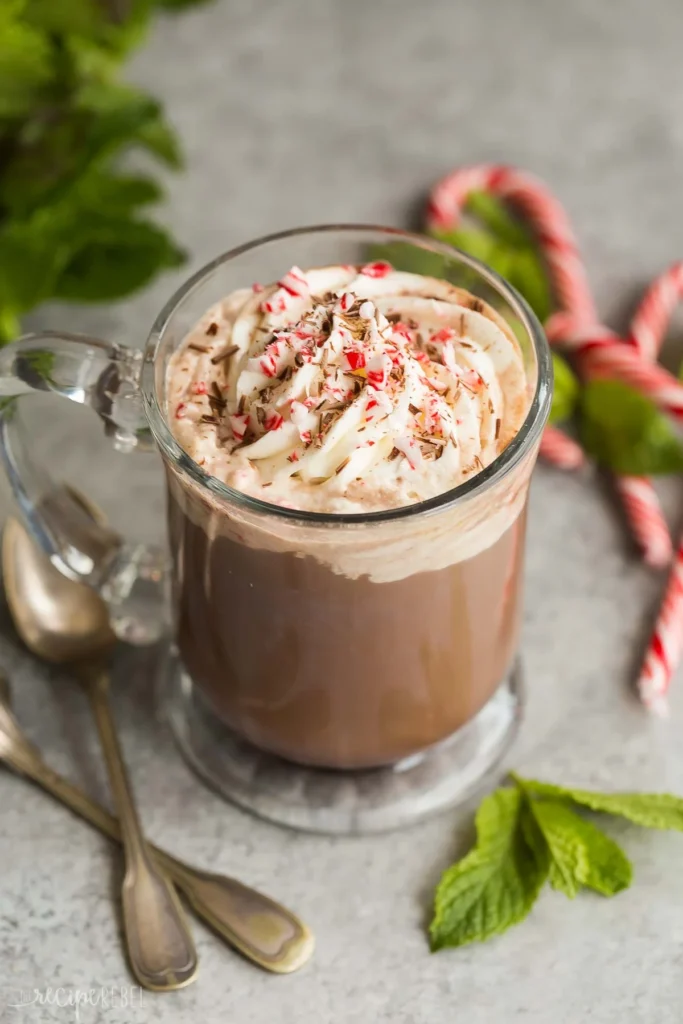 Instructions:
Coffee First: Get that coffee brewed. It's the canvas for our peppermint masterpiece.
Warm Those Udders: Heat up your chosen milk in a saucepan. You know the drill, warm but not boiling.
Flavor Bomb: Toss in the cocoa powder and peppermint syrup into the milk. Stir until it looks and smells like a holiday card.
Pour & Mix: In your coziest mug, combine your hot coffee and peppermint chocolate milk. Give it a good ol' swirl.
Add the Flair: Top with whipped cream, and if you're going for that Hallmark moment, add a candy cane or peppermint stick.
Cheers to You: Take that first sip and let the peppermint lift your spirits while the mocha keeps you snug. Ah, it's a dynamic duo for sure!
So there you go! A Peppermint Hot Mocha that's the epitome of a cozy, seasonal drink. Put on your favorite fuzzy socks and enjoy, my friends.
5. Salted Caramel Latte
Oh boy, if you've got a sweet tooth that needs taming this fall season, do I have the drink for you. The Salted Caramel Latte is like a dessert you can sip, wrapped in a cozy blanket of fall coffee goodness. It's got the perfect blend of salty and sweet, and it'll make any coffee shop run feel obsolete.
Ingredients:
1 cup of strong brewed coffee (the heart of any great coffee drink)
1 cup of milk (go wild, pick your fave)
2 tablespoons of caramel sauce
1/4 teaspoon of sea salt
Optional: Whipped cream and an extra caramel drizzle (for that indulgent finish)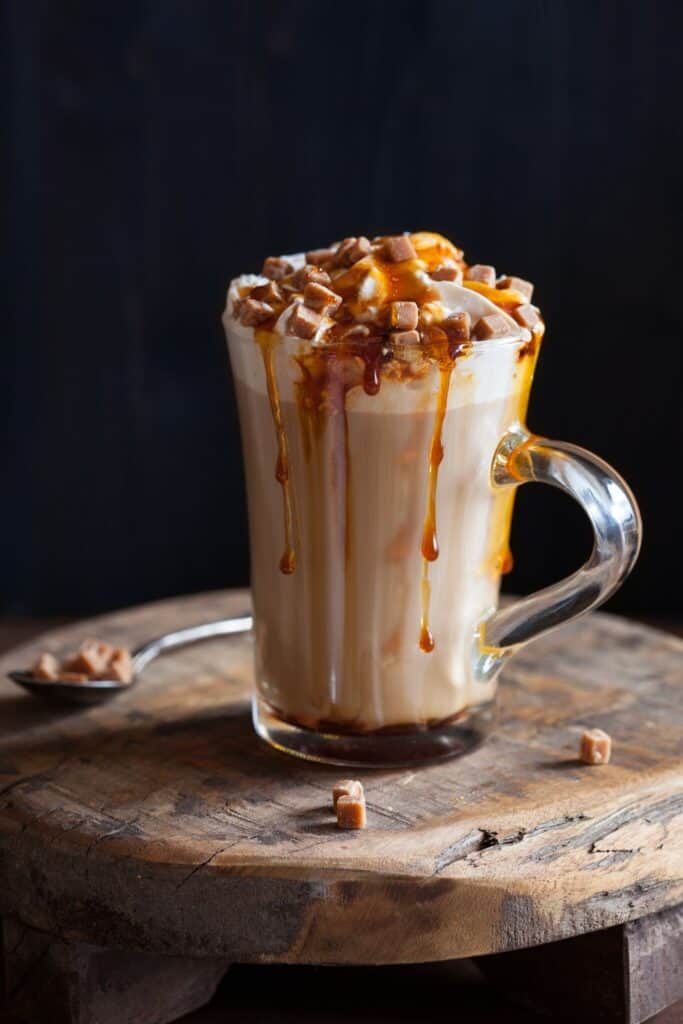 Instructions:
Coffee, Of Course: Brew your strong coffee, making sure it's hot and ready like a bakery's open sign.
Milk It: Warm up your milk on the stove, cozy but not scalding. We're not making yogurt here.
Sweet & Salty: Into the warm milk, mix in the caramel sauce and sea salt. Stir until you're practically drooling.
Combine the Goodness: In your go-to mug, first pour the coffee and then layer on that salted caramel milk. Swirl it like you're Van Gogh of coffee drinks.
Go Big or Go Home: For the showstoppers among us, pile on that whipped cream and give it a caramel swirl worthy of a chef's kiss.
Savor: Taste it and get transported to a caramel wonderland that's just perfect for the autumn season.
Indulgent? Yes. Necessary? Absolutely. Salted Caramel Lattes to fall coffee drinks is a must!
6. Vanilla Biscotti Latte
Well, well, well, if you're a fan of those Italian cookies that look way too fancy to eat but way too delicious to resist, you're gonna flip for this. The Vanilla Biscotti Latte is like a coffee-flavored cookie, and a cup of coffee had a delicious baby. It's an amazing fall coffee drinks that combines the best of both worlds: cookies and caffeine. The ultimate combo, right?
Ingredients:
1 cup of strong brewed coffee (because coffee)
1 cup of milk (cow, goat, almond, cashew—go nuts)
2 tablespoons of vanilla syrup
1 teaspoon of almond extract
A pinch of cinnamon
Optional: Whipped cream and a biscotti on the side for dunking and munching
Instructions:
Milk Matters: Gently heat your milk until it's warm but not bubbling over like a science experiment.
Flavor it Up: Add the vanilla syrup, almond extract, and a pinch of cinnamon to your milk. Stir until your kitchen smells like an Italian bakery.
Blend and Pour: In your fanciest (or, let's be honest, most available) mug, mix together your hot coffee and flavored milk. Give it a nice stir.
Fancy Finish: If you're really feeling bougie, add some whipped cream and serve it with a biscotti for that extra oomph.
The First taste: Go ahead, try it, and pretend you're in a quaint café somewhere in Italy—or your living room. Both work.
Feel free to adjust the sweetness and the amount of vanilla syrup according to your preferences. This latte is perfect for a cozy morning or as an afternoon pick-me-up.
7. Keto Pumpkin Spice Latte
Oh ho ho, hold the phone! So you've taken the keto plunge, but you're not ready to give up your autumn coffee game? I got you. A low-carb Pumpkin Spice Latte is just a few steps away. Get your barista apron on; we're diving in!
Ingredients:
1 cup unsweetened almond milk (or coconut milk for a tropical twist)
2 shots of espresso or 1 cup of robust brewed coffee
1 tablespoon real pumpkin puree (none of that fake stuff, please)
2 teaspoons erythritol or another keto-approved sweetener
1/2 teaspoon pumpkin pie spice (yes, the blend of cinnamon, nutmeg, and magic)
1 teaspoon vanilla extract
Whipped cream for the top (keep it sugar-free, keto warriors)
Instructions:
Brew-tiful Start: Get that espresso or robust coffee going. This is the backbone of your latte, so make it count.
Warm It Up: Take a saucepan and toss in your almond milk and pumpkin puree. Warm it over medium heat, but don't let it bubble over. We're not recreating a volcano here!
Spice is Nice: Time to get spicy. Add your erythritol, pumpkin pie spice, and vanilla extract to the saucepan. Stir until it's as mixed as a fall playlist.
Bring 'Em Together: Once your coffee is ready, pour it into your go-to fall mug. Follow that up by gently adding your warm, spiced milk mixture.
Top of the Mornin': Plop some sugar-free whipped cream on top. Sprinkle a touch more cinnamon if you're feeling it—makes for a great photo op.
Take a Moment: Grab your mug and let the autumnal vibe envelop you as you take that first glorious taste. Welcome to fall in a cup, my keto friend.
And there you go—a keto Pumpkin Spice Latte that lets you stay low-carb while embracing the delicious fall flavors. Who said you can't have the best of both worlds? Cheers to fall!
8. Butter Pecan Frappuccino
What's that? You love butter pecan and you want it in liquid form? Say less. Perfect for those days when you can't tell if it's summer pretending to be fall or fall pretending to be summer. Let's get blending!
Ingredients:
1 cup of crushed ice
1 cup of your preferred milk
1/2 cup of cold brew coffee (Yep, we're changing it up!)
2 tablespoons of butter pecan syrup
1 tablespoon of caramel drizzle
A dash of sea salt
Whipped cream and crushed pecans for that Instagrammable topping
Instructions:
Blender Time: Toss the crushed ice, milk, cold brew coffee, butter pecan syrup, and caramel drizzle into the blender. Hit that blend button like you're fast-forwarding through commercials.
Salty Goodness: Sprinkle in that dash of sea salt. Trust me; it's a game-changer.
Frosty Finish: Blend until it's smoother than your Spotify playlist.
Fancy Pour: Transfer your blended masterpiece into a glass, but leave some room up top for the artistry to come.
The Crown: Layer on that whipped cream like it's the crown jewels, and don't forget to sprinkle those crushed pecans for the regal finish.
Taste Test: Dive in. That first taste is like catching the last beach day in October.tasteBoom! Butter Pecan Frappuccino, perfect for the in-between season when you're rocking shorts one day and a hoodie the next. Cheers to confusing weather and delicious drinks!
9. Cinnamon Roll Cold Brew
Hold up, did someone say cinnamon roll in a drink? Oh, you betcha. Take the comforting aroma of a freshly-baked cinnamon roll and combine it with the kick of cold brew coffee. This is for those of you who want a splash of cozy with a jolt of "wake-me-up."
Ingredients:
1 cup cold brew coffee (we're keeping it chill)
2 tablespoons cinnamon syrup
1 tablespoon cream or half-and-half
A dash of ground cinnamon for garnish
Ice cubes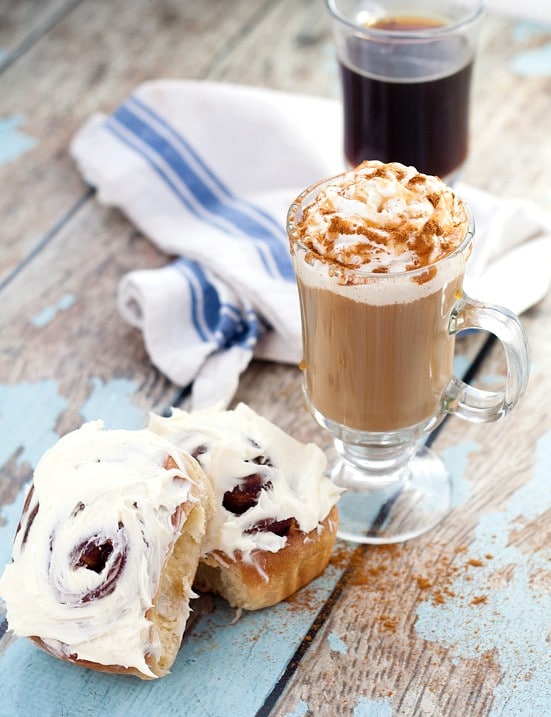 Instructions:
Chillin' Start: Pour your cold brew over a few ice cubes in your go-to glass. No fancy machinery needed; your arm's got this!
Cinnamon Infusion: Add in that cinnamon syrup. It's like inviting the bakery into your kitchen, minus the mess.
Cream it Up: Swirl in a tablespoon of cream or half-and-half to give it that velvety texture.
Stir it In: Mix all the goodness together. Use a spoon, a straw, or your finger if no one's looking (just kidding, please use a spoon).
Finishing Touch: A dash of ground cinnamon on top isn't just garnish; it's an invitation to flavor town.
Dive In: Take that first taste. Feel the vibes? That's breakfast-meets-coffee in liquid form.
And there it is, your Cinnamon Roll Cold Brew. Now you don't have to decide between breakfast and coffee; you're basically drinking both. Ah, the magic of multita
10. Pumpkin Spice Frappuccino
Whoa, Nelly! You're telling me you want the essence of fall but in a chilly, slurpable form? Look no further than this treat that marries the iconic flavors of the season with your love for icy sips.
Ingredients:
1 cup of crushed ice
1 cup milk of your choice
2 tablespoons of pumpkin-flavored syrup (the season's VIP)
1 tablespoon of vanilla syrup
Whipped cream and a sprinkle of nutmeg for garnish
Instructions:
Ice, Ice, Baby: Into the blender it goes! Start with your crushed ice because, well, it's a frappuccino!
Pour it On: Follow the ice with your milk, pumpkin-flavored syrup, and vanilla syrup. The blender is basically a melting pot of deliciousness right now.
Whirl it Up: Blend until it's so smooth you question its life choices. This should be a no-chunks-allowed zone.
The Grand Pour: With the elegance of a barista in a latte art competition, pour your blended concoction into a glass.
Garnish Fest: This isn't just any drink; it's a masterpiece. Crown it with whipped cream and give it a nutmeg sprinkle.
Taste the Season: Go ahead, take that first taste. Yep, that's like fall decided to take a vacation in your mouth, in the form of a frozen drink.
So there you have it! A Pumpkin Spice Frappuccino that lets you experience fall with a cool twist. This is where the flavors of the season meet your eternal love.
11. Snickerdoodle Latte
Snickerdoodle cookies and coffee? It's like the dream team of your taste buds. This latte brings all the nutty and sugar vibes you crave in a snickerdoodle right into your glass. So let's stop yappin' and start mixin'!
Ingredients:
1 cup of milk (your choice, no judgment here)
1/2 cup of robust java (yep, coffee but jazzed up)
2 tablespoons of sugar cookie syrup
1 teaspoon ground cinnamon
Whipped cream for garnish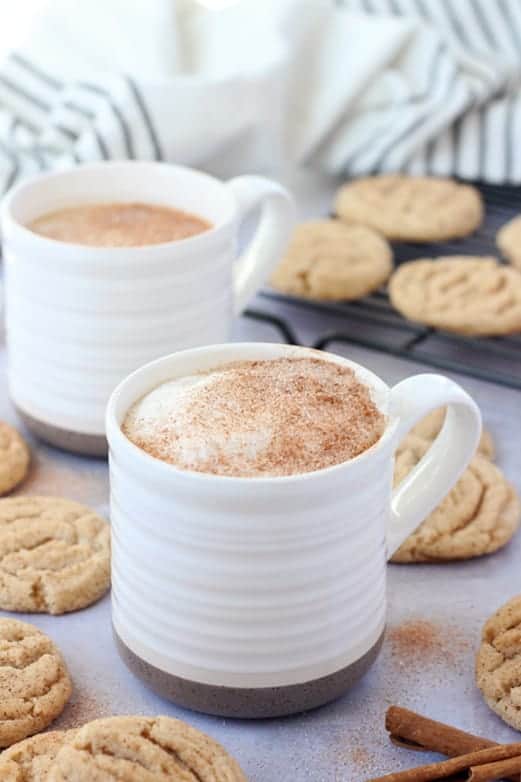 Instructions:
Get Steamy: Warm up that milk on the stove. Not boiling, just a little steamy—like a PG-rated movie.
Cookie-fy Your Brew: Add your sugar cookie syrup into the java you've got on hand. It's like liquid cookies, people!
Cinna-Yeah!: Sprinkle in that ground cinnamon. You want that snickerdoodle essence to scream, "Hey, taste me!"
Merge & Mix: Time to pour your jazzed-up java into your milk while stirring. Blend those flavors like a pro!
Garnish Galore: Time for some whipped cream grandeur.
Flavor Trip: Take your first taste and get transported to a holiday cookie swap. It's grandma's kitchen meets café culture.
There you go, a Snickerdoodle Latte serve and enjoy!
12. Pistachio Latte
Hold the phone, a Pistachio Latte? You read that right. This is the sleeper hit of fall coffee drinks. It's like the indie film that nobody expected to be a blockbuster, but here we are. So let's get this nutty show on the road!
Ingredients:
1 cup steaming hot milk (whatever type you fancy)
1/2 cup strong java (we're back to this term, baby!)
2 tablespoons pistachio syrup
A handful of crushed pistachios for garnish
Whipped cream, because why not?
Instructions:
Milk It: Heat up your milk until it's steaming but not boiling. You don't want a milk volcano on your hands.
Java Jive: Pour your strong java into your favorite mug; it's the canvas for your latte masterpiece.
Go Nuts: Add the pistachio syrup. It's the star of this show, so let it shine.
Combine Forces: Slowly pour the steaming milk into your mug while stirring. It's like watching a rom-com, but with ingredients.
Whip It Good: You knew it was coming. Top that liquid goodness off with a dollop of whipped cream.
Nutty Finish: For the pièce de résistance, sprinkle those crushed pistachios like you're an artist scattering brushstrokes on a canvas.
Cheers: Your first taste should have you saying, "Where has this been all my life?"
There you have it, folks! A Pistachio Latte that'll make you forget all about pumpkin spice—well, at least until you smell it again. But for now,
13. Gingerbread Spiced Coffee
Gingerbread houses? Nah, too much work. Gingerbread cookies? Eh, maybe later. Gingerbread Spiced Coffee? Now we're talking! The beloved holiday treat now makes an appearance in your daily java routine. Let's get to it!
Ingredients:
1 cup hot brewed java (oh, you thought I was gonna say coffee?)
1 tablespoon molasses (that's where the magic happens)
1/4 teaspoon ground ginger
1/4 teaspoon ground cloves
Whipped cream and a gingerbread cookie for garnish (if you're feeling extra)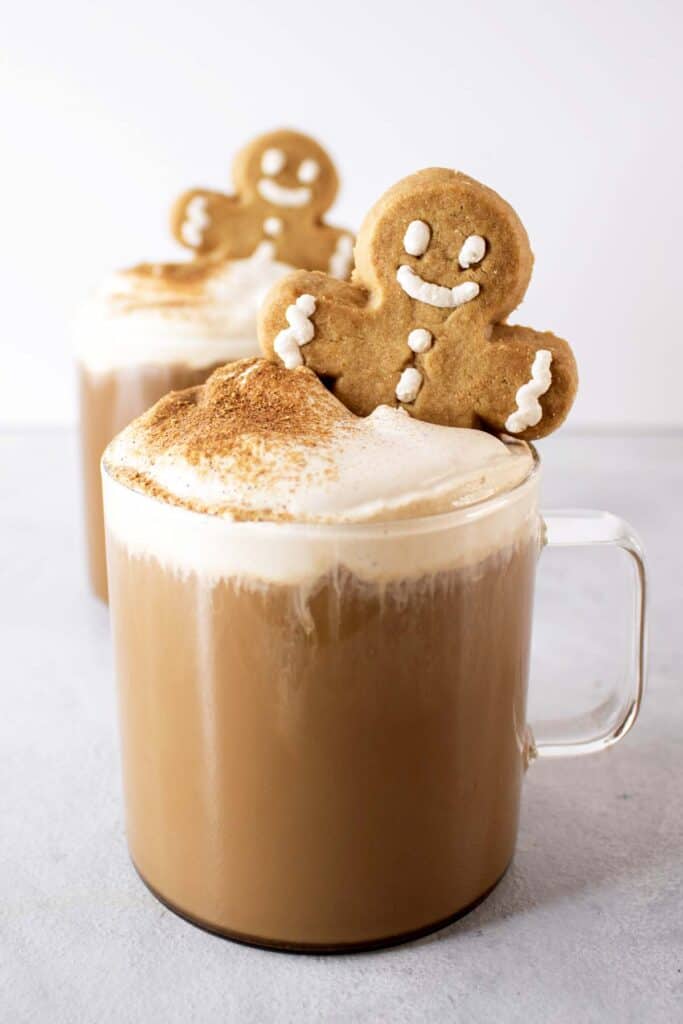 Instructions:
Java Time: Start with that hot, steaming mug of your brewed daily fix.
Molasses Mojo: Add that tablespoon of molasses. Yeah, it's sticky, but oh man, it's worth it.
Spice it Up: Sprinkle in your ground ginger and cloves. No, it's not a spice girls reunion; it's better.
Stir It Good: Time to blend these wonders together. A good ol' spoon should do the trick. Stir until the molasses and spices look like they were always meant to be in your java.
Top It Like It's Hot: Whipped cream goes on top. If you're feeling like the star you are, add a gingerbread cookie right on there.
Treat Yo' Self: Take a sip and let that gingerbread goodness make your taste buds do a happy dance.
Bam! Gingerbread Spiced Coffee. It's like the holidays came early but forgot to bring the stress. Enjoy your cup o' joy!
What Are Fall Coffee Drinks?
So you're asking yourself, "What in the world are fall coffee drinks?" Don't worry, you're not alone. These are basically your regular cuppas, but they've gone to seasonal flavor school. Think of it as spicing up your regular coffee to match the mood of fallen leaves and sweater weather. It's like your coffee experience got an autumnal makeover!
In other words, a fall coffee drink takes all those cozy coffee drinks you enjoy year-round and gives them a leafy, cinnamon-y, pumpkin-y kick. Fall is the perfect time to experiment with these seasonal flavors. From the regular Pumpkin Spice Latte to the more adventurous Maple Spice Iced Coffee, there's something to tickle every palate. Even Starbucks gets into the spirit with their Starbucks fall line-up—because hey, who doesn't want to taste like a walking, talking autumn day?
Whether you're looking for drinks without the traditional caffeine punch or you're trying to emulate one of Starbucks' seasonal sensations, there's a fall coffee drinks recipe out there for you. These aren't just drinks for the autumn season; they're a whole mood. So, if you've got a favorite coffee you want to upgrade, now's the time. With these coffee drink ideas, your fall beverage game will be unbeatable
How Do You Make Coffee Taste Like Fall?
Alright, so you're intrigued. You've seen the list, and you're thinking, "I want my daily brew to taste like a hayride through a pumpkin patch!" Well, dear reader, you're in luck. Making your coffee taste like fall is as easy as a walk through crunchy leaves.
First off, fall is all about those warm spices and comforting flavors, right? So, if you want to spice up your regular coffee, you gotta think cinnamon, nutmeg, and yes, even a hint of maple. Just a dash of these can turn your regular morning joe into a cozy coffee experience you'll enjoy during the fall season.
Now, if you're willing to venture a bit further, you could swap out your regular milk for a seasonal nut milk like almond or hazelnut. Adds a whole different layer, trust me.
But what if you're all about that iced coffee, even when it's cooler out? Easy. Just take a regular iced coffee recipe and throw in a splash of pumpkin or maple syrup. Boom—fall in a glass!
Remember, you don't need to go full-on Starbucks drinks to enjoy a good autumnal cup. A few simple tweaks, and you've got the perfect drink to enjoy while you're wrapped up in a cozy blanket, looking wistfully out the window at the changing leaves.
Final Thoughts
Whew, what a ride, right? We've journeyed through the magical land of 21 amazing fall coffee drinks, and man, are my taste buds dancing or what? From the comforting classics to the daring new entries (I'm lookin' at you, Pistachio Latte), there's a perfect drink for every coffee lover this season.
If you're new to the seasonal coffee game, fall is the perfect time to dive in. Take these fall coffee recipes, play around, and make them your own. And if you're too lazy to be your own barista—no judgment, by the way—there's always the Starbucks fall lineup to keep your caffeine heart happy.
So whether you're a fan of cozy Fall Coffee Drinks that you can enjoy by a roaring fire or more of an iced coffee aficionado who refuses to let go of summer, these drinks for the autumn season got you covered.
In the end, remember that each fall coffee drinks with a hint of fall is an experience—a chance to pause, breathe in the seasonal flavors, and appreciate the moment. So go ahead, spice up your coffee life. Your taste buds will thank you!
Until the snowflakes start to fall and we start talking about peppermint and eggnog, keep those mugs full and your spirits high.
FAQ
Alright, so you've got questions and guess what? I've got answers. Let's tackle some FAQs that'll get you all set for your aromatic fall coffee journey.
Q1: What are the most delicious seasonal flavors for fall coffee drinks?
A1: We're talking cinnamon, nutmeg, pumpkin, maple, and apple. These spices and flavors will take your coffee from "meh" to "yeah!
Q2: Can I find these fall coffee drinks at my favorite coffee shops?
A2: Absolutely, many of your go-to cafes, including Starbucks Coffee, roll out their own versions of classic fall drinks. But making them at home adds a touch of personal flair!
Q3: Is it hard to try making a new coffee at home?
A3: Not at all! Most fall coffee drink ideas are simple tweaks to your everyday coffee. A splash of syrup here, a sprinkle of spice there, and you've got yourself a homemade masterpiece.
Q4: What about holiday drinks, are they different from fall coffee drinks?
A4: While both are seasonal, holiday drinks usually involve flavors like peppermint, eggnog, and gingerbread. Fall is more about the pumpkin and the apple spices.
Q5: Can I make these drinks with regular coffee grounds?|
A5: You bet! No need for any fancy coffee grounds. Your everyday stuff will work just fine.
Q6: What spices for coffee do you recommend to make it taste like fall coffee drinks?
A6: Cinnamon, nutmeg, and cloves are your best friends here. They add that aromatic fall essence to your brew.
Q7: Is pumpkin coffee just coffee with pumpkin spice?
A7: Well, yes and no. While pumpkin spice is the go-to flavor to coffee for that pumpkin kick, you can also add real pumpkin puree for extra richness.
Q8: How do I take my everyday coffee to the next level this fall?
A8: Play around with syrups, spices, and even toppings like whipped cream or a caramel drizzle to jazz up your regular coffee routine.
Q9: How is Starbucks coffee seasonal menu different?
A9: Starbucks usually offers a limited-time menu with drinks specifically designed for the season. Expect the classics and some new seasonal twists.
Q10: What's a classic Fall Coffee Drinks I should absolutely try?
A10: A Salted Caramel Mocha is a timeless fave. It's the perfect blend of coffee, fall, and a pinch of salty goodness.
Q11: Can I mix chocolate and coffee for a Fall Coffee Drinks?
A11: Oh, you sure can. Chocolate and coffee go together like flannel and bonfires. Think Mocha with a dash of cinnamon or even some cocoa powder for a cozy experience.
Q12: Any tips for making my coffee fall-flavored but not overly sweet?
A12: Go easy on the sugar and syrups. Focus more on spices that add flavor without the sweetness.
And there you go, folks! You're now armed with enoughFall Coffee Drinks wisdom to make your barista jealous. Happy brewing!
JL Surjan
Disclosure: Our blog contains affiliate links to products. We may receive a commission for purchases made through these links. However, this does not impact our reviews and comparisons. We try our best to keep things fair and balanced, in order to help you make the best choice for you.