13 Best BBQ Side Dishes Ideas In 2023
Attention BBQ lovers! The year 2023 has graced us with some mouth-watering side dishes that take the classic BBQ to a whole new level. If you've ever thought your grilled mains were feeling lonely on the plate, or if you're tired of the same old potato salad, this article is precisely for you.
Have you ever spent hours planning and prepping for a BBQ, only to realize you've forgotten all about the sides? Or maybe you're stuck in a rut, recycling the same old coleslaw and corn on the cob recipe every time you fire up the grill? It's a common predicament among BBQ enthusiasts, and we're here to put an end to it.
Imagine the aroma of smoky grilled meats mingling with the enticing smell of freshly baked cornbread. Picture the sight of your friends and family relishing the perfect balance of hearty mains and scrumptious sides. The vibrant colors, the diverse textures, and the symphony of flavors can make your BBQ parties the talk of the town!
Through tireless research and our own culinary adventures, we've compiled the top 13 BBQ side dishes of 2023. These recipes offer a delightful mix of tradition and innovation, and they're sure to inspire you to take your BBQ game to soaring new heights. From the unexpected allure of a grilled watermelon salad to the comforting nostalgia of smoked mac 'n' cheese, these dishes will satiate your cravings and pique your curiosity.
Ready to transform your BBQ experience? Read on to uncover these amazing side dishes that will not only complement your grilled mains but also hold their own in terms of flavor and presentation. It's time to bid goodbye to mundane BBQ menus and usher in a new era of exciting and delectable side dishes. Your BBQ parties will never be the same again!
The Top Three BBQ Side Dishes of 2023
Best Dessert
Easiest to Make
Bourbon Baked Beans
Bourbon Peach Pie
Classic Southern Coleslaw
Bourbon Baked Beans
This dessert is chosen for its perfect blend of sweet, juicy peaches with the warm, smoky undertone of bourbon. It strikes an ideal balance between the savory BBQ mains and dessert, offering a delightful end to the meal.
With just a few staple ingredients,
this coleslaw is quick and easy to make but still packs a tangy and refreshing punch. It's a traditional BBQ side dish that never disappoints, complementing the hearty flavors of grilled meats.
The depth of flavor in these beans, accentuated by a hint of bourbon, makes this dish irresistible. It's hearty, flavorful, and always a hit with any crowd. It's the perfect complement to a smoky BBQ main.
Now that we've whetted your appetite with a sneak peek into our top three BBQ side dishes for 2023, it's time to dive deeper into each of these and other amazing recipes. In the upcoming section, we'll guide you through step-by-step instructions to create these delightful dishes. Whether you're a seasoned grill master or a beginner, these recipes are sure to elevate your BBQ experience to a gourmet level. So, are you ready to explore these scrumptious sides and make your next BBQ a memorable one? Let's get started!
1. Classic Southern Coleslaw
The crunchy, tangy, and slightly sweet profile of a classic Southern coleslaw can cut through the rich, smoky flavors of BBQ meats. Try adding a splash of bourbon for a unique twist!
Ingredients:
1 medium cabbage (shredded)
2 carrots (shredded)
1 cup of mayonnaise
1/4 cup of sugar
1/4 cup of apple cider vinegar
Salt and pepper to taste
2 tbsp bourbon (optional)
Instructions:
Mix all ingredients in a large bowl until well combined.
Chill in the refrigerator for at least an hour before serving.
2. Cornbread
This hearty Southern staple is a must-have at any BBQ. Try a honey-butter glazed version to pair with a spicy bourbon-based cocktail.
Ingredients:
1 cup of cornmeal
1 cup of all-purpose flour
1/4 cup of sugar
1 tbsp baking powder
1/2 tsp salt
1 cup of milk
1/4 cup of vegetable oil
2 large eggs
Instructions:
Combine all dry ingredients.
Stir in milk, oil, and eggs.
Pour into a greased baking dish.
Bake at 400 degrees for 20-25 minutes.
3. Bourbon Baked Beans
Give this classic BBQ side a Southern touch by infusing it with a shot of your favorite bourbon.
Ingredients:
4 cans of navy beans
1/2 cup of bourbon
1/2 cup of ketchup
1/4 cup of molasses
1/4 cup of brown sugar
1 diced onion
2 cloves of garlic (minced)
Instructions:
Combine all ingredients in a baking dish.
Bake at 350 degrees for an hour.
4. Pimento Cheese Dip
A staple in Southern cuisine, pimento cheese dip served with fresh vegetables or crackers is a crowd-pleaser.
Ingredients:
2 cups of shredded sharp Cheddar cheese
8 ounces of cream cheese (softened)
1/2 cup of mayonnaise
1/4 tsp garlic powder
1/4 tsp onion powder
1 jalapeno (chopped)
1 (4 oz) jar of pimentos (drained)
Instructions:
Mix all ingredients in a bowl until well combined.
Chill in the refrigerator before serving.
5. Fried Green Tomatoes
These tangy and crunchy treats are a quintessential Southern side dish that can add a bit of variety to your BBQ spread.
Ingredients:
4 green tomatoes (sliced)
1 cup of cornmeal
1/2 cup of flour
1 tsp salt
1/2 tsp black pepper
1/2 cup of buttermilk
Vegetable oil for frying
Instructions:
Dredge tomato slices in buttermilk, then cornmeal mixture.
Fry in oil until golden brown.
6. Collard Greens
This Southern classic, with its smokey, hearty flavor, complements BBQ and provides a wholesome balance.
Ingredients:
1 lb of collard greens (cleaned and chopped)
1 smoked ham hock
1 onion (diced)
1 tsp salt
1/2 tsp black pepper
2 tbsp apple cider vinegar
1 tbsp hot sauce
Instructions:
In a large pot, add ham hock, onion, salt, pepper, and enough water to cover. Bring to a simmer and cook for about an hour.
Add collard greens to the pot and cook until tender, about 45-60 minutes.
Stir in apple cider vinegar and hot sauce before serving.
7. Deviled Eggs
The perfect side dish for every BBQ , pair it as a starter with watermelon sangria.
Ingredients:
6 eggs
1/4 cup of mayonnaise
1 tsp of white vinegar
1 tsp of yellow mustard
1/8 tsp of salt
Freshly ground black pepper
Smoked paprika for garnish
Instructions:
Hard boil the eggs, cool them, then peel them.
Slice eggs in half lengthwise, remove yolks, and place them in a bowl.
Mash the yolks with a fork and stir in mayonnaise, vinegar, mustard, salt, and pepper.
Spoon or pipe the yolk mixture back into the egg whites.
Garnish with smoked paprika before serving.
8. Sweet Potato Casserole
With a hint of sweetness, this dish is a delightful contrast to the savory, smoky flavors of BBQ.
Ingredients:
4 cups of sweet potato (cubed)
1/2 cup of sugar
2 eggs
1/2 cup of milk
1/4 cup of butter (softened)
1 tsp of vanilla extract
1/4 tsp of salt
1/2 cup of brown sugar
1/3 cup of flour
2 tbsp of butter (melted)
1/2 cup of chopped pecans
Instructions:
Boil sweet potatoes until tender. Mash and mix in sugar, eggs, milk, butter, vanilla, and salt.
Pour into a casserole dish.
Combine brown sugar, flour, melted butter, and pecans; sprinkle over the sweet potato mixture.
Bake at 350 degrees for 30-40 minutes.
9. Southern-Style Potato Salad
Infused with flavors of mustard and dill, this side dish is sure to win hearts.
Ingredients:
4 medium potatoes (cubed and boiled)
4 hard-boiled eggs (chopped)
1 cup of mayonnaise
1 tbsp of mustard
1/2 cup of diced onion
1/2 cup of diced celery
1/2 tsp of salt
1/4 tsp of pepper
Instructions:
Combine all ingredients in a bowl.
Chill before serving.
10. Creole Corn on the Cob
Grilled corn smothered in creole butter offers a spicy, sweet, and juicy side option.
Ingredients:
4 ears of corn
1/4 cup of butter (melted)
1 tsp of Creole seasoning
Instructions:
Grill corn until slightly charred.
Brush with melted butter and sprinkle with Creole seasoning.
11. Pickled Okra
Add a tangy crunch to your BBQ with this classic Southern snack.
Ingredients:
1 lb of fresh okra
1 1/2 cups of apple cider vinegar
1 1/2 cups of water
2 cloves of garlic
2 tbsp of pickling salt
1 tbsp of dill seed
1 tsp of mustard seeds
1/2 tsp of peppercorns
Instructions:
Bring vinegar, water, and salt to a boil.
Divide okra and spices between two sterilized jars.
Pour hot brine over the okra.
Seal jars and refrigerate for at least a week
12. Bourbon Peach Pie
The perfect blend of sweetness and bourbon-soaked peaches, this pie is the ultimate way to finish a Southern BBQ feast.
Ingredients:
1 double-crust pie dough
5 cups of sliced peaches
1/2 cup of sugar
1/4 cup of brown sugar
1/4 cup of bourbon
1 tsp of cinnamon
1/4 tsp of nutmeg
2 tbsp of cornstarch
1 tbsp of lemon juice
1 egg (beaten for egg wash)
Instructions:
Preheat oven to 375 degrees.
Roll out half the pie dough and line a pie dish.
Toss peaches with sugars, bourbon, spices, cornstarch, and lemon juice.
Fill the pie crust with the peach mixture.
Roll out the other half of the dough, cover the pie, and crimp the edges. Cut vents in the top crust.
Brush the top crust with beaten egg.
Bake for 50-60 minutes, until the crust is golden and the filling is bubbly.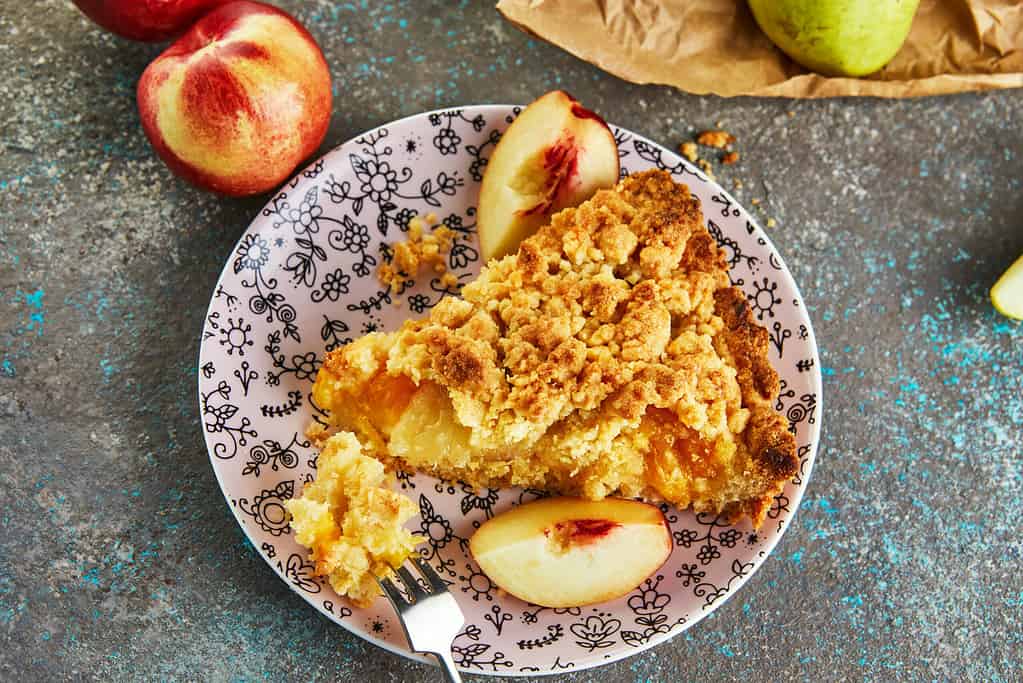 13. Southern Cheese Grits
Creamy, cheesy, and comforting – a perfect pair for your grilled specialties.
Ingredients:
4 cups of water
1 cup of grits
1 tsp of salt
2 cups of shredded cheddar cheese
1/4 cup of butter
1/2 tsp of black pepper
1/4 tsp of cayenne pepper
Instructions:
Bring water to a boil. Stir in grits and salt.
Reduce heat to low and cook, stirring regularly, until grits are creamy (around 20 minutes).
Stir in cheese, butter, black pepper, and cayenne pepper until well combined.

Decoding BBQ Side Dishes
BBQ side dishes are an integral part of any barbecue event, offering a flavorful contrast and complement to the smoky, hearty grilled mains. They range from salads and vegetables to carbs and even desserts. These accompaniments can be cooked on the grill, smoked, or prepared in the kitchen while your main courses are grilling.
Key to creating a well-rounded BBQ meal, these side dishes can often shine just as brightly as the main event. They provide a diversity of flavors and textures that engage the palate and elevate the overall dining experience. From tangy coleslaws and vibrant grilled veggies to hearty baked beans and sweet, sumptuous desserts, BBQ side dishes are as varied as they are delicious.
Interestingly, regional BBQ traditions often dictate the types of side dishes served. For instance, in the Southern United States, classic coleslaw, cornbread, and baked beans are staples. On the other hand, a Texas BBQ might feature potato salad and pinto beans. Regardless of the region, the right side dishes can turn a good BBQ into a great one, creating a complete and satisfying feast.

The Numerous Benefits of BBQ Side Dishes
BBQ side dishes can offer a variety of benefits beyond just adding to the taste of your meal. Firstly, they provide an opportunity to incorporate a wider range of nutrients into your BBQ. By including side dishes like salads, grilled vegetables, and legume-based dishes, you're adding essential vitamins, minerals, and fiber to your meal. This can help balance out the often heavy, protein-focused BBQ mains, making your feast not just tasty, but also nutritious.
Secondly, BBQ side dishes can cater to the dietary needs and preferences of your guests. Not everyone may enjoy the same types of meats, or some may have dietary restrictions. Vegetarian or vegan sides, gluten-free options, or dishes catering to those with specific food intolerances can ensure everyone at your BBQ feels included and well-fed.
Finally, having a variety of side dishes can enhance the overall BBQ experience by offering a multitude of flavors and textures. This can make the meal more enjoyable and satisfying, turning your BBQ from a simple cookout into a gastronomic adventure. Whether you're hosting a family get-together, a friendly gathering, or a larger event, well-thought-out BBQ side dishes can undoubtedly make a lasting impression on your guests.
Conclusion: Elevating Your BBQ Game
BBQs are a beloved tradition for many, and the side dishes play a key role in making these occasions memorable. They add variety, offer nutritional balance, cater to different dietary preferences, and contribute to an exciting gastronomic journey. This year, with our top 13 BBQ side dish ideas, you have the opportunity to take your BBQ events to new heights of flavor and creativity.
As a food lover and experienced griller, I, JL Surjan, understand the importance of perfectly complementing your BBQ mains with delightful sides. The dishes we've covered in this article are carefully chosen based on my own culinary adventures and extensive research. They represent a mix of tradition and innovation that reflects the dynamic world of BBQ sides in 2023.
Remember, the best BBQ experience is not just about what's on the grill. It's about the entire culinary landscape that you create around it. So, embrace these side dish ideas, experiment, and most importantly, enjoy the process. Your BBQ parties will become events to remember, not just for the grilled delicacies but for the incredible side dishes as well. Happy grilling!
FAQ: Frequently Asked Questions
Q1. How many types of BBQ side dishes should I prepare for a party?
A: It depends on the size of your party. For a smaller gathering, 2-3 different side dishes would be enough. For larger events, you may want to offer 5-6 varieties to cater to different tastes and dietary preferences.
Q2. Can BBQ side dishes be prepared in advance?
A: Yes, many BBQ side dishes can be prepared in advance. Dishes like coleslaw, potato salad, or baked beans can even benefit from being made ahead as it allows the flavors to meld together.
Q3. How should I cater to dietary restrictions with my BBQ side dishes?
A: Offering a variety of side dishes is a good start. Include options that are vegan, gluten-free, or dairy-free. Dishes like grilled vegetables, corn on the cob, or a bean salad can cater to many dietary restrictions.
Q4. Can side dishes be cooked on the grill?
A: Absolutely! Many side dishes like grilled vegetables, corn on the cob, or even certain types of fruit can be cooked directly on the grill.
Q5. How do I keep my side dishes warm at an outdoor BBQ?
A: Keeping dishes covered can help retain heat. For certain dishes like baked beans or mac and cheese, consider using a slow cooker or a portable warming tray to keep them warm.
Q6. How do I add a twist to traditional BBQ side dishes?
A: Innovation can come from different flavors or ingredients. For instance, adding a dash of bourbon to your baked beans or incorporating unique ingredients like watermelon in your salad can add a twist to traditional side dishes.
Q7. Do I need to serve a dessert as a BBQ side dish?
A: While it's not a requirement, a dessert can be a great way to round off your BBQ meal. A dish like Bourbon Peach Pie can be a perfect finish.
Q8. Can BBQ side dishes be frozen and used later?
A: Some side dishes freeze well, like soups, certain casseroles, and baked beans. However, dishes like salads or dishes with fresh vegetables might not freeze as well.
Q9. Can I serve international dishes as BBQ side dishes?
A: Absolutely! Side dishes from different cuisines can add an exciting variety to your BBQ. Consider dishes like a Greek salad, Mexican street corn, or an Italian pasta salad.
Q10. How can I make my BBQ side dishes healthier?
A: Adding more vegetables, using whole grains, reducing sugar and sodium, and using healthy cooking methods like grilling or roasting can make your BBQ side dishes healthier.
Q11. Can I serve seafood as a BBQ side dish?
A: Yes, grilled seafood can be a great BBQ side dish. Dishes like grilled shrimp or fish can add a lighter, protein-rich option to your BBQ spread.
Q12. How much of each side dish should I prepare?
A: A general rule is to prepare about 4 ounces of each side dish per person. However, this can vary depending on the number of side dishes and the preferences of your guests.
Q13. How do I make vegan BBQ side dishes?
A: There are many delicious vegan BBQ side dish options. Dishes like grilled vegetables, corn on the cob, vegan coleslaw, or a hearty bean salad can all be part of a vegan BBQ spread.
Q14. How can I make my BBQ side dishes more exciting?
A: Try experimenting with flavors and textures. Add unexpected ingredients, try new cooking methods, or incorporate international influences to make your side dishes more exciting.
Jl.Surjan

Disclosure: Our blog contains affiliate links to products. We may receive a commission for purchases made through these links. However, this does not impact our reviews and comparisons. We try our best to keep things fair and balanced, in order to help you make the best choice for you.